Strolling the Alpharetta Arts Street Fest with Terry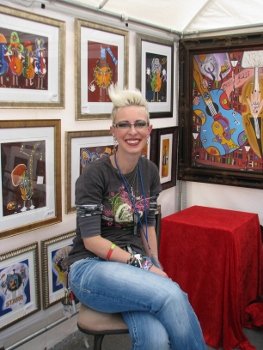 April 13, 2013 -

The Alpharetta Arts Streetfest ~ Alpharetta, Georgia April 13, 2013 ~ What a beautiful day for an Art Festival! The sun was shining, the musicians were rocking the stage, and I couldn't have asked for a better day to check out the work of some amazing Artists.
Last week, Brothers-Handmade asked me to join their team as the 'sister' they never had and write the blog for their website. As you all know, the Brothers travel to various Art Festivals around the country to showcase standout Artists and Craftsmen. Now they want me to take over that fun task. Wait. What? I get to travel around and talk to amazingly creative people AND write about them? Just pinch me now! I'm all in, baby!
My first assignment was to cover the Alpharetta Arts Street Fest in Alpharetta, Georgia. The streets were lined with tents, and the crowd was quite steady. I spent a good 5 hours there and I didn't want to leave! It was fabulous! I met so many incredible people, and out of the almost 100 Artists and Craftsmen who attended, I would like to share a few who caught my eye.
Heather Wilkerson ~ (pictured at top)
She's hip, she's hot, and President Jimmy Carter is one of her biggest fans. Meet Georgia Artist, Heather Wilkerson, known to many as "H" Lives Art.
H took a hiatus from the work force, years ago, and spent two years in the North Georgia Mountains rejuvenating her creative spirit. It was there that she began using music as the inspiration for her masterpieces. She let the music guide her brush over the canvas, and slowly her passion for art began taking on a whole new meaning. As a huge music lover, myself, I really dig what this chick is all about. She can definitely rock a canvas!
As I stood there absorbing every detail of her paintings, H told me that President Jimmy Carter had recently purchased some of her art at a local Art Festival. She said that the two of them had a wonderful conversation about the Beatles, and that he was simply enamored by the fact that each of her paintings is created while listening to a specific song.
She's definitely got it goin' on, folks, so move on over President Carter, the lady has one more fan in her life…me!
You can find more about H's Art and her upcoming festival schedule on her facebook page, Heather Wilkerson, or on her website, www.HeatherWilkerson.com.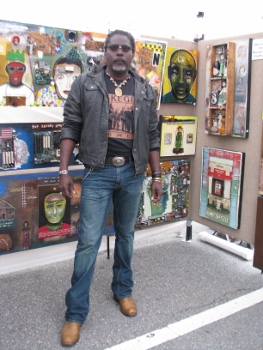 Athlone Clarke~
I'm pretty sure that I perused the tent of Jamaican born, Georgia Artist, Athlone Clarke, about 9 times during the festival, and every time I saw a little something different in each piece of his work.
The kind of artwork that I like doesn't match the couch, sweet friends. The kind of artwork that I like is that which makes me think, and Athlone's colorful, mixed media artwork definitely makes me think.
Every piece delivers a message, and a pretty deep message at that. Athlone finds that he surprises himself by the outcome of a finished piece and he wants that same surprise to transfer to his audience. Well, it works! I was surprised by every new emotion that I was feeling as I let my eyes continually find new ways to come alive with each viewing of his work. I'm hooked, baby! Sign me up as one of this man's newest and biggest fans!
If you dig conversational, thought-provoking Art, then you need to check out the work of Athlone Clarke. You'll be hooked as quickly as I was. You can find out more about him and about his upcoming festival schedule at www.whohadada.com/aclarke, www.myspace.com/athloneclarke, or at www.facebook.com/althone.clarke .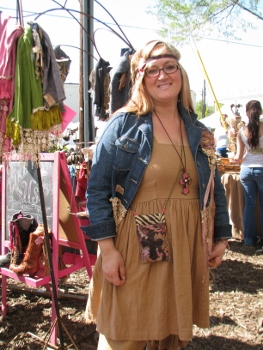 Cathy Goodrum~
If you are a lover of all things 'vintage', then this groovy chick will immediately become your new bff. Meet Georgia Artist, Cathy Goodrum, known in the creative world as Cat's Carpetbags.
It's hard to pinpoint the exact reason that drew me to visit with Cat. There's too many that come to mind! She was dressed from head to toe in her beautiful creations, and she was simply stunning. The line of folks waiting to get a chance to look at and buy her work was forever long, and I could see why. This lady knows how to take the most beautiful fabric and create timeless pieces of fashionable clothing, hats, and accessories. I wanted it all!
Cat keeps her art real by only using vintage or antique sewing machines to make her one-of-a-kind pieces. How very cool is that? I so enjoyed meeting this amazing woman. Her warm and charming personality was a wonderful addition to her unique line of clothing.
You can find out more about Cat and her upcoming festival schedule at www.catscarpetbags.com or on facebook at www.facebook.com/pages/Cats-carpetbags .
I'm looking forward to hitting the road again to visit another Art Festival, and I hope you'll follow me in doing the same. I can't imagine a groovier way to spend my day, than by meeting and hanging out with so many talented and creative folks.
Thanks to the Brothers for inviting me to be a part of their family. I've never been the only girl in the family, but I think I'm gonna dig it.
Folks, the most unbelievable things are at your local fine art or craft shows if you just have a look. Also visit Brothers-handmade.com often, and
"Come See What Amazing Things Your Neighbors Are Making"© -Terry