Featured Craftsman and Artist
The Artist or Craftsman invited to appear on Brothers-Handmade are all highly skilled people who have honed their crafts to a fine art. Whether throwing clay on a pottery wheel, working glass beads over a torch to create the perfect keepsake, mixing the perfect ingredients to produce a luxurious and beautiful soap, or piecing and sewing fabrics to create an award-winning quilt, these Artists and Craftspeople are setting the standard and moving the trend in high quality handmade creations.
When we say, "We are completely impressed with the skill and creativity of the American Craftspeople" this is what we're talking about.
Steven Purdon -
Watercolor Artist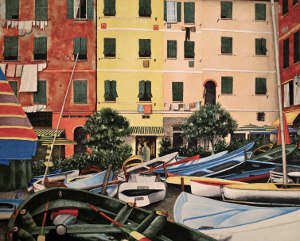 Steven invited us into his world of Watercolor paintings. We learned of Steven's journey in this medium, along with his inspirations, and turning points.
Join us as we chat about the opportunities and challenges presented by the use of watercolor painting, in our conversations with Steven Purdon.
Nancy Kerns -
Award Winning Quilter
Nancy graciously invited us into her new home in Maryland to talk about her passion for recreating historical Baltimore Album Quilts.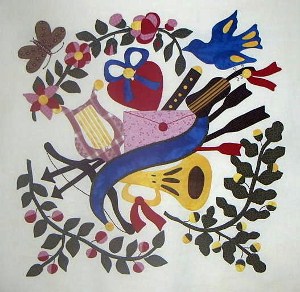 Join us as we sit down with Nancy Kerns and learn about what exactly a Baltimore Album Quilt is, and her experiences with creating the Mary Simon Rediscovered quilt which ended up winning Best Handmade Quilt at the 2010 American Quilter's Society show in Lancaster, Pennsylvania.
We capture some interesting techniques Nancy uses on video, and peer into her fabric room - a must for any serious quilter.
Join us in our chat with Nancy Kerns, in our continuing series of conversations with outstanding Artists and Craftsmen.
Museum of Ceramics - E. Liverpool, Ohio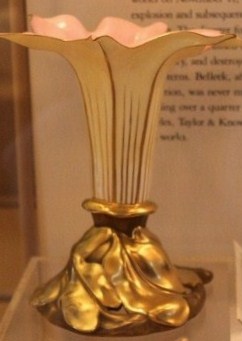 In keeping with our discovery and celebration of great American Artists and Craftsmen, we occasionally feature a place.
Earlier this summer, The Brothers paid a visit to the Museum of Ceramics located in E. Liverpool, Ohio. A city nicknamed the Pottery Capital of the World.
Our guide and 6th generation descendant of the Vodrey & Brother Pottery, Sarah Vodrey, took us on a captivating journey of the booming years of pottery manufacturing in the United States from the mid 1800 to today.
I was quite impressed with the spectacular level of artistry employed. And reminded that although the pieces were "manufactured", they all began as an artistic expression of design and prototype.
Join us on our adventure to the Museum of Ceramics, and walk through the booming years of this great American historical era.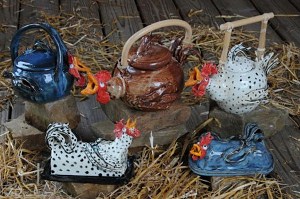 Julie Jones -
Pottery Artist and Soap Maker
Another multi-talented Artist/Craftsman. Julie Jones began her journey making soap a decade ago. An interest in making soap dishes for her soap, led her to discover an incredible talent in pottery design and creation.
One problem I've noticed at shows I've seen Julie at are, - well, customers love her work so much she has a hard time keeping enough inventory.
What do chickens, bricks, and grass have in common?
Come and find out as we discover Julie Jones of JA Jones Pottery and Julie's Old World Soap.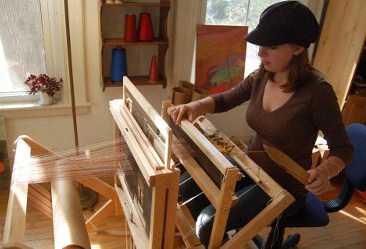 Rosalie Schulick -
Fiber Artist
As we have seen with many of the talented Artists we get to know, their artistic abilities transcend several forms. That eye for color and design innovation is quite transferable between forms.
Rosie or Rosie's Wonders uses her creative abilities not only in the creation of wearable fiber arts, but also in greeting card designs, as we well as handmade beaded jewelry.
Learn how she got her start, her artistic philosophies, her favorite pieces, and her secret hidden talent unrelated to her artwork.
Join us as we discover Rosalie Schulick of Rosie's Wonders.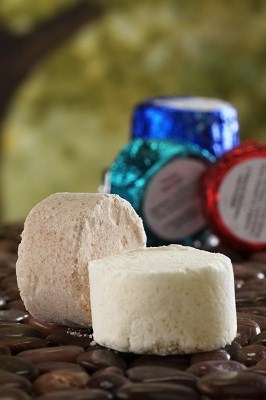 Hedge Sefcovic -
Soapmaker
Certified soapmaker Hedge Sefcovic creates handmade soap recipes that are all pure and natural. Her homemade soap recipes are free of preservatives, detergents, and dyes.
Hedge's products are all vegetarian, and most are gluten free as well. Her use of her pure and natural soaps and toiletries is one aspect of her own healthy lifestyle.
From training in floral design, Hedge developed a talent for creating and combining fragrances. That led to an interest in soapmaking. Now, nearly 15 years later, Hedge has honed her soapmaking skills to an exacting science. In addition to her Advanced certifications, and nearly endless show and festival schedule, award winning soap maker Hedge Sefcovic continues to innovate and improve on her pure and natural soap line.
Join us as we discuss the homemade soap passions of Hedge Sefcovic.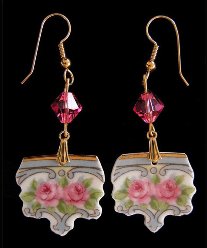 Mary-Ann Wood
Wearable art made from the interesting parts of heirloom, and fine china, along with re-worked antique cameos, earned Mary-Ann Wood a feature spot on the Brothers-Handmade website.
Her eye for creating meaningful, and beautiful pieces from broken antique flatware is wonderful. Each piece carries the story of a day gone by. As for her work with cameos, Mary-Ann says, "I look for the most beautiful ladies from olden times and give them new life."
Join us as we discuss the jewelry design passions of Mary-Ann Wood, here.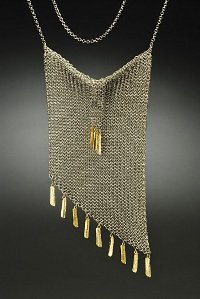 Elaine Unzicker
Elaine is a graduate of Illinois State University where she received her Master of Fine Arts degree. Her creative endeavors evolved from jewelry to wearable art.
Her ability to create "soft" and flowing garments from stainless steel chain mail is what initially attracted us to her at a fine arts show in Washington D.C.
Elaine continues to make jewelry but her primary passion is in creating belts, purses, scarves and other wearable pieces.
Join us as we learn of Elaine's experiences in chain mail work, and her interests outside the studio, as our conversations with award winning Artist
Elaine Unzicker continues here.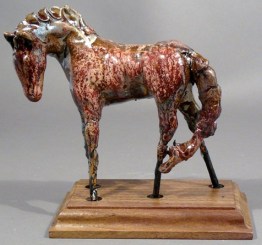 Lindsey Epstein
Lindsey loves innovating with crystalline and raku fired glazes. She creates on the pottery wheel as well as hand building sculptures. We were quickly attracted to her very interesting and relatively rare crystalline glazed vases. But we soon found she is diverse in her ceramic interests, introspective in her designs, and quite the equestrian on the side.
Join us as we learn of Lindsey's experiences in ceramic arts, and her pass-times outside the studio, as our conversations with Lindsey Epstein continues here.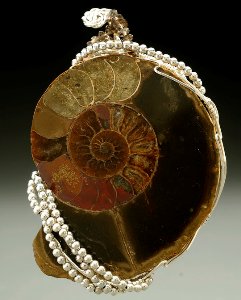 Marian Gaydos
The eye catching contemporary jewelry of Marian Gaydos includes beautiful precious metal wire wrappings around gemstones, crystals, fossils, and pearls. Her artistry and airy designs superbly transfer the focus to the stone or other material used, and away from the delicate wire. But after admiring the centerpiece, the observer will appreciate the spectacular craftsmanship of the twists, turns, hammerings, and weaving of the precious metal.
Learn about Marian's journey, her inspirations, and her life outside jewelry designs, as our conversations with Marian Gaydos continues here.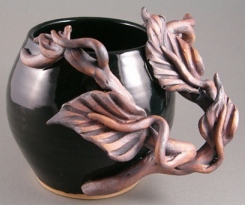 Janet E. Donnangelo
Adorned with leaf and vine, the "Donnangelo Piece" blends the beauty of nature with the artistry of fine wheel thrown clay. With appearances in various media including TV and magazine, Janet is an accomplished award winning potter.
Find out about her journey and where she gains inspiration as our conversations with Janet continues here.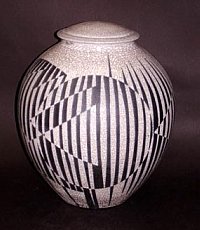 Deborah Slahta
of Pennsylvania, throwing and firing her Raku designs using a tape resist technique among others. Deborah uses her vessel as a three-dimensional canvas, playing with lines, circles, triangles. After all, she did get her college degree in mathematics.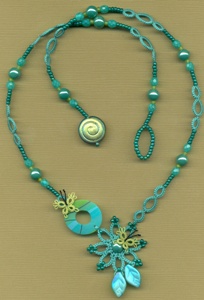 Elizabeth C. Zipay
After catching up with Elizabeth C. Zipay of Elizabeth's Lace, and being quite impressed with her Tatting, we wanted to know more. Elizabeth told us of her journey, what has inspired her, awards and recognition, and even some fun facts about her that most would not know.
...more about Elizabeth C. Zipay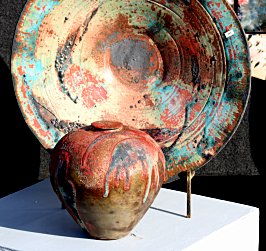 Tom Radca
of Ohio with his African inspired textured ceramic vessels and wall hangings. Tom uses a specialized reduction process similar to Raku that Tom light heartedly dubs "Radco".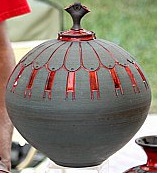 Larry Allen
from Alabama with his signature 9/11 inspired Unity design; a bright red and gray slip Sgraffito decorated vessel that was also quite eye catching recently at the Delray Arts Festival in Florida. Sgraffito is a technique whereby the craftsman brings together the use of slips with incising.
...more about Larry Allen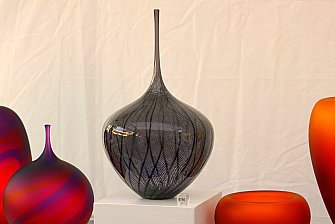 Scott Gamble
from Georgia, the hand blown glass Artist with his Zanfirico design, and colorful vases that are absolutely striking. A rare find is the artist with such exemplary craftsmanship.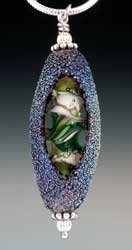 Louise Mehaffey
of Pennsylvania with her signature award winning lampwork beads and beaded jewelry designs. Louise has also recently published a book on Glass Bead making.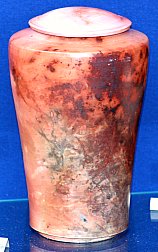 Brenda McMahon
with her orange matte finished saggar fired porcelain, which catches the eye of nearly every Fine Arts festival goer. We also noted art lovers snapping up her beautiful flowing ceramic wall hangings as well.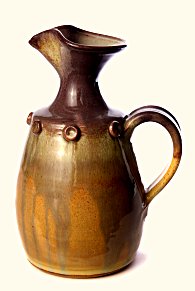 Dennis Maza
of New Jersey – A craftsman and artist since he was 10 years old and watched an experienced potter at the Kutztown Folk Festival throw a vessel on the pottery wheel. Dennis creates art in a variety of mediums with a primary focus on wheel thrown ceramic arts. In addition to working in his own studio, Dennis taught Art to school age kids for 35 years.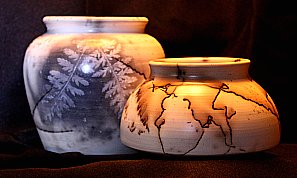 Kris Ann and Roy Bachert
work as a team throwing their unique and beautiful white burnished horsehair Raku pottery. Roy will often do the wheel work while Krisann will work with the cutouts and horsehair Raku firing techniques.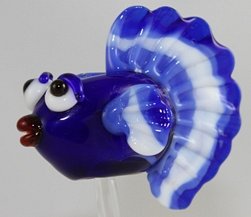 Diane Kovach
was drawn by the brilliant colors of the glass, the fire of the torch, and the speed at which one can complete a simple lampwork bead. Although crafty all her life, and with an eye for colors, Diane began her lampwork journey back in 1998. She notes that her father "had some painting abilities." One of her talents is
...more about Diane Kovach.