Handmade Jewelry –
Designs, Silver, Stone, Beaded, Wedding, Wire, Pearls
How beautiful, unique, and affordable Handmade Jewelry is.
The Artist studied, innovated, and perfected their form over years of trial and error. The pieces they offer are a culmination of this experience.
Each piece is a story of design, a vision, a segment of life dedicated to designing and creating a unique piece.
You will own or gift the only one made....

---
These Artists' handmade jewelry designs are spectacular whether they are creating Handmade Beaded Bracelets, or other Beaded Jewelry including Beaded Watches and Beaded Necklaces.
Many of these Artists focus their attention on Handmade Wedding Jewelry or Handmade Unique Engagement Rings, listening and creating unique and memorable eye-catching keepsakes with precious and semi-precious stones, pearls, beads, and premium metals for all tastes. The handmade gemstone jewelry is simply superb.
And speaking of precious metals, be in the know, and find out what to look for in the 'always in style' handmade silver jewelry.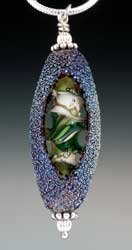 Some of our superstar Artists create their own Handmade Glass Beads through various techniques including the amazing art of Lampwork glass bead making. One of our favorite Bead Artists, Louise Mehaffey creates extraordinary beads with her workbench and torch. Check out Louise's site here.
The beautiful materials carefully selected by these craftspeople is an art unto itself. Many search high and low for the perfect collection of precious and semi precious stones. Artists tell us stories of their searches for Fire Agate in the dessert of Arizona, to searching for Seraphinite in the Ural Mountains of Russia.
Of course for many of these beautiful creations, the artistry continues with handmade silver jewelry, Wire Wrapped Jewelry and wire jewelry, made from gold and sterling silver, bending and twisting these precious metals to produce a unique and classy keepsake.
Have you heard about the underground trend of Steampunk? Checkout the dystopian artifacts of Steampunk right here.
Do you treasure your handmade keepsake jewelry? If so, let's put Art in Art. I'm referring to the everlasting heirloom, a Handmade Wooden Jewelry Box. Investigate the fascinating options available in rare and beautiful woods. See both Part 1 and Part 2 of Wooden Jewelry Boxes. The perfect complement to your growing collection of fine handmade jewelry.
Delve into the pages of Brothers' Jewelry, and find beaded necklaces, how to techniques for creating your own beaded anklets, handmade beaded bracelets, handmade wire jewelry, handmade pearl jewelry, handmade unique engagement rings, and much, much more.
Explore Brothers-Handmade World of Jewelry