Julie Jones
Pottery Artist and Soap Maker
After catching up with Julie Jones of JA Jones Pottery and Old World Soap at the Alpharetta (Georgia) Street Festival and being quite impressed with her beautiful and whimsical pottery, we wanted to know more. Julie told us of her journey, what has inspired her, and even some fun facts about her that most would not know. Enjoy our Conversations on Fine Crafts and Arts, as Brothers Handmade features Pottery Artist and Soap Maker Julie Jones of JA Jones Pottery and Julie's Old World Soap.
Greetings Julie, and thanks for agreeing to our Featured Artist interview.
To start, please tell us about your primary Art interest?
My primary focus is a combination of two completely different crafts. Initially, my craft/art journey began with soap making in early 2002. Pottery was picked up in January 2005 when I took a basic Intro to Pottery class at a local studio. The intent was to learn to make soap dishes but has grown far beyond that.
Please click images to enlarge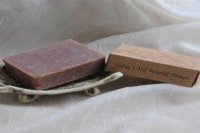 Tell us a little about your Journey in this art form.
I have been blessed and encouraged along the way. The soap making came very easy. I have always been one to research and question why. I have always pushed the envelope. I developed a few great recipes, created nice packaging and have a faithful group of customers who have been buying my product from the get-go. Word of mouth and a great product has been the key.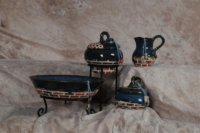 Soap sales were going strong and I needed to increase the product line. Thinking that soap dishes would be a natural addition, I enrolled for an Intro to Pottery course offered at a local studio. That first pottery course was taught by Sandy Culp. She's a nationally recognized artist who is known for her Trompe L'oeil style. Sandy's class was followed by a finishing class with Fern Carter, another accomplished artist. I began classes in mid January 2005 and by November of that year I tried my hand at selling my pieces. I had produced 100 pieces during that 10 month time frame and sold 98 at a neighborhood holiday craft show. Thank you friends, family and strangers!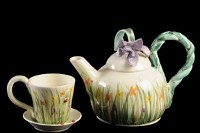 MILESTONE - I learned from these 2 ladies that pottery can be functional but still be unique and beautiful at the same time. Also, I learned to add a surprise element to each piece. Create a piece that begs to be picked up and examined.
A difficult 7-4 work environment pushed the Country Cluckers into existence. These are functional and very whimsical pottery shaped into singing chickens. I'd come home after a very trying day and throw a chicken pot. They made me laugh and realize that "work" shouldn't be all encompassing. They sold like hotcakes and made people stop, stare, point and laugh. Over these few short years, pottery has been therapeutic for me. It's been an outlet for the stress of everyday living. The more stress, the more creative and prolific I become.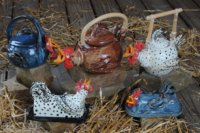 MILESTONE – When my husband took my "Hobby" seriously and told me he believed I could actually make a decent living at it.
MILESTONE – When other people started believing in me. A major milestone was achieved at the 2011 Dunwoody Art Festival. I was approached by a buyer for a major art museum. They are interested in carrying the grass & ladybug series in their gift store. We're negotiating now.
What do you like the most about your art and craft?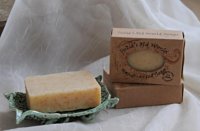 The most enjoyable thing about soap making is the repeat customers and their enthusiasm for the product. I love receiving the feedback.
Pottery allows me to be totally immersed in the clay. I have only music and my thoughts keeping me company when I create. Studio time is my private time, my oasis.
What are your favorite 1 or 2 pieces and why?
I don't have a favorite piece, I have 2 favorite pottery styles … the carved brick series and the green water carved.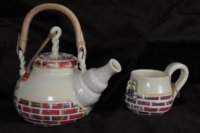 The brick series came about after a trip to look at a custom home my husband had just finished the construction on. At first glance the home appeared to be unfinished. It looked as though the stucco exterior was incomplete. The bottom quarter to third showed exposed bricks. The bricks were also exposed around windows and doors. The more I looked, the more I liked. It took nearly 2 years of drawing the idea and testing ways to produce the effect.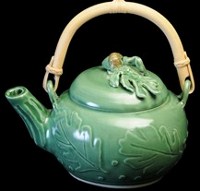 I began the water carved series after reading an article in a pottery periodical Winter 2010. Upon further investigation I tried my hand at it in March 2010. I was so excited with what appeared to be a fairly straight forward technique - I got carried away and gambled that I got it right the first time. My first attempt included a full kiln load. They turned out beautifully.
What do you do for a hobby or like doing when you are not in the studio?
I love to read… it's a vacation without physically going anywhere. My husband and I also can be found cruising the highways and back roads on our Harleys, cooking for family or friends or daydreaming at the beach. I'm a California girl…
Thank you Julie, for the interview.
---
We hope you have enjoyed our conversations with Julie Jones - Pottery Artist, Soap Maker, California girl, and Harley rider.
And remember, go to fine craft and arts shows and festivals, and to Brothers-Handmade.com, to:
"Come See What Amazing Things Your Neighbors Are Making"©
Return from Julie Jones to Featured Artists