Handmade Wedding Jewelry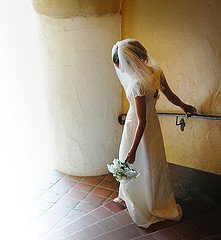 Investing in handmade wedding jewelry can be the finishing touch on your special day. Every bride longs to have a unique, one-of-a-kind wedding, so why should your jewelry be any different?
Pearls have long been the beads of choice for brides adorned in white, and those classic strands are certainly never amiss in a beautiful ceremony.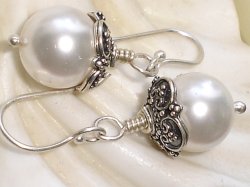 Traditionally, brides choose family heirloom jewelry for the wedding day, including pearls. While this is certainly a wonderful tradition, commissioning a piece of handmade wedding jewelry out of an existing heirloom, or finding an excellently handcrafted compliment to existing jewelry can satisfy the bride's desire for something new as well.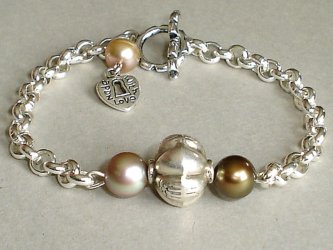 The adage is, "something old, something new, something borrowed, something blue." These four wedding "must haves" can be integrated into a single piece of handmade wedding jewelry. Whether finding the perfect beads at an antique store or refashioning grandmother's pearls into Pearl earrings or other handmade pearl jewelry, there are many ways to carry a piece of the past with the style of the present.
Brooches
Many of this generation's brides had grandmothers or great-grandmothers who wore brooches. It's not often that wedding dresses are adorned with pins, but an old-fashioned brooch can be reworked into short and elegant choker, slipped onto a strand of beads for a bracelet, or tucked carefully where the train meets the back of her dress. Having a piece that so effortlessly commemorates a beloved grandmother or just a nod to her history is easily achieved by refashioning a brooch.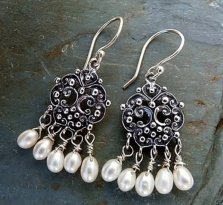 Handmade Earrings
In an era where many girls have old family wedding rings, it may seem gaudy to wear a diamond ring on the right hand before the ceremony. It's not difficult to have old rings refashioned into unique earrings, and paired with new beads to bring the stones to life. Old costume jewelry passed down can be just as sentimental as expensive pieces, and prolonging their lives can be as easy as adding wire or hoops. Many earrings of years past were clip on, so the bride might wish to, at the very least, have them refashioned into posts.
Rings
Nearly any piece of jewelry, beading, wire or small sentimental object can be made into a ring. It's fashionable to wear large, hand-engulfing rings, so the sky is truly the limit when designing a one-of-a-kind piece. A ring on the right hand of the bride can make a great addition to photos, especially if coordinated with the bride's colors. The bride may even choose to have her bridesmaids wear rings, matching necklaces, or earrings- truly unique pieces that will set them apart from their dresses.
Overall, originality is encouraged when planning wedding jewelry; tradition can be woven with current styles to create truly timeless pieces.