Steampunk
Combining 19th century Victorian with Steam Engine Components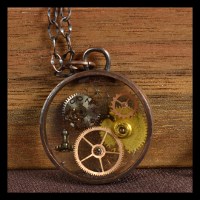 What does the great Melbourne telescope, the Hindenburg class airships, the warship Monitor, the Eiffel tower, old skeleton keys and old steam power devices have in common?
They are all related to Steampunk. Oh yeah, and lets not forget the Doble car, the Tesla Turbine, Magnetic amplifiers, the Alexanderson alternator, and hundreds of other inventions that are included in this genre.
Bring together Steam engines, Victorian clothing, and the 19th century and you have now touched on Steampunk. Cyberpunk shares some similarities with steam punk, but the main difference is that steam punk is dystopian.
What the heck is Dystopian you may ask? In literature, Dystopian is a futuristic society living in the past in a somewhat degraded state. Kind of what happens when technology takes over and a previously existing utopia falls apart. Cyberpunk is only related to the future.
Steampunk has been around for longer than you might think. It got going back in the 1980s and 90s. Today it's still going on, kind of semi-underground, but marching on just the same. Even before the 80s one could say Steam punk was here. It was in novels, in movies, and in clothing. It just wasn't called steam punk at that time.
As far as clothing goes corsets, bustles, petticoats, vests, long coats and spats are all involved. Also military clothing with a few modifications. And of course you need the goggles or "brassies" to go with the outfit. They will have frames of brass and straps of leather.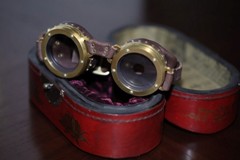 Let's look at Steampunk jewelry. The jewelry is very different and might not be for everyone. In casual conversations I have found many professional women involved with mechanical oriented businesses to be very interested in this art jewelry.
The work is very edgy and mechanized. Lots of gears, keys, chainmaille, and old style steam generator parts. The work is very busy and intriguing. Watches are used but mostly the innards of the watch.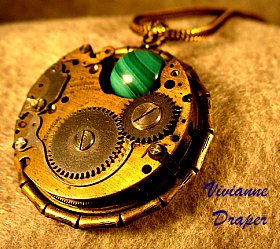 Watch gears, watch faces and hands, are connected in various ways to produce a vision of the future while staying in the past. Some earthen materials are used like stone, gems and leather. Brass, copper and steel are also prevalent. Chains and cables are mixed in this work sometimes functionally sometimes ornamentally. Gold and silver are used very sparingly and that helps make this jewelry affordable.
It's very hard to describe but I'll tell you one thing for sure. If you are a women seeking jewelry that others don't have and you like when people check out your jewelry and comment, this is definitely something you need to see.
---
And we are happy to say that we have discovered some highly talented
Steampunk jewelry artists
and invited them to our store.
---
There are a number of sub-category crafts.
Steampunk Clothing- The clothing as stated above is pseudo Victorian mixed with a little (or in some cases a lot) of military. Some wear corsets on the outside. Some wear long coats and top hats. The only rule I know is there are no rules. Try to stay a little Victorian and a little modern, with a touch of military and you got it.
Furniture - Geez! I could spend days talking about this alone. If you think the jewelry is fascinating you should see the furniture - the little bit of it that there is. Most of this art looks like it came off the set of Star Trek the Next Generation. If the Borgs had living rooms, this is the furnishing that would be there. Sort of Timex on steroids with legs and cushions. I can only wonder what a kitchen or bathroom would look like.

The wall hangings and coffee tables are most intriguing to me. One clock might have ten clocks in it - not together but in parts. You would swear there was a Bessemer furnace disassembled and re-built to make an end table. Just like in the jewelry, the art is very busy and exciting and defiantly not boring.

Movies and Video Games - There are books and animated movies and video games. Not all mention the words Steam punk but they are.

The League of Extraordinary Gentlemen, the comic book and the movie were heavy steam punk. And I'll wager, that they gave a huge boost to the movement.

Steamboy was Japan's most expensive anime movie when it came out in 2004. At around 26 million dollars, it also took 10 years to make. Steamboy definitely follows the Steam punk genre.

Media - There is an online magazine and a semi annual hardcopy magazine. "Steampunk Magazine."
I would also like to ask our readers if any of you craft Steampunk jewelry. Doing the math, this art could be 20 to 30 years old. We at Brothers Handmade are most interested in talking to, and even meeting with jewelers who are working in this jewelry genre. We go to shows nearly every week, all year long, all over the U.S. and see very few Steampunk jewelers at the shows. Leave a note on our
Contact Us page.
To say this work is different is quite an understatement. If you are of a mechanical mind and are interested in somewhat of a rare jewelry, Steampunk is for you, if you can find it.
Return from Steampunk to Handmade Jewelry