Handmade Silver Jewelry
What to look for to
ensure high quality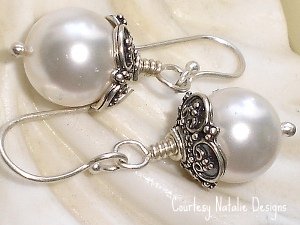 Handmade silver jewelry is as unique as the artists designing it. Silver goes with everything and never really goes out of style. Some of the most fashionable handmade jewelry designs are made out of sheets of sterling silver, precious metal clay (PMC), and wire.
Precious metal clay (PMC) is a clay that can be shaped and designed into most any silver piece. After the bracelet, ring, or pendant is designed, it is then fired to remove all the binders from the clay. The end result is fine silver or a 99% pure handcrafted silver jewelry piece. The best thing about precious metal clay is there are no limits to what can be done with it.
Precious metal clay or PMC is being used to create fine silver components that are not possible with more traditional methods of metalworking. Three-dimensional designs such as hand crafted origami cranes, and orchids are made into beautiful pendants. Anything that can be made with a mold can be sculpted using precious metal clay.
Precious metal clay is also used quite a bit to make Heirloom Jewelry such as a stamped copy of your baby's footprint or fingerprint. You can also take any drawing or design and have it imprinted on precious metal clay. Talk about unique handmade jewelry designs, some parents are even having their children's artwork imprinted for a beautiful keepsake pendant.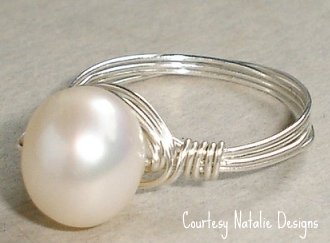 You need to check a couple of things, when buying custom handmade jewelry fashioned out of precious metal clay. There should not be any white areas on the handmade silver jewelry. When precious metal clay is fired, a white material is left behind. That material is removed during the finishing process. Also, while you are looking at the component, make sure the design is smooth and even. The edges should be filed and the fine silver jewelry should be smooth with no cracks or bumps.Sterling silver sheets are cut and designed into many different pieces such as silhouette pendants, cuff bracelets, ankle bracelets and earrings. Sterling silver is composed of 92.5% silver and 7.5% of copper or other metals.
It is often referred to as 0.925 silver. Handmade sterling silver jewelry is traced out on the sheet and cut with a jewelers saw.
Good workmanship of this type of jewelry should reveal straight cuts and filed smooth edges.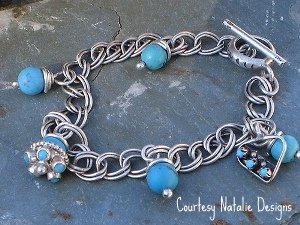 Other sought out designs include hand stamped silver pendants, which can be made with either silver sheet or precious metal clay. The pendants are personalized with any wording you desire. Rings and large silver cuff bracelets are etched with intricate designs and sometimes have precious gems embedded.
Wire wrapped handmade silver jewelry including silver rings, pendants, and earrings that are made to look like filigree are in high demand. The expertise required for this type jewelry requires a high level of skill and experience. It takes hours for the most adept designer to make each piece. The finished design is usually antiqued to really bring out the details and give it a unique and handmade fashion jewelry look. Be sure to check that the wire ends are tucked in and filed down. You can run you fingers around the piece and the edges to make sure there are no loose wires or rough spots.
When buying both online and in person, it is hard to tell the difference between an alloy metal and real silver. One way is to look for a hallmark stamp on your fine silver jewelry design. The clasp or the underside of a ring or bracelet should be marked with a very small .925 or .999. Most fine and sterling silver is tested with a drop of nitric acid. If the silver is not fine or sterling, the drop will turn green. Only do this if you suspect something is wrong but you really want to buy the handmade silver jewelry.
If you are buying online, most online stores have buyer feedback. Always look at the feedback to make sure that the jeweler has excellent workmanship and ships quickly. Enlarge and look at all pictures the designer has available. It is extremely hard to tell from a picture how big something is or it's exact colors. So it is important to read the description really well. An experienced designer will always give these important details.
If you are at a fair or festival, use your hands to feel the piece for good workmanship. Pick up the jewelry and look it over carefully. Feel the edges and look at the components for the hallmark. Talk to the designer about what inspires them to make jewelry. Handmade jewelry designers love to talk about their work and will not hesitate to answer any questions. Finally, ask if they have a card in case you need to contact them later.
Handmade jewelry is made with great pride and high quality work standards. This sets it apart from large manufactured jewelry. Handmade fashion jewelry is often a unique, interesting, and one of a kind piece. Jewelry should make you feel special. Buying handmade silver jewelry is a great way to spoil yourself or someone special.