Handmade Beaded Bracelets
Whether you're designing your own handmade beaded bracelets or purchasing from an artisan, there are a few things to look for in materials, design, and quality.
Materials
Wire
If you're not familiar with jewelry wire, take an hour or so to educate yourself about the differences, so you can recognize most wires at a glance. Tigertail wire, for example, is strong and durable, but it tends to kink more than others making more suitable for pieces that aren't loose around your wrist or neck. For that "floating" look, necklace pendants are often hung on clear wire. While this is incredibly durable, it's best to hang it between wearing to keep the wire from twisting or entwining around other pieces.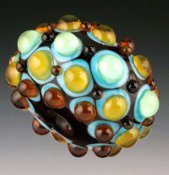 Beads
From glass to wood, seed beads to polished rock, gemstones, macramé and even bone, there are dozens of types of beads and bead combinations to buy. Look for beads that have the holes drilled straight through, not at an angle with a thin spot, which can wear over time. Plastic beads tend to have seams and look cheap to all but novice jewelry buyers. Bone and wooden beads, shells, pearls and gemstones often require special care, but the unique shine and luster can be worth spending time and money for upkeep.


When purchasing beads or bead jewelry, don't be afraid to inquire about the types of beads used. If the bead maker or jewelry artisan can't tell you, chances are it's a much cheaper piece than you would care to add to your collection.

In our travels we've found a very unique and beautiful collection of lampwork beads from the artist Louise Mehaffey. See her Lampwork Beads and Jewelry here.
Metal
Metal is where true jewelry artisans excel in their craft. Some take it to the highest end, working their own silver, gold and platinum pieces from molten pools creating intricate designs, smooth cuffs and hammered perfection. Handmade metal pieces should be thick enough that you don't risk bending and breaking the metal with normal use. Paper-thin metal pieces may look lovely, but they will not stand up to wear in the long run.


At the very least, the wire, jump rings and clasps in your handmade beaded bracelets should be good, sturdy metal that doesn't appear discolored or fake. Good jewelry makers and materials sellers should be able to tell you exactly what metal is in your clasp, whether it's sterling silver, nickel-free, or gold-plated. If they aren't sure, you risk purchasing a piece that will discolor or even rust with time and wear.
Design
Handmade Beaded Bracelets come in all shapes and sizes to suit just about everyone. You're sure to find a design you love, either through trial and error of your own creation or discovering the skillful art of someone else. Once you fall in love with a piece, evaluate its design to ensure it will stand up to wear.


Evaluate the clasps, wire, and bead quality. As mentioned above, ask your bead wholesaler or artisan what each element is made of. If they can't tell you, steer clear. The most overlooked element to check is the tiny connecting rings, small metal hoops that connect the clasps to the wire, or pendants to the main chain. If these hoops are "crushed" (with the hoop squeezed down into itself, or overlapping) you've found an inexperienced jewelry maker. Likewise, if the hoops aren't closed completely and have gaps, your handmade beaded bracelet can easily slip off and pepper the floor with your beloved beads.
Quality Check - Summary
The best handmade beaded bracelets use beads that are clean, well secured and clearly identifiable. The metal is good quality, not too thin and not overworked, which leaves brittle corners that will easily break. The length should be perfect, if you're not able to try a piece on (for example, when buying online) ask for the exact length and ensure it will fit comfortably. No one will wear a bracelet that cinches!


One last thing: check to ensure the wire ends are cleanly cut and hidden away. Look where the wire wraps around the clasp, and anywhere wire changes or wraps around beads. If this has sharp edges, the piece will be uncomfortable to wear; no matter how perfect it is otherwise.