Brothers-Handmade
Craft Blog 2010 Archive
In this Craft Blog -
---
Meet the Artists and Artisans - Milford, Connecticut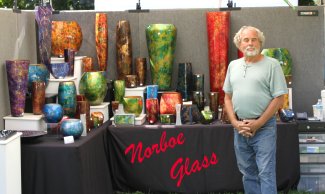 September 25, 2010 - Hey America, we need to get this recession over with. These fine crafts people are taking a beating. They have lowered their prices repeatedly. They attend more shows, and then lower their prices again. These Artists are down to the bare bones in price. Do I sound concerned? You can bet I am. Here's why.
It's 12:30, lunchtime. An hour ago I left the Avon, CT show and headed for Milford. The whole way I thought about the crowd being a little light, but I was at Avon an hour early and did leave before lunch so it would not be fair for me to comment on the attendance.
So, I pull into another great little New England town, Milford, CT. With the caliber of artisans we were told would be here, I expected to be parking two blocks away! I pulled up to the first exhibitor's tent and parked on the street, ten feet away. That never happened before. The smell from the grills was making me crazy, I better hurry and get in line. No line at lunchtime? What? Really?
Meet the Artists and Artisans (M.A.A.), the promoter, advertised well, got the word out; they even had a billboard on I-95 with directions. Rob and I have been to M.A.A. productions before and I know they jury hard and have strict rules about who will exhibit at their shows. It's almost like going to a museum sometimes. You see things you never get to see!
A Few Standouts from the Milford show included:
Norboe Glass Art: (pictured) Just about everyone it seemed, stopped to look and talk to George. The photo above just doesn't do the real colors any justice. He would pick up a piece and carry it into the sun and the color would explode. Super!
Delish Glass: Lamp work glass and sterling silver. Very strong color with good selection. They show in NY and CT. you can see Chelsea and Jeremy at www.delishglass.com
Southwest Designs: WOW. Lisa and Jim Daggett really have it together. Ladies, this work is different. Lisa mixes many elements in the right proportions to produce an incredible look. The coral was my favorite. www.southwest-designs.com Great choice!
Walk Softly Wood Art: www.walksoftlywoodart.com This guy does work that is off the hook. First of all the wood he uses is from the "horizontal forest" as he puts it. Secondly. This work should be in a museum or in my display case. Ken Lindgren has the eye and the touch for the wood turning arts.
Topet Carolina: very cool. Crotched wire. carolinatopet@gmail.com
Melissa Flanagan Designs: absolutely beautiful silver, gold, fossils, pearls and gems www.melissaflanagandesigns.com
Please support these shows before we loose the crafts.
---
Avon Arts Show at Old Avon Village, Avon, Connecticut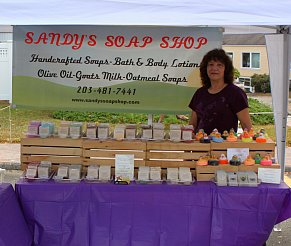 September 25, 2010 - Well, it's about 8:30 AM and I'm in Connecticut heading for Avon. What a great little New England town. Clean as a button, brick houses with well-manicured lawns, and it's a perfect morning to boot. I get to Old Avon Village a little early, just the way I like it! That way I can talk to the Artists more. They were all charged up for this show. It's a lot to do with the setting. Old Avon Village (OAV) is already an Arts portal of sorts. They have a silver and goldsmith, a bead store, a gallery for artists of various art formats, and a whole lot more.
This show has been going on for 43 years and the mix of the approximately 70 Artists was very good. Parking was simple as OAV has parking all the way around the perimeter of the village. There were plenty of places to eat in the area too. GOOD PLACE for a show.
The Avon Arts Association runs this quality, juried show. The booth price is about $120 for a 12x15 foot area.
There is a nice mix of Artist experience and product price range. Experience will cost a little more of course but it's worth it. Not to take anything away from the "newbies" because quality is still king and they showed quality also.
Some of the people I met today were:
Sandy of Sandy's Soap Shop (www.sandyssoapshop.com). Sandy makes her soap by hand from olive oil, goat's milk and oatmeal. You would have to smell the little sample cups of soap she has out to believe it. I didn't count (and I should have), but she had to have 50 products or more. I nearly took a bite out of her pumpkin pie sample! Sandy hails from North Branford, CT.
Jade Expressions. If you are into the fiber arts you might want to check this out. Jade's thing is hats. She knits and crochets some very cool looking hats in a huge range of colors.
Dana A. Designs. Dana has a nice selection of beadwork and handbags. Dana does the jewelry and a friend of hers does the pocketbooks. Their work had a classy look about it. And her helper was adorable. Maybe she will follow in mom's footsteps.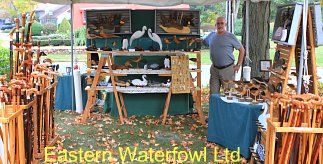 George Abatiello of Eastern Waterfowl Ltd. (pictured) from Warwick, RI. For a moment, I was wondering if one of these "carvings" was going to move! George shows what craftsmanship is all about. His work is fine and detailed. The finish on his work fits precisely to the bird he is carving. He also crafts walking sticks. A walking stick collector friend of mine saw my pictures and will be calling George on Monday.
Well time to head to Milford, CT for show number 2. Blog ya later. J.
---
Atlanta Arts Festival - Piemont Park, Atlanta, Georgia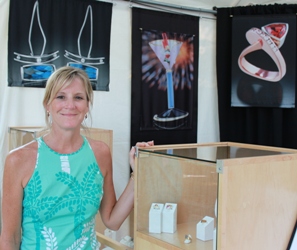 September 19, 2010 - When we think about our objective of getting beautiful high quality handmade items in front of more eyes, it is items like I viewed at the Atlanta Arts Festival that I'm talking about.
The Jurors did an exquisite job selecting the participants for this show. One complaint I heard from the Artists was that there were too many high quality Artists (about 200) compared to the number of patrons.
Piedmont Park in Atlanta is a gorgeous venue for such a show. It's like a version of New York's Central park with beautiful grass playing fields ringed by a paved walkway with the Atlanta skyline as a backdrop. The Artist tents were set on this walkway. The day was beautiful.
I'm not quite sure why there were not more visitors this particular afternoon although I did hear some theories: Too little advertising, and restrictions on visitor volume to reduce impact on the park. I also heard from several Artists that Sunday was much better than Saturday.
As I mentioned in the blog from the Huntsville show, there are those Artists that end up having great sales among all the mediocre sales.
One of those Artists was jeweler Kanchana Nerato of Isara Designs. Her Wabi Sabi inspired silver and pearl jewelry was so simple, asymetric, yet beautifully elegant. Atlanta's High Museum of Art may soon carry a line of her jewelry in their gift shop.
Another standout was the jewelry design team of John and Christine Strobel (pictured) from Wisconsin (www.johnchristinedesigns.com). Their spectacular award winning contemporary gold and fine gemstone jewelry designs really draw a crowd.
Interested in copper and contemporary interior designs? Check out Royal Miree of Royal's Art Studio (royalmiree.com). Traveling from Alabama, Royal displays his contemplative, flowing, moving, and captivating copper and stainless wall sculptures. Royal does commissioned as well as speculative designs. What is it with guys that work copper and their attraction to engineering design (see Leonardo de Vinci in the Huntsville blog)?
Vincent Gialloreto of Vin Art Designs from Georgia featured white bird relief on white ceramic - really beautiful and interesting. Seemed like others agreed as there was a nice crowd of interested buyers at his display. (Maybe once Brothers-Handmade.com gets the store up and running (October expected), we could convince Vin to join us).
And finally, although I'd love to go on, Jayne DeMarcay (demarcay.com) caps off this special mention of our blog. Hailing from Louisiana, Jayne brings one of my favorite design elements - contrast. Her complex, contemporary blend of gold and silver with a splash of color from semi precious stones is absolutely eye catching.
As we always say…

You've got to go to a Craft or Fine Arts show, and Brothers-Handmade.com, and see the absolutely spectacular, captivating, interesting, unique, and really beautiful things your neighbors are making.
---
NEACA Craft Show - Huntsville, Alabama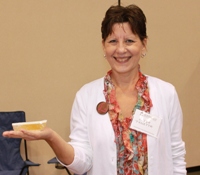 September 18, 2010 - With 200 plus Craftsmen in attendance, NEACA expected about 25,000 visitors. I was there Saturday, and the crowd seemed a little thin. Perhaps Sunday brought out the balance of visitors for this 3-day show.
The Von Braun Center is under major construction. Signage pointing the way to the craft show was somewhat limited. Walking through the vast recesses of the Center was like walking through a cavernous sporting venue on a day when there are no events going on. There was no one else there to kind of follow around the complex, but finally I reached the NEACA Craft Show.
Association shows typically include the local members; have a good mix of Craftsmen, and a wide range of experience and quality. That was my observation of the NEACA show. There were definitely some standouts.
In my experience, handmade soaps are typically not much to look at. It's the appealing fragrance and lather, but not the appearance.
That is until you come upon Leigh Panetta's "Lather Options" (pictured above). There you find a very attractive flight of beautiful cupcakes, cheesecake, brownies complete with chocolate chips, all for use in the bath or shower, even though they really look good enough to eat. Come to find out that Leigh is a relative newcomer to this Craft. Obviously she's a fast learner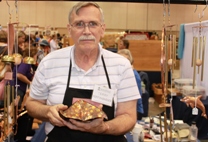 A few isles over, is a fascinating gentleman and former Rocket Scientist, Terry Poffinbarger with his copper wind vanes, ornaments, and jewelry. Spend some time talking with Terry and not only will you hear of his meticulous attention to detail, but you might hear the story of the exploding titanium vessel that nearly blew the roof off his test lab at the space center. Terry makes some beautiful copper works. He also makes most of his own tools used for his copper creations. He's like a Leonardo da Vinci kind of guy.
Now we've seen a lot of wire wrapping, and have even written on the topic (see our wire wrapped jewelry page). But Gene Sheridan's wire wrappings are superb and really draw your attention. He teaches classes on wire wrapping. One look at his designs, and his level of artistry, and it's no wonder.
Something we've observed at the many shows we attend, is that even when sales are down for most at a show, those who really have a standout design or high quality piece on display, end up with decent sales. Based on my conversation with Gene, his sales were strong throughout the weekend.
I'm glad I made the 180 mile trek to Huntsville from Atlanta.
Remember, go to Art shows, and come to Brothers-Handmade.com and see what your neighbors are making. You'll be pleasantly surprised at the high quality and uniqueness you will find.
-Rob
---
Yellow Daisy Festival - Stone Mountain, GA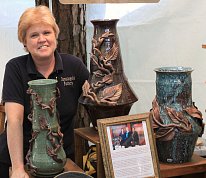 September 10, 2010 - Ladies, start your engines! I've been hearing about the Yellow Daisy for years, but had not yet attended, until today. This show is immense.
Brother Rob has attended the Yellow Daisy several times, and volunteered for craft load in on Wednesday. When I arrived Friday he ask me how comfortable my shoes are? I know why he asked now.
It's held at Stone Mountain Park just outside of Atlanta (named for its huge mountain of granite).
We walked through the gates to 500 Craftsmen, a band playing, and all the food you could possibly want. turns out the Stone Mountain Women's Club homemade desserts were a great place to start. For some guys (and girls), there's also a "Men's Den" with recliners, two televisions, and close proximity to the food area as well.
A vast array of Artists and Craftsmen were represented including a Tatter. (Tatting is a form of lace making)
Jewelry was well represented. Wire wrappers, lamp work glass, precious and semi precious stones, gold, and silver were everywhere.
Lamp work artist Sherrie Venghaus of Molten Glass Designs. She has a bead she calls the Keepsake Vessel. It's very small glass vessel with sand, tiny shells, and small cork stopper. Sherrie also has a cool selection of glass fish, animals, and the coolest frog I've seen.
Eric Mort Art Glass of Texas is also a fine example of torch work glass. His pendants have some of the finest earthen colors and 3D layers resulting in some amazing effects.
Janet Donnangelo (pictured) has this thing for ceramic leaves on her pottery. From ten feet away they look like they just came off the tree. Her skills are honed to a brilliant edge.
Kimberly from Mudpuppies Pottery shows true craftsmanship through magnificent detail and an interesting and unique blue glaze.
Soapers were there in force with a huge selection that adds a certain "air to the fair."
Jackie from Soapy Delight has a very showy soap with wonderful flavors.
Terrianne and Jim Taylor of Pretty Baby Naturals really hits the mark with over 100 products including soaps, body powder, herbal bath teas, and oil & sea salt scrubs.
The folks running the Yellow Daisy really have it together. Wendy Thomas is so organized and wonderful to the many Volunteers and Craftsmen. The Artists and Craftsmen we spoke to really love this show. With over 200,000 visitors, and happy Craftsmen, it's no wonder it's rated as one of the top 10 Craft Festivals in the country, and has been going on for 42 years.
Remember, go support your local Artists and Craftsmen at shows and soon at Brothers-Handmade.com, where you can,

Come see what your neighbors are making™ -Joel
---
Grant Park Summer Shade Festival - Atlanta, GA
August 28, 2010 - What's got 175 Exhibitors, beautiful rolling grassy landscape, two bands cranking out the tunes, lots of delicious food, ATM's scattered nicely about, lots of refreshing beer flowing, and bunches of kids and parents strolling about?
The 8th Annual Summer Shade Festival at Grant Park in Atlanta. What a great place to spend your weekend. After following a train of cars through a completely packed parking lot of about 1000 spaces, and finding none available, I made my way down a side street into the surrounding, in town neighborhood of Grant Park to park along a curb.
Now I thought the concentration of outstanding Artists and Craftsmen wasn't as high as at some events. Part of this was due to the fact that this was clearly not simply a high quality Arts and Crafts festival. Although there were a significant number of great Artists and Craftsmen, they were split among lots of Comcast, Sprint, Grant Park Conservancy, Joe Schmo's energy saver windows, Chiropractors, etc. There were quite a variety of vendor folks at this festival.
What that diversity tends to do is make for a really great place to take your kids and walk around. What it tends not to do is make for a profitable weekend for the hard working and highly talented Artists. As an Artist mentioned to me, "When parents come with kids in tow, they aren't in a buying mood." Based on my conversations, sales were a little disappointing. There was hope for Sunday however, the second day of the show.
A couple standouts for me included:
Julie Jones of JuliesSoapandPottery.com. She started out making soap then took on pottery, and I'll tell you, she's got an eye for color. She makes a line of functional pottery for the kitchen and dinner table. You know, creamers, salt and pepper shakers, and sugar bowls. Well she paints beautiful and interesting blades of grass with wild flowers, complete with a few ladybugs. Really spectacular.
Jeremy and Jami Fore of Bella Glass Arts. Add these Artists to the list of high quality artistic lampwork beadmakers. They make some beautiful floral designs. It's always fascinating to see the fabulous layers of elements fine lampwork bead Artists can create.
Leslie and Kacie of Sweetpeas Posh Pets www.giftsforpetsandpeople.com always had a crowd hanging around. They have lots of brightly colored, sparkling, handmade pet do-dads including collars, leashes, little outfits, and the like. A great variety of fun stuff for Rover.
So a great show for the spectator. Lots to, see, buy, eat, and drink. I just hope people found the artwork they were looking for, and shared a little love with the high quality Artists and Craftsmen in the house.

Remember, go support your local Artists and Craftsmen at shows and soon at Brothers-Handmade.com, where you can,

Come see what your neighbors are making™ -Rob
---
Buck Hill Falls Fine Arts & Crafts Festival - Buck Hill Falls, PA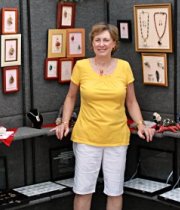 July 25, 2010 - Thankfully with all this heat I keep luckin' out and finding shows in the shade!
First let me tell ya, this is where our folks met 100 years ago … maybe it was 58 years ago. Anyway, they met at this very ritzy resort (as employees). Dad taught swimming and Mom taught music as part of the Camp Club program. It's still a pretty ritzy place. Tennis and lawn bowling are big at this hideaway in the Poconos of Pennsylvania. The place has been around since 1901 and the Art Show has been going on for 50 years or so. On this day, the crowd was a little light, but steady.
I met a jeweler by the name of Marian Gaydos (pictured). This is my kind of jeweler. She uses the better materials. Her stones are perfectly polished and she has a very impressive collection of them as well. She even had a few pieces of seraphinite, the stone of the Angels, found in the Ural Mountains of Russia. She has one fewer piece now though as I had to have it. Best of all was her design and wire wrapping ability. She knows how not to cover the stone, but to make the stone show its best. Check her out at www.mariangaydos.com and hopefully coming soon at the Brothers Handmade stores.
Some of the other standouts included The Mud Place, owned by the very capable potter Leslie Nieto. She makes her own glazes and has some beautiful finishes. Check her work at www.themudplace.com
How about, Faerie Glass www.faerieglassjewelry.com featuring stained glass in silver. There was something kind of magical about it.
And one of the finest woodcutters I've seen is Art In Wood by Jim Thomas of Stroudsburg, PA. His animals and butterflies are so detailed you find it hard to believe he did this with a saw. But I know he does!
And an old friend from Scranton, PA is Joe Noto. He makes pictures out of his woodcarvings including forest scenes, small towns, and hamlets. I see Joe at a lot of shows, that's for sure. The Brothers are keeping Joe a secret until he opens his shop with us later on.
Well, I would say Buck Hill Falls was very much a success. After all, it's an artsy place in it's own right. You can sign up for all kinds of art classes and programs during the year.
Try something different, go to a craft show and see the amazing detail and extreme high quality these people put into their work.
Well, got to hit the road. There's another show down the way and a little to the right. If I drive a little faster I might be able to see two!
Come see what your neighbors are making™
at
Brothers-Handmade.com

Joel
---
Gatlinburg Craftmen's Fair - Gatlinburg, TN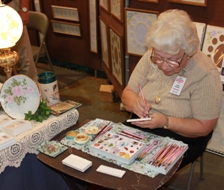 July 17, 2010 - There seems to be a large concentration of talented Craftsmen in this neck of the woods. Tucked beautifully among the Smoky Mountains, Gatlinburg is a destination for thousands of tourists during the summer months. The sidewalks and roads were packed with folks during this beautiful warm July day. I made my way to the Gatlinburg Convention Center (my second Convention Center stop of the weekend as the AQS Quilt show was at the Knoxville Convention Center). After paying my $6 admissions, I made my way down the escalator to a hall lined with metal, soap, painting, furniture, and other media crafts. Then in through the doors of the main hall where over 200 Crafts are on display.
One of the really cool things about this show is the large number of Craftspeople demonstrating their crafts. These demonstrations really add to the allure of the works on display. It's not just a piece of jewelry, rather it's a piece that the craftsman's hammer struck a certain way; it's a piece where the knitter chose a particular knit and purl combination; it's a unique paint stroke on a piece of porcelain. The observer really internalizes the beauty and uniqueness of each piece produced. This uniqueness is one of the things The Brothers really admire at the many of craft festivals we attend.
And the common theme we see over and over is "there is a method to their madness." These experienced, established, practiced Artists have a method for producing attractive, inspiring pieces - consistently. Otherwise they would not be at the shows we attend, or the Art Centers and Schools that we visit.
Craftspeople like Ruth Russell (pictured above) who has practiced the art of hand painting porcelain for over 30 years. Her elegant plates, earrings, pendants, and other works are simply spectacular with their detail and gentle color combinations.
Another standout is the wire wrapped jewelry of Guy and Dottie Shelton of Spun Gold Originals (www.spungoldoriginals.com). I've seen a lot of beautiful wire wrapped jewelry, but as I told Dottie, this is some of the best I've seen at the multitude of shows I've been to. I was especially attracted to the gold wire and semi-precious stone bracelets they had on display. Superb.
If you haven't seen an experienced knitter's hands moving the knitting needles, I have to tell you its an impressive site. Valeria Merrell from ValKnitz produces a variety of fiber products including shawls, accessory scarves, sashes, and the like. I really loved her knitted beaded necklaces. These are a versatile must have accessory for any woman.
It was a wonderful weekend capped off with the Gatlinburg Craftmen's Fair and a drive through the picturesque Smoky Mountains back home to Atlanta.
---
AQS Quilt Show - Knoxville, TN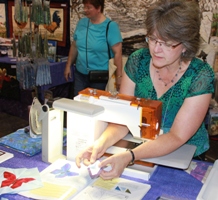 July 16, 2010 - Quilters generally are the nicest people on earth! And that fact along with the leadership of Executive Show Director, Bonnie Browning, made the American Quilter's Society show an exceptional treat.
Now I'm sure with the wide variety of visitors who read these blogs, some of you are not really that interested in quilts. However, if you have a genuine interest in fine handmade crafts and have not attended a quilt show or museum, you have got to put that on your "to do" list. You will be amazed!
I spent some time speaking with Susan Edwards, Director of Marketing at the National Quilt Museum (www.quiltmuseum.org) located in Paducah, Kentucky. She showed me the display of finalists from their 2010 contest entitled, "Sunflower-themed New Quilts from an Old Favorite" contest. Very cool. I expect to get to the National Quilt Museum in the not too distant future.
Hard at work demonstrating yo yo making, were the Yo Yo Club ladies. In case you're wondering, Yo Yos, are little rosettes (rose like) made by gathering and pleating circles of fabric. They were very popular during the 1930's and 40's.
Walking among the many quilt displays one finds themselves in an art museum of colors, stories, challenges, and innovations.
Now show attendees know you never touch the displayed quilts. The AQS hosts, accessorized with white gloves, carefully adjust as needed, any quilts that are not hanging properly. But I must admit, there's something about those quilts with their soft and inviting textures that just makes you want to wrap up in them.
The AQS awarded over $44,000 in contest winnings including: Best of Show, Best Hand Workmanship, Best Machine Workmanship, Best Longarm Workmanship, and Best Wall Quilt.
In addition to the wonderful quilts on display, about 300 vendors exhibited and demonstrated sewing machines and equipment, fabrics, patterns, sewing tables, and supplies.
One of those exhibitors, Cynthia England Designs, appeared to have an endless crowd of onlookers most of the day. (Re-read the first sentence of this blog).
After leading workshops most of the day, Cynthia took the time to show me her Picture Piecing technique. Picture Piecing is a technique where you take a picture or photograph, match fabric colors with the various elements of the picture, and create a quilt that looks phenomenally like the picture.
Of course as she began, the crowds again huddled around her demo. With her piecing technique, you sew next to the paper and not through it. This ends up being really forgiving. After you sew two pieces together, you open them up and if the paper isn't exactly lined up, you simply remove the piece of freezer paper pattern, realign it, then press it into place with an iron, and on you go. Cheating as she calls it. Check it out at her website, www.englanddesign.com.
---
The Walk Art and Craft Festival - Atlantic City, NJ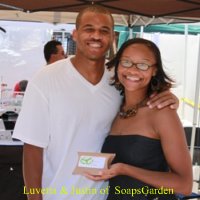 July 3, 2010 - Well - it was a short walk. The event promoter Art Walk Shows LLC claimed 50 artisans. I didn't get an accurate count but that number seemed to be a high estimate. I will say however that there was a nice mix of crafts represented. Most of the Craftsmen that I spoke to were from the area.
This was the first day of the first year for this event. The Artists I spoke to noted that the traffic was slow so far. They were hoping that around 4PM when folks come off the beach traffic would pick up. If you're not too familiar with Atlantic City (as I am not), you may find yourself driving around a bit until you happen onto the event site. It is common (and I think good practice) for event promoters to provide a navigational address in order to better pinpoint the exact location of the event.
The event was spread out on the sidewalks of the ever popular Outlets. A couple notable Craftsmen that I liked included:
Luvetta Jarmon and Justin of SoapsGarden (www.soapsgarden.com). Wonderful people with a nice selection of handmade soaps and one of the nicest packaging containers that I've seen. They had a continuous stream of customers at their stand but allowed me a chance to snap a picture (and of course buy some Shea Butter soap).
I also liked Carol Steinhauser's Blueberry Fields soaps (blueberry-fields.com). She had attractive bars of clear glycerin soap on one side of her display, and the olive oil soaps on the other.
Lisa Falzone of Believes Jewelry displayed her very creative and beautiful lampwork bead and jewelry making talents. I really liked her encased flowers in clear glass beads with sterling silver inserts sized to fit the popular Pandora bracelets. I was also drawn to her rhinstones set in sterling beads.
Even though we are not currently focusing on wood, I must say there were two highly talented wood turning Artists:

Creative Wooden Art Work - produced spectacular exotic wooden vessels, from irridescent red wood karafs to his box wood and inlaid bowls. In a word, beautiful!
And finally, Chris Merlino of Wood N Treasures (woodntreasures.com). I love show demonstrations, and there was Chris, turning a wooden perfume pen shaft on his lathe with all the attention to intricate detail you would expect from a top notch wood turner. Check out his works, they're superb. Nice work.
---
Spring Fine Art and Crafts at Brookdale Park Montclair, New Jersey
June 19, 2010 - It's 11:00AM, already 95 degrees, and this show is in a beautiful park with huge trees and a stream. What a relief. It's 10 degrees cooler here than everywhere else.
Rose Squared Productions, Inc. has a definite winner here. Howard and Janet Rose know how to pick the locations I'll tell ya that. The Artists are even allowed to park right behind their booths and that is big. For one thing the Artists aren't worn out from going back and forth to their vehicles to set up. Also they can keep their inventory high because they don't have to walk 2 city blocks to re-supply. Can you imagine being the Blacksmith, the Potter, or the Glass blower walkin' and stockin' all day?
There were about 180 exhibitors and an excellent mix of Craftsmen-Artists too. Almost all crafts and trades were represented and that was hard to believe. Even Soap and Quilts! The Fiber seemed to attract more than usual and it could be what I've said before, next year's styles are at these shows now.
I ran into some old friends and made some new ones. They all love this show and look foreword to showing at it.
One old friend that I see all over the place is Chris Pettingill, Potter. He and Peggy Sue own C & P Studio Ceramics. This guy's work is incredible. He uses volcanic ash glaze for detail work. You won't find that at Wal-Mart.
Another one you won't find is Shohola Bells. What can I say? These bells are Off the Hook! They are completely made of clay and they ring perfectly. I believe they are the largest rack mounted bells I have ever seen. Dave Greenbaum, the Artist, must know what he's doing because kids were playing the bell and he was telling them to hit them harder. That was cool.
Well, my top 10 list is as follows:
C & P Ceramics – Pottery- cpstudio@earthlink.net
Shohola Bells - Pottery - www.Shoholabells.com
Carol's Scents N Soaps-Soap- www.Scentsnsoaps.com
Serenity Ceramics- Pottery-www.serenityceramics.com
Ian Lander Jewelry - Mixed media
Creative Wooden Art-Wood turning-www.creativewoodenart.com
Designs by Diane - Jewelry - www.designsbydianed.com
Brian Mariano - Jewelry- bmariano@ptd.net
Far Beyond Woodworking- Wood furniture - www.farbeyondwoodworking.com
Quintessential Quilts - quilts- www.quintessentialquiltsnj.com
If you missed this show you get a second chance 10/16-17/10. You'll be glad you went.
Come see what your neighbors are making™
at
Brothers-Handmade.com
Joel
---
Art B Que Festival - Avondale Estates, Georgia
June 12, 2010 - It's only 95 degrees and sunny - where are all the people? A very nice festival put on by Bart Webb Studios featured approximately 100 Artists. The two largest groups of Artists were Jewelers and Painters with about 20 -25 in each group. Then there were about 10 pottery/ceramic artists present. The balance were glass, metal, fiber, mixed media, and a few others.

Most of the Artists had the same comment that the heat was keeping the patrons away so business was mostly so so. They were hopeful that Sunday would bring some cooler temperatures and with it more people. Even the cold beverage vendors including beer, wine, and mixed drink vendors weren't busy.

But let me tell you, there was a strong slate of Artists in the house. Several that stood out included:
Copper Dancer Designs (copperdancerdesigns.com). Andrea and Julia displayed some beautiful lampwork including one of my favorites, little lampwork vessels with a small cork and handle. Really cool. Also they have been working in chainmaille and have some beautifully contrasting, (I believe it was stainless and bronze) links nicely placed in bracelets. Very artistic.
Keen Zero from Alabama, and his salt fired stoneware and porcelain pieces. Keen's spent a good amount of time telling me about his journey in pottery. He loves experimenting with the wood burning salt fired kiln. It's amazing the unglazed metallic finish produced by salt firing. Also he takes great pride in the glazed finishes produced in a gas kiln, and especially the area on the vessel that comes in contact with the gas flame directly. It leaves a fascinating and unique mark in the glaze. And he points out the patterns created when glaze drips from the double lipped rims he puts on his pots. And you've got to see the detailed work he puts into the bottoms of his pots. Superb detailed workmanship.
Penguin Arts (penguinartsjewelry.com) Valerie makes some of the most beautiful swarovski chandelier earrings that I have seen. Her color combinations were so simple, delicate, and elegant. Her workmanship with the sterling silver wire was clean and allowed the earrings to flow smoothly when moved. And she includes high quality clasps to prevent the beautiful earrings from getting caught on something and falling out.
Magnet Man Jewelry (magnetmanjewelry.com) Larry and Sue have been designing and making their therapeutic magnetic magnetite jewelry for several years now. Larry swears by its healing affects and described the benefits he experienced personally with some arthritis. I'll have to try it sometime and see for myself. Larry mixes his magnetite stones with other colorful stones and makes several very attractive bracelets and necklaces for men and women.
Overall a good festival. They really had quite a variety of entertainment, music and otherwise, for the evening. Hopefully the qualified buyers will show up and spread a little love to the well deserving Artists and Craftsmen.
---
May 23, 2010 -
Shadyside Arts Festival - Pittsburgh, PA Howard Alan
Well, it's 2:00 a.m. the alarm is barking, time to head for Pittsburgh Pa. I've been waiting for weeks for this show. First of all it's a Howard Alan production. Second its in Shadyside. What a cool place for an arts festival!!! I had planned on 3or 4 hours and ended up staying all day. Did I mention it rained, monsoon style at times, no matter. After about 5 min. it was obvious, this was still going to be a great show!
There was about 180 Artisan Craftsmen in attendance, all experts in their craft. Let me make something clear. These artisans had to go through Alan productions jury requirements before they could show their work at an Alan show. Although I don't know Howard he must have some pretty strict requirements because everyone there is "Off The Hook".
I got there at 8:00 and the first one I ran into was Gary Smith. He does wood work but a whole lot different then you might think. He makes boxes out of camphor wood, I know, you've seen it before, well not like this. Gary calls his work, "Secret Art Box". I promise, you will be amazed at all the secrets that can be found in his work. Outstanding!
I wanted a piece of polished stone jewelry and stopped at Julie Berger's display and there it was, a perfect piece of Oregon agate, wired to perfection. Her work is done in her own style; it's loose and airy but very strong. Her prices are affordable too. I have purchased work from Julie before and have always been satisfied. Check her out you will be satisfied too.
When at a show of 100 to 200 Artisans Craftsmen and Tradesmen I try and pick 10 who stand out to me. It's almost impossible so I enlist the help of the patrons. I watch to see if they would stand in line to see an artist. That artist is the one I'm looking for. So here are 8 more that you have got to see!
Jason Stoddard –Jewelry
Larry Hughes – Jewelry
Patricio and Neena Ferreira -Jewelry
Sally Phillips -Jewelry
Lou Works – Wood craft
Xiao Xia Zhang – Embroidery
Teresa Haun – Leather book covers
Prescott studio – animals made of steel
Howard Alan productions will be doing it again 8/28-8/29 2010. I checked the farmer's almanac and it showed good weather for the Pittsburgh area and the show so check it out, you'll be glad you did.
Hey you guys. If you need a gift for that special gal, go a show and get it. She will appreciate it when you can tell her that you know the person who made it. Also it's American hand-made. You don't have to tell her that you had a better time then you thought you would and that's because there is a lot of things for the men too. The prices range pretty much. From, $15 for a set of earrings to $10,000 for some of the sculptures. I wonder how much those dinosaurs and elephants cost from Prescott studios? You would have to see them to believe it. They move! The only thing wrong with them was even in the rain, parents had a tough time getting the kids away from them.
Heading North "Come see what neighbors are making" Joel
---
American Quilter's Society - Lancaster, PA
March 24, 2010 AQS Lancaster Show - What a breath of fresh air! This show was fabulous. Wednesday was the first day of the Quilt show at the Convention Center in Lancaster, PA. This was one of the big Quilt shows of the year and went through the weekend. If you are looking for a long arm quilting machine, the floor was loaded with them. We snapped a couple pictures of some of the purveyors.
Our favorite part was the quilt displays. The Amish quilt section displayed such understated intensity, deep with colorful designs on backgrounds of dark blues and black. Full size bed quilts are one of my favorites as I like the functionality of handmade items. We found ourselves standing at length looking at Suzanne Marshall's award winning and completely hand sewn quilt entitled Vases. Joel's favorite was the best of show Christmas Chickadee by David Taylor. My favorite was Darwin's Diamonds and Flowers, by Rhonda Beyer, which won Best Longarm Workmanship.
Exhibitors were so wonderful - cheerful and talkative about their displays. One of our favorite exhibitors was LizzieB Cr8ive and their Whimsyland fabric www.lizziebcre8ive.com. We also loved their Tree-man holding up the display frame.
Also we met Janie Donaldson from QuiltersTV.com and her Ansley long arm sewing machines. Janie was wonderful to chat with, and she's written several quilting books as well. Then we really liked Heidi Farmer at ABM International Sewing Machines com. Heidi is a farmer turned quilter. And she had a mesmerizing quilt design on display in the ABM International booth. So the bottom line is that the AQS show was really great. Definitely worthwhile if you're interested in learning, expanding, or purchasing quilts and quilting materials and supplies - or just chatting with the fine folks in attendance.
---
Sugarloaf Oaks, PA Craft Festival - Ouch!
March 21, 2010 - Ouch! The Sugarloaf Arts Festival in Oaks, Pennsylvania
was - well shall we say an interesting experience. Other than one rude person, and a security official that felt uncomfortable approaching us, and the lack of breakfast spots in the area of the Expo, it wasn't a total wash.
Let's start at the beginning. The Bob Evans restaurant which seems to be closest to the Expo center venue had a 20 minute wait. So we drove 25 minutes (yeah, I know) down the road to the first place we saw serving breakfast, all the way in Phoenixville, PA, called Nudy's restaurant. Don't be alarmed by the name. It's a family friendly breakfast and lunch place right on the main street with great food (Salmon Florentine recommended) and great service with most menu prices in the $7 to $10 range for breakfast.
The Sugarloaf festival charged $8 for admissions. A little better than 300 Artist/Craftsman were in attendance. The overall negative attitude of the Exhibitors doesn't surprise me. Sunday, 3/21 was the final day of the festival. I'll summarize what I heard from the dozen or so Exhibitors I spoke to about how this show was, by quoting a wood craftsman who said that in 30 years in this business, this was his worst weekend, and that he would not be back. And a Potter said, ...I won't be back. And after our rude experience with one person and a security official, I doubt we'll back either.
However, while we were there we did run into some absolutely fantastic Artists and Craftsmen. And we couldn't resist purchasing a Seraphinite bracelet, and a Lampwork Beaded Bracelet from Debbie's Treasures. Her beadwork looked very creative and nicely finished.
We really thought
Kimberly Arpaia's
fine jewelry was a standout. The Arpaia line included fine delicate gold and silver, black diamond, gray diamond, and white diamond jewelry. Absolutely phenomenal. We also loved the
TB Pots
stoneware pottery and their ceramic microwave egg poacher dish, complete with a lid designed to sit offset on the dish to allow steam to escape. We had a nice conversation about shad fishing (of all things) with the owner of
LizTech Jewelry
, creators of colorful and interesting non-precious metal jewelry. And we were happy when we first walked in to see
Pretty Baby Naturals
soap and body lotion makers. Their soaps with names like Oats and Goats, and Sunny Citrus Poppy were really refreshing.
The layout of the festival was your basic checkerboard with some musical entertainment in the back of the floor. They also had a nice variety of handmade food purveyors. -Rob
---
American Craft Council - Atlanta Show
March 13, 2010
- The Exhibitor list included a little over 200 Artists and Craftsmen. As usual for the ACC, these are top of the pile exhibitors.
Handmade Jewelry ruled the day, followed by fiber, ceramic, glass, and wood. There was also some metal and leather on display. No Quilts! Bummer. I like to see quilts at a fine crafts show such as this one - even if they would only be decorative quilts ... and of course not a bar of soap to be found either. Hey that's a craft, and in many cases, an art form.
The layout was fine, your basic checkerboard. Watch out though if you find yourself in the same exhibit that several others want to see. Bumping, excusing, waiting, and craning would be the case. The Biggest Crowd Award goes to, Sophia Forero www.sophiaforero.com. I was waiting about 10 minutes to even get into her booth to get a card. Lookers and buyers abounded.
Most of the Exhibitors I spoke to gave the show a mediocre rating. Saturday (3/13) was better than Friday for the most part. I was there Saturday. One exception was Marvin Blackmore, from Dolores, CO www.blackmorepottery.com. He mentioned that he had a really good Friday. His Terracotta etched pottery was a real eye catcher.
For me, a couple standouts included one of my favorite local Artists, Ricky Frank. www.rickyfrankenamels.com. The artistry, intricacy, and color combinations of Ricky's cloisonne' enamel jewelry are stunning. Another showstopper was the mother of pearl inlay work of Tom and Cathryn Nowicki. I also really liked Aaron Macsai's fine precious metal beaded jewelry www.aaronmacsai.com. One challenge for a show of this level is matching the number of qualified buyers with the number sellers. The works are of such phenomenal artistry, and therefore command a big dollar, that even though there are a lot of attendees mulling around, there are quite a bit fewer ones with the backing to purchase the many $1000 plus items on display.
Solving this situation will be our quest at Brothers-Handmade.com.
---
Craft Show Season in the North
Well I think winter is over and that means only one thing, CRAFT SHOW season is soon to start. We traveled all over the South this winter visiting one show after another, and now we're looking forward to checking out some shows in the North this summer.
My friend Debbie from the credit union asked if we could show a couple of local Pennsylvania shows and events. Well Debbie, here are a few that we think will satisfy:
3/19-3/21/10 Sugarloaf Craft Festival in Oaks PA at the Greater Philadelphia Expo Center
3/20/10 Quilt Show; First United Methodist Church of Canons. Canonsburg, PA.
3/20-3/21/10 Intergalactic Bead Show; York Expo Center, York, PA
3/24/10-3/27/10 A.Q.S. Quilt Show and Contest. Lancaster County Convention Center. Lancaster, PA.
3/27-3/28/10 Eighth Juried Spring Craft Festival; Kutztown University Field House Kutztown PA.
I hope you get a chance to go to some of these events. Check them out and
See What You're Neighbors Are Making
---
Spruill Center for the Arts - Student/Instructor Jewelry Market
February 28, 2010 - Attended the Spruill Center for the Arts Instructor and Student Jewelry Market
Well I was quite impressed. It was held inside at the Spruill Center for the Arts in Atlanta, GA. I didn't get the exact count but I estimate about 80 Artists represented at the Market. It was displayed in 4 rooms and a couple hallways. The interesting thing about it was that in many cases the divide between who was a Student and who was an Instructor was not apparent by their works (or their display setups). Often it wasn't until I received their business card that I knew. And there is good reason for that. For the most part, these Students are not typically beginners in their Artistic endeavors or formats. When I spoke with them, they in most cases were either accomplished in their crafts but were taking some advanced classes, or they assisted with teaching, or they were expanding their knowledge into extensions of their already refined skills. A couple standouts for me were: Judy Parady (Instructor) with her cast and fabricated silver and gem rings and bracelets. My daughter absolutely loved the works of up and comer, Joanne Hernandez, with her fabricated silver (we called it) upside down tree necklace - very contemporary and interesting. Although Victoria Lansford (Instructor) was not at her exhibit when I walked by, I did get to see some of her phenomenal Russian Filigree works. The intricacy of this art form will blow you away. Also Ricky Frank (Instructor) had stepped away, but his enamel and cloisonne work sets the standard in this format. Spectacular. I'm looking forward to seeing more of Ricky's work at the American Craft Council - Atlanta show this weekend, March 12-14 at the Cobb Galleria in Atlanta.
---
American Craft Council - Baltimore Show
February 28, 2010
About 750 quality artisans and craftsmen exhibited their talents at the ACC Baltimore show, February 25-28, 2010. Dozens of crafts were represented at the show. If you're into fibers, you came to the right place. Next years' styles were on display at this show.
The Jewelry Artisans showed phenomenal raw thinking. It's all the meticulous, precise, and unique ideas that make this show so appealing. Karen Smith of Santa Rosa, CA makes a fiber jewelry that is so fine and detailed you have to see it to believe it at www.karensmithknotworks.com. Some of the most intricate jewelry work was created by Alex and Mona Szabados. Their work is so intricate you find yourself staring without blinking. www.monaenamels.com.
When it comes to quilts, Ann Brauer www.annbrauer.com, reminds me of quilts my great grandmother had; real thick and heavy. And the color combinations were stunning. We recommend a 3 day trip next year. Two days to view the exhibits, (and purchase of course), and a day to tour around Baltimore's Inner Harbor, and eat in their fine restaurants.
---
Delray Florida Art Festival
January 16th, 2010
- It's cold in the North, it's cold in the South, and that includes the Deep South. We drove close to 1200 miles and we're here for the Craft Show, not the weather. We stayed at the Ramada Inn, Stuart. Great value, clean, nice staff.
The next morning brought "normal" Florida weather - way up to 45 or 50 degrees. So off to the show we go. Well this show is one of the larger community shows. Probably 16 blocks of non-stop Artist exhibit tents (except for where the draw bridge operates in the middle of the festival). Both sides of the street and down the middle. This is a fine Howard Alan Event. Good Job! There are 1000's of visitors at the show, yet you don't feel crowded. With the exception of tripping over the occasional Yorky (dog) in a stroller, it was easy to navigate around. Just about all the usual craft formats were represented there. Although I didn't see any Soapers :( There was a good mix of Artisans, and they were well distributed along the route. Some Artists tell us they don't like when there are a lot of Jewelers crammed right next to one other, or Potters for that matter. This show was nicely mixed. Howard Alan knows how to put on an event like this.
You can find some of our favorite Artists in our Brothers-Handmade Featured Artist pages: Brenda McMahon - an incredible Potter, Tom Radca - a Potter with a propensity for textures and "Painting with Fire" (see our Featured Artist page). Larry Allen, an eye catching Potter influenced by the 9-11 attack. Scott Gamble, Glassblower - an Artist with talents way beyond his years. Everyone we spoke to said they loved this show. I know that I'll be in Delray next time for 2 days. Now we're heading up the Florida coast to attend the Indilantic Art Festival, then further North to check out the American Craft Council Baltimore show. They say small business and small industry is the backbone of America. Believe me, you can't get much closer to this truth than when you're with the great Artists that we'll introduce you to on this website. Until we meet again, remember,
American Manufacturing is alive and well at Brothers-Handmade. Come see what your neighbors are making.