The Buckhead Spring Arts and Crafts Festival
Chastain Park, Georgia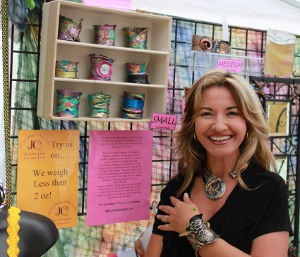 May 15, 2011 - Ok, let me try and squeeze in a craft and art festival today. I'll spend an hour, then scoot out of there to take my daughter to her orchestra concert.
Or not!
Two and a half hours later, I'm still making my way back through the 160 exhibit long pathway of the Buckhead Spring Arts and Crafts Festival, held at Chastain Park, Georgia.
This is only the second year of this show, but it seems like the right time and place. You know many of the fine craft and art festivals that we attend, are located in more upscale surroundings. Such is the case with the Buckhead festival. The leafy neighborhoods surrounding this ITP area are full of large beautiful estate homes. The only downside for some is the constant flow of traffic, and the often times, loud music wafting from the very popular outdoor amphitheater know simply as "Chastain."
Today is a mostly overcast and unseasonably cool day for mid May with temperatures in the low 60's. So the crowds are - well not stellar.
But there are a lot of Dogs.
Yes the denizens of Buckhead enjoy walking their dogs through the beautiful, hilly, forested, paved pathways of Chastain Park. And Neither Rain, Nor Sleet, Nor gloom of night, Nor the Buckhead Spring Arts and Crafts Festival, with the associated crowds, will keep the dog walkers away. Although I saw a few, there were not nearly as many Yorkies dressed in frilly attire and sunglasses as we usually see at the Florida shows. These were more your typical dog walkers.
This observation likely was related to the observation that the cool handmade dog bowl stands, and various pet accoutrements were selling pretty well at this festival.
However, chats with the fine artists and craftsmen mostly included the common response, "sales are a little slow." And "the crowd is a little thin." I will say however, that at about 4PM when I was hurriedly making my way back down the one lane path, the crowds were noticeably larger than 2 hours earlier. So hopefully there was a strong finish.
Another thing I noted at this show, were not only the top notch Artists and Craftsmen present, but the higher than usual number of "painted format" artists. There was quite a legion of painters, including one of my Faves, Marc James Villanueva that I blogged about on May 7, 2011, at the Colors Festival of Arts in Roswell, GA.
Now for the list of Remarkable Artists and Craftsmen that I met: (click images to enlarge)
Katrina's Jewelry - Katrina (pictured) is one of these people who have been doing artistic things all their lives, and their incredible eye for design carries over from one format to the next. I thought her metal, and combination metal and stone necklace designs were superb. She garnered quite a crowd making it difficult for me to squeeze off a photo. The ladies loved her jewelry. (And the men (and boys) loved her husband's (Jakes Custom Knives) awesome handmade knives as well)
The Write Stuff Pen Works - Andy Little is so energized about his beautiful handmade pen designs. Folks, these are fantastic gifts for the executive, or person in your lives (including you) who want a unique, beautiful, interesting pen, that also writes incredibly well. Although several standard ink cartridge refills will suffice, Andy goes to great lengths choosing the initial ink (from a company in Germany) that he claims flows the best. So your pen off the shelf, will be perfect.
Kris Khan Designs - Kris had stepped away from the exhibit, but the stitch work on the quilt that I carefully examined was remarkable. The same goes for the beautiful and unique place mats, and mug coasters. Lovin' Kris Khan Designs!
Leon and Eva Oziel Unique Jewelry designs were exactly what I'm looking for in the Brothers Handmade store. The solid precious metal unique ring designs with beautiful stones set in matching colored polymer, finished with incredible detail, were simply superb. If you see Leon, tell him to join Brothers Handmade, and get those amazing pieces in front of more eyes.
Jeanique - Jean Houndsome (pictured) makes the coolest hand sculpted, hand painted necklaces and bracelets. My guess is that you have not seen these anywhere else. They are really eye catching and because they are made of an acrylic material, they are unbelievable light. A must see (and have).
Miss Kittens' Jewels - Julie Collins, Designer, and lampwork bead expert, spent the time describing how she creates the coolest flowers inside her lampwork beads. We've got some stellar invited jewelry designers and lampwork bead artists on Brothers-Handmade.com, and I would sure love one more - with the name, Julie Collins.

Well here we are again, at the end of the blog. Folks, you just can't see the things we see if you don't go to fine art or craft shows. But remember, if it's not a Saturday or Sunday between 10AM and 6PM,

Visit Brothers-Handmade, and

"Come See What Incredible Things Your Neighbors Are Making"©



Return from Buckhead Arts Festival to Handmade Blog