Craft Storage
for the
Artist, Craftsman, and Collector
So, you need some craft storage ideas for the craft pieces and materials you either made or bought. I will start with the Artist or Craftsmen, then move on to the Buyer or Collector.
First of all, if you're selling crafts, what crafts? Pottery, Jewelry, Soap, or maybe Quilts. The requirements for each are very different.
Pottery requires strength and the ability to hold some volume. You could go with steel or steel wire shelving. But now you're talking about more weight. They also cost a lot more but like we always say "You Get What You Pay For".
And by the way, we have no financial interest in any of the website links we're presenting here on this page.
Pottery storage for travel also requires a tight fit, as movement is a problem hoping to avoid disaster. Wooden cases can be used and then turned on their sides and used as a display case at the Craft Show. God bless the potters and glass blowers as they travel. I have been there when they opened their van doors and their work was in pieces. It is one of those feelings that just rips you. These Artisans travel an incredible number of miles to get to the shows. We talked to many about transporting their work and how they deal with storage issues. Cardboard, newspaper and bubble wrap are the main cushioning material for the traveler.
Potters keep it all tight and don't drive like Jewelers, and it seems to work out for them. (Nothing-personal Jen and Louise, but you passed me on the East-West out of Philly and I was doing 80.)
Jewelry needs security, you don't want your bead box or polished stones falling on to the sidewalk and popping open. That would really mess up a show! Small compartments with spacers and a well-made hinge setup with a sturdy lid are standard. The sturdy lid part is because none of us pile containers higher then the maximum rating do we? (Queue the laugh track!)
As far as the hinge goes, if the storage container is plastic check and see that the hinge is heavy and thick. It will work better and last longer too. Some even have a wire through the hinge to toughen it up even more.
The plastic itself matters also. The hard clear plastic cases are showier but are usually more brittle. The softer cloudy ones can take a beating and won't break. By the way, every Dollar Store in America has tarp straps or bungee cords with hooks and that's some pretty cheap security right there I tell ya.
Here we have some nice stackable containers in a sturdy rack that can found at Stacks and Stacks.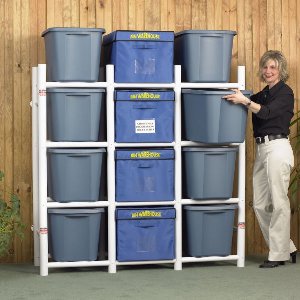 There are a bunch of good reasons to go a little heavier. For one thing, when you get to the show, all you have to do is unload the bigger ones, turn them upside down, cover with your choice tablecloth or fine material, and voila, an instant display table. Use different size craft storage containers for that 3-D effect.
A couple of websites that might help you a little include:
One of our favorites for the Craft Armoire is www.sauder.com. They have some really nice designs for those involved in sewing and quilting, as well as nice storage ideas for simple crafts.
For a nice variety of organization solutions including Craft Storage, check out www.orginizeit.com.
www.stacksandstacks.com also can fill most of your storage needs, including the large stackable crates

Another strong contender for high quality craft storage is www.theoriginalscrapbox.com. I bet the Scrapbooking folks can find some good use for a Large craft storage piece as well. It comes complete with a craft table built in.
Soap
I don't know, maybe you should just pile it up in your van, leave the windows down, drive nice and easy and the flavor of the air will cause the cars to line up behind you and follow you right into the show. And you probably won't need any storage at all.

Or plastic bags and Tupperware-like craft storage containers work fine. Another possibility - wood. You could find an antique soapbox which would be very cool. Having one made is going to produce exactly what you're looking for such as a lid that is tight and secure, good strong hinges, and a strong hasp or latch. A local craftsman can help with this task.
Quilts
Lets face it, if you have an expensive quilt, it should be stored in an explosion proof, dehumidified, fireproof, mold proof, kid proof, bug proof and dog proof storage vessel of some sort. OK, I'm just kidding, it doesn't have to be explosion proof.

You will definitely need to keep them dry and clean. Large plastic bags work pretty well. You could also box them in cardboard boxes. For the short term this works pretty well and they don't get snags. Quilts should not be stored in cardboard boxes for the long term though. Cardboard attract insects and mold. There are of coarse mothballs and various anti mold compounds that can be used but use boxes for short term only. Vacuum storage bags work well and will also reduce the volume of the quilts. And that gives you extra room for more quilts.

Now, if you are storing for long periods of time there is only one way. Its old school but in my opinion it's the best. Can you say Cedar?

Ah, the smell of cedar. I love it, bugs hate it. My folks have a cedar closet, and for over 40 years it has worked well. Insects don't like the oils in the wood, there for, no silver fish. Also, properly dried cedar will keep the moisture down which will keep mold at bay.
Cedar chests work equally as well and are portable too. And come to think of it, you could hire a local Craftsman, Tradesman or Artisan to build it. Now you have an incredible piece of art storing an incredible piece of art. How cool is that. A hand carved cedar chest would be some serious craft storage.
Now for the people (Collectors) who purchase these incredible works.
Don't Store Them Show Them!
But if you have to, remember a cool dry area is the best storage in most situations.
Please hit us on our "Contact us" page and give us your suggestions. We would be happy to pass them along to our readers and help someone out.
And remember…One machine can do the work of 50 ordinary men. No machine can do the work of one extraordinary man or woman. (Anonymous)
Thanks for checking out Brothers Handmade. "Come see what your neighbors are making".
Return from Craft Storage to Brothers Handmade home