The Crazy Quilt
Crazy Quilting is considered "crazy" because there is no particular pattern to the way the fabric is pieced together within a block. Each seam is embroidered and often other embellishments and decoration are added. The overall effect depends on the choices you make along the way. It's a craft with much room for personal expression and little worry about getting something wrong. (photos courtesy of Notahandbag on Flickr)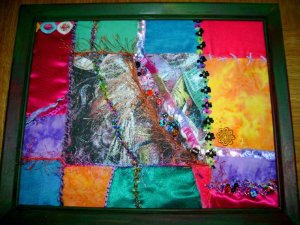 History
Crazy quilts as we know them came into being in the late 1800s. The Philadelphia Exhibition of 1876 introduced Japanese asymmetric art to the middle class. Such women had enough time for decorative fancy work and often used Oriental themes in their quilts.
The interest in crazy quilting grew sharply, with women collecting fabric scraps of silk, satin, and other fine fabrics and trying to outdo each other. The completed works were not used for warmth, but draped over settees or pianos to show off taste and skill. But the obsession peaked around 1890 and by 1920 very few of these wild type quilts were being made.
A century later, in the 1980s, there was a crazy quilt revival, with modern quilt artists bringing the idea back to life. In addition to the unplanned and highly embellished works similar to the earlier pieces, they also created ones more like works of art with coordinated color palettes or planned themes, such as underwater or Christmas.
Currently, almost anything goes when it comes to creating a crazy quilt or other stitched pieces, like purses, using the techniques.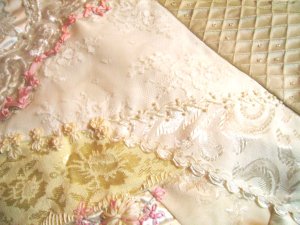 Construction
You begin with a square of muslin or cotton fabric backing and sew fancy fabrics to it. Typically an irregularly shaped piece is tacked down near the center and another fabric piece placed on top, right side down. The seam is sewn, by machine or by hand, and the upper fabric flipped over. Add more fabric the same way, working outward until the entire cotton piece is covered.
Heavy velvets and other thick fabrics make too bulky a seam when flipped. Instead they are tacked down and thinner fabrics applied at the seam using appliqué techniques. This makes the process more like assembling a jigsaw puzzle.


You piece, then embroider, as many blocks as you need for the size quilt that you want. The back of each block is marked off with the appropriate seam allowances. They are then sewn together using traditional quilting techniques for joining squares.


The joined blocks are laid on a backing, a binding is added, and the quilt is finished. No actual quilting is done to attach the backing to the quilt top. If the fabrics shift too much then small ties or knotted stitches are placed where needed, often at the corners of the blocks.


Embroidering the Block
Almost any form of surface embroidery can be used on a crazy quilt as long as you pick the right needle to go with the thread you are using. Some embroiderers will use a hoop to hold the fabric taut, while others just work "in hand".
The seams in a crazy quilt block are always decorated. Sometimes a trim or lace is attached but more often they are embroidered. Any embroidery thread may be used but typical choices include perle cotton or six-strand floss.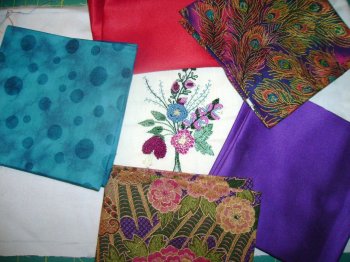 Simple stitches can be used, like herringbone or feather-stitch. More often, the one line of stitching is only a foundation and other stitches are added, making ever more elaborate patterns. For example, every other stitch of the herringbone might be larger. There could be a bead at the end of a stroke. Or three lazy daisy stitches will be added to make a flower, perhaps on only one side of the seam.


The center of the fabric patches can also be decorated. Often a motif such as a basket of flowers or a fan is embroidered in an empty space. Fabric printed with images can also be appliquéd here or sewn in during the piecing phase. You can add beads, buttons, and anything else that catches your eye as well.


Supplies Needed
You'll have most fun with these free spirited quilts if you build a stash of supplies from which you can select just the right piece. But to get started you only need a handful of fabric scraps, a backing fabric, a couple skeins of embroidery thread, needles, and scissors.
Many fabric stores will let you buy fabric in 1/8 foot increments, which you can cut into 6"x9" pieces, large enough to use in most blocks. You can pick up all sorts of satin, silk, velveteens, even nice cottons. Natural and synthetic fabrics are equally useful. Consider buying one foot lengths of a few laces and trims as well.


Other sources for materials include flea markets, the internet, and swap groups. You can recycle damaged vintage clothing into fabric scraps, for example. Some specialized online businesses will sell packets of fabric and trim put together especially for crazy quilting. If you join a crazy quilting group, either online or in person, each person can buy a few materials, cut them up into pieces, and swap them to build larger variety in her stash.