Handmade Dog Shampoo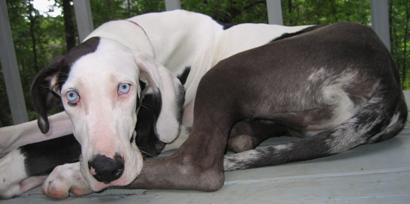 Handmade Dog Shampoo is easy to make and best of all, you'll know exactly what's in it. You'll also know what's not in it – and that is anything harsh.
We have found that the recipe below results in a formula that leaves our dogs with soft, clean, shiny fur that lacks any particular scent including dog smell.
I will say however, that if your dogs are like mine, the very minute I release them from their outdoor bath, they are quick to find dirt in the yard and roll around in it.
What You'll Need (makes about 1 - 1/2 quarts)
1 pint liquid dish soap (Dove, Dawn, Ivory, etc)
1 pint water
1 pint apple cider vinegar
4 oz. glycerin (We have some in the Brothers Handmade Store)
Mixing bowl with a pour spout
Container(s) to hold the end product e.g. water bottles, empty soda bottle, empty shampoo bottle (you get the idea)
For Alternate Resulting Volumes
| | | | | | |
| --- | --- | --- | --- | --- | --- |
| Makes about ⇒ | 1/2 pint | 1 pint | 1 quart | 1-1/2 quarts | 1 gallon |
| Liq Dish Soap | 2.5 oz. | 5 oz. | 10 oz. | 16 oz. | 40 oz. |
| Water | 2.5 oz. | 5 oz. | 10 oz. | 16 oz. | 40 oz. |
| Vinegar | 2.5 oz. | 5 oz. | 10 oz. | 16 oz. | 40 oz. |
| Glycerin | 1/2 oz. | 1-1/4 oz. | 2-1/2 oz. | 4 oz. | 10 oz. |
In a mixing bowl, combine all the ingredients until everything is mixed together well. Pour the mixture into your container and clearly label it. I use an empty liquid dish washing soap container and clearly label it "Dog Shampoo". It works great for squirting on your dog.

Proper Dog Washing
Start washing the dog from the rear and move towards its head. If you start on the head, the dog will begin shaking and you will end up drenched before you even get started!
Wet your dog all over to begin.
Apply your handmade dog shampoo. Lather it and rub in thoroughly making sure you don't miss any creases or rolls. Do not apply your handmade shampoo or any shampoo in the ears.This dog shampoo doesn't make a big lather, but cleans great none the less.
Make sure you rinse Rover thoroughly after the bath because any leftover residue might cause skin irritation. Also, a well-rinsed coat will be shinier.
Your dog should then be towel dried. Of course no matter how well you towel dry him, he will still insist on shaking water all over the place, so watch out.

Once you get the ingredients, it's super easy to make handmade dog shampoo. And I really love using it on my hounds (like Grits the Great Dane pictured).