Featured Artist Hedge Sefcovic of
A Natural Alternative
After catching up with Hedge Sefcovic of A Natural Alternative and being quite impressed with her art form of Soap Making, we wanted to know more. Hedge told us of her journey, what has inspired her, awards and recognition, and even some fun facts about her that most would not know. Enjoy our Conversations on Fine Crafts and Arts, as Brothers Handmade features Soap Artist, Hedge Sefcovic, of A Natural Alternative.
Greetings Hedge, and thanks for agreeing to our Featured Artist interview.
To start, please tell us about your primary Art interest?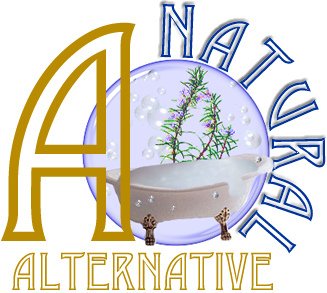 Handcrafted soaps and toiletries that are formulated without dyes, detergents, or preservatives.
How did you get started? Tell us about your journey in this art form.
I graduated college from SUNY Brockport with a degree in theater. I loved to design and build sets, but most of what I loved was to paint them. The brush in my hand, the mixing of colors, even the smell of the paint was something I was passionate about. When I graduated, I moved to Las Vegas and worked for a company that built some of the best scenery and rides around. I was taken away from painting by moving into a role that kept me behind a desk, in meetings, and watching the creative process from afar. Click images to enlarge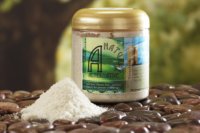 Life took me to Orlando, Florida, and once again I was near the creative process, but not a true part of it. Working for one of the major theme parks in town taught me about budgeting, planning, and lots about office politics. I wanted to be creative again; I needed to be creative again.
So I started taking floral design classes. It was back to being all about color. How the colors of flowers looked next to one another, how they looked in a particular vessel or vase, and what those colors conveyed to the recipient. Then there was another facet - fragrance.
These classes brought me to dozens of craft stores, where a hot item was the "melt and pour" soaps. I was intrigued and started making glycerine soaps for friends. I found many, many websites dedicated to the craft and these websites led me to newsgroups where people who shared this passion from all over the world met virtually to learn and discuss from one another. It was during this time that I started to learn about my own issues: that avoiding many preservatives and ingredients would make my skin look and feel so much better. I started to eat healthier and search for healthier options for my skin as well.
Check out Hedge's products in the Brothers-Handmade store.
During this searching for the most natural products, I was led to the art of cold processed soap making. I started out doing it as close to the "old way" as I could: rendering my own tallow and making soap from it. Quickly I had too much for my friends and family to use, so I started selling it at craft shows. It still amazes me to this day that anyone bought those early bars and encouraged me to make more. But they did, and things grew and grew.
Just a year or two later life once again took a turn and brought me to Pennsylvania. I started out near Lansdale, but quickly learned that my heart was in the Lehigh Valley. There are many aspects to the Lehigh Valley that remind me of where I grew up, but mostly it is the friendliness and loyalty of the people mixed with the beautiful countryside and an inherent spirit of entrepreneurship.
Since 2000 I have been making soaps in Pennsylvania. My business has grown into a full time endeavor. My father and I spend about 150 days a year at craft fairs and farmer's markets within a 60 mile radius of our home. The internet has allowed for people from all over to learn about me and order my products. We have renovated a large section of our home into a workshop dedicated to my business. We even carefully chose our home so that I would have the perfect place to work.
When you buy my products, you bring home a little piece of me. I make everything myself, from scratch, using my own recipes and formulations.
---
I only make products that are free of preservatives, detergents, and dyes. All of my products are vegetarian, many are vegan, most are gluten-free as well.
---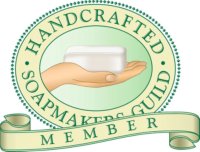 Although I have had no formal training, I am a Handcrafted Soapmaker's Guild Certified Soapmaker.The Handcrafted Soapmakers Guild (HSMG) is professional trade organization for makers of handcrafted soap and body care products. It provides reliable information about the benefits of handcrafted soap and acts as a center of communication amongst soapmakers.
By purchasing from a soapmaker who is a member of the guild, you can be confident that they abide by the HSMG code of ethics. Any consumer who feels as though a member has violated the code may file a complaint with the HSMG Ethics Committee.
Members may participate in the HSMG Certification Program. This program was developed to encourage the highest professional standards amongst the membership. The certification process presents criteria against which a member can measure their soapmaking knowledge and skill. Achieving these standards demonstrated dedication to professional standards and documents their soapmaking proficiency.
Currently I am a member of the Handcrafted Soapmakers Guild. I and am proud to have passed the basic level of certification back on May 2010. This month (May 2011) I have attended the annual conference, where I have achieved the Advanced Certification for soapmaking. Not only was my written knowledge examined, but a physical examination of my soaps and how they are made has taken place.
Have you won any awards, competitions, or recognitions for your Craft?
Some of my show achievements include:
Blue Ribbon- Herkimer Arts & Crafts Show
Blue Ribbon- Fonda Fair, Fonda NY
What do you like best about making Soap?
I like the fact that I do not do the same thing every day. Each day it is a different product to make, a different fragrance to produce. My customers keep me on my toes, always asking for something special to be made. That keeps me researching new ingredients and new methods of producing my products.
What are your favorite pieces?
Great question! I love the Blue Lagoon Soap. My significant other grew up in San Juan Puerto Rico and most of his family still lives there. The Blue Lagoon soap captures the smell and color of the ocean I see when we visit.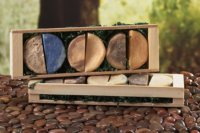 What do you like doing when you're not creating in the studio?
I knit constantly. I despise having empty hands. It is my way of being able to sit and watch TV but still feel productive.
Tell us something about yourself that even some of your friends wouldn't know.
I am gluten intolerant. This means I cannot eat any foods that contain wheat, rye, or barley. This cuts out almost all breads, pastas, and beers, not to mention many, many other foods. Most people think I decline the cakes and cookies offered to me because I don't want the calories, but it the flour I can't have.
---
Brothers-Handmade has known Hedge for several years, and when she said "I put a little of myself in each bar", no truer words have been spoken!

Thanks Much for the interview Hedge.
We hope you have enjoyed our conversations with Hedge Sefcovic, the definition of a Soap Artist. We refer to the many fragrances of soap. Check out the fragrances Hedge offers, they are incredible!
And remember, go to fine craft and arts shows and festivals, and to Brothers-Handmade.com, to:
"Come See What Your Neighbors Are Making"©
Return from Hedge Sefcovic to Featured Artists