Hidden Treasures Studios Tour - Lehigh Valley, Pennsylvania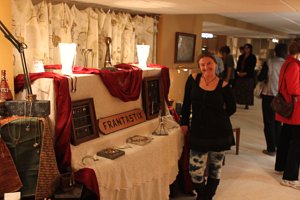 November 13, 2010 - Want to try something different? How about the Hidden Treasures Studios Tour? Now going to 7, top shelf, juried craft shows in one day may sound a bit much, but it's really not. The Lehigh Valley in eastern Pennsylvania has an opportunity to do just that.
It's called The Hidden Treasures Studios Tour. Take your time this is fun and it all fits in a day with plenty of time left over to just, (well as a wood turner might say) mill around, a little. You will see the actual studios that these fine artisans work in. Each studio has an additional 5 or so artists displaying all different crafts. And there's food and drinks at each studio as well.
I just putted along and saw the sights and had a nice little road trip in between the 7 Hidden Treasures Studios.
Some of the studios are in the houses the artists live and work in and some are "The Shop" they work in. This gives you the chance to see how it's done.
Jewelry
Louise Mehaffey, Lamp work glass beader extraordinaire! Of course if you've been following Brothers-Handmade.com you'll know Louise Mehaffey. Go ahead, search the site and see if you can find the video of Louise over the lamp. Hint: Jewelry.
Fran Kohlbrenner (pictured above) Her textured sterling silver and laminated copper is absolutely Frantastix!
Karen Cohen, This Enamelist, jewelry designer, and author breaks from the every day, providing a very unique look.
Svetlana Howells, Beautiful nature and orient inspired designs in sterling silver and copper textured jewelry
Pottery
Kathleen Hooper, beautiful, functional, Porcelain and hand worked sculptures.
Jeff KlecknerTrained at the Cleveland Institute of Art, Jeff teaches and creates awesome wheel thrown works.
Krisann and Roy Bachert, Horsehair Raku, oil lamps, and other functional works. I own some of each. "Horse Hair?" you say.
Wood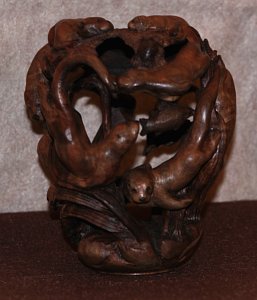 Joyce McCoullough, and her phenomenal ability to sculpt spectacular art from wood (pictured). With over 200 hours in this piece, the detail is amazing.
David StehlyCraftsman of one off walking sticks. It's art, science, and choice materials all wrapped into one.
Jim Fazio Award winning wood turner loves making hollow forms, and thin walled shapes. Jim makes a variety of bowls, utensils, and other small ornaments.
Fiber
Sue Shelly Sue was working her loom and selling her colorful and I'll bet warm, scarves.
Dale Inlander If you're looking for a unique, and fashionable handmade handbag, Dale is whom you should see.
Kathy Parr Incredible hand-woven baskets. If you haven't seen the works of a modern day basket weaver, you're missing out
We can't say it often enough - check your local newspapers, perform online searches for local fine arts and craft shows, and visit Brothers-Handmade.com often to,
"Come See What Your Neighbors Are Making"©