Hildene Arts Festival -
Manchester, Vermont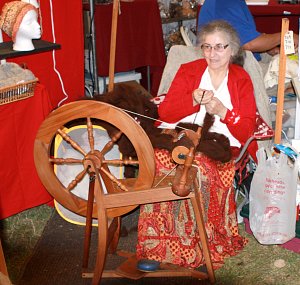 October 3, 2010 - The rain is over and I'm on my way north to the Hildene Arts Festival in Manchester, VT. The trees are showing Fall is around the corner. I hope this show is a good one.
So I arrive about 10:00 am. The place is packed. Holy mackerel it is packed. The parking lot is huge and you might have to walk, but believe me, it will be worth every step! Eight dollars to enter and eight steps later, and there is Marian Gaydos. A very fine art jeweler. I know Marian from a show in Buck Hill Falls, PA. Her husband sitting in front, hand polishing amber and hassling the kids, and they love it. Check out the Buck Hill Falls blog (below). Seeing her display, well I already know this is going to be a great show, and it was!
Let me just say that at the Hildene Arts Festival, the Artists' work is Unbelievable!!!
Clinton Pottery, he twists clay. Jonathan Woodward, "extremely hand made". (www.clintonpottery.com)
Barry Gebhart-Silversmith. (www.bgjewelry.com) We are doing a featured artist segment on Barry in the near future. Barry has a studio in Bethlehem, PA.
Melissa Flanagan
, (www.melissaflanagandesigns.com) Saw Melissa at the Milford, CT show last weekend. Check her out for sure. (Pictured)
Windmill Hill Alpaca Farm and Artisanry, (www.fireandfiber.com) Laura spins the yarn, on a spinning wheel, in front of you. Now that's a fiber craftsman.
Far Beyond Woodworking, (www.farbeyondwoodworking.com) Mark does incredible wood work. Furniture and cabinets on display show you that a Master Craftsmen is in the house!
River Hill Pottery, (www.riverhillpottery.com) WOW Phil and Gail craft a woven, functional clay basket. Very cool. All sizes and shapes.
Steve Stamas, (www.stevestamas.com) Silver, silver, silver. If you are looking for hand-tooled work this is the guy. He shows from Vermont to Virginia.
Dave's Woodcraft, bxmkr54@comcast.net Dave resides in Concord, NH. Man, I have seen jewelry boxes before, but not like this. A fine mix of quality woods and craftsmanship.
Rosie's Wonders, (www.rosieswonders.com) Here you go! Rosie is a weaver. A young women starting out on the show circuit and showing that quality is number one! While I was talking to Rosie, she had three sales. Her scarves are absolutely beautiful!
I have about 30 more artisans I wish I could share with you but I am limited on the blog. That means you will have to visit the sight in the next week or two as we are bringing in a new batch of "Featured Artists" and you can meet them their.
The promoter of the Hildene Arts Festival was Craft Producers' Tim Cianciola. Fine job Tim.
Remember, go support your local Artists and Craftsmen at shows and soon at Brothers-Handmade.com, where you can,

Come see what your neighbors are making™

j