Janet Donnangelo
Featured Pottery Artist
After catching up with Janet Donnangelo at the Yellow Daisy Festival near Atlanta, Georgia and being captivated by the really cool vines fixed to her beautiful ceramic works, we definitely felt the need to mention her in our Yellow Daisy blog.
Janet told us of her journey, where she has drawn inspiration and support, awards and recognition, and even some fun facts about her that most would not know. Enjoy our Conversations on Fine Crafts and Arts, as Brothers Handmade features Pottery Artist, Janet E. Donnangelo.
-Click on thumbnail photos to enlarge-
Greetings Janet, and thanks for agreeing to our Featured Artist interview.
To start, please tell us about your primary Art interest?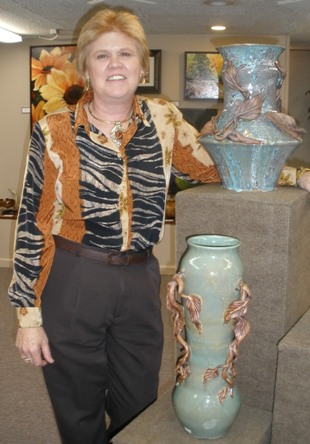 My primary focus is wheel thrown and hand built pottery. The leaf and vine applications that I sculpt on my work is my signature style. When people see my work I want them to recognize it as a Donnangelo piece of pottery.
I like to wrap the vines around my work and sometimes have them erupt through the piece. I find having the vines only stained gives a dramatic contrast to the glaze piece.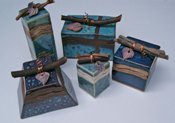 The boxes, I also make, combine natural, recycled and sculpted elements. The handles are actual dried vines that are cut to size with recycled copper wire twisted to accent the sculpted leaf. My work is functional and also decorative. I am always exploring new ideas and expressions in my work.
How did you get started? Tell us about your journey in this art form.
I began my love for pottery at the age of 15. My High School in Miami, Florida had a well equipped studio with an instructor that was a master potter, Alan Snyder. He was my friend and mentor that helped me start participating in Art Festivals when I was 16. I remember making my first sale of a piece of my pottery, it was fantastic. I went on to college at Georgia Southern to receive my degree in Art Education. I was exposed to a variety of art mediums, but still was drawn to pottery.
Several years after college, my husband and I purchased a Gallery and Custom Frame Shop. I still did a few shows along with running the business and teaching pottery classes in my studio. After 18 years of business, I decided to close in 2006 and focus full time on my pottery, along with branching out to do more shows.
I have developed my style over many years and have received inspiration from many accomplished artists. One such artist was Peter King, who I took an architectural ceramic workshop from in Florida. That inspired me to make tile counters for my kitchen and bathrooms along with making the bathroom sinks. Photos of that can be seen on my Donnangelo Pottery site on Facebook. I love looking at glass blowers work, the colors are amazing.

Have you won any awards, competitions, or recognitions for your Craft?
I have won several merit and best of show awards, but


---
"the best reward comes from the people who buy my work. Having someone appreciate my work enough to purchase a piece gives me the greatest satisfaction."
---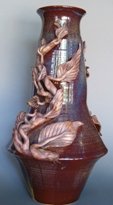 In January, I had an article written about me and my work in AY Magazine, a Little Rock edition. The editor saw my work at Gallery 726 in Hot Springs (Arkansas) and thought it would be an interesting story. After the article appeared I was asked to show the various stages of my work on our Little Rock news station channel 4. It was a great experience to be on TV.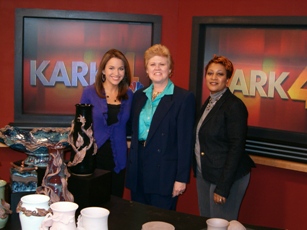 What do you like best about creating your pieces?
When I am working on my pottery, the stresses of every day life fade away. Clay designs fill my head and the imagination flows into my work when I am in the studio.
What are your favorite pieces?
The Bird with Attitude was fun to do. I came across a decorator store closing out their inventory and they had these feathers in a roll to use for something?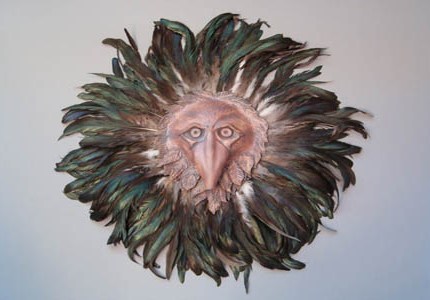 So I bought several and would come up with that something later. Later came to be the Bird and more will come. At the Yellow Daisy Show, he was the first to sell.

Then Wind and Vine Mug was a dedication to the Evanston, Illinois show. At this show I was blown away (literally) with my work and tent...I lived to tell about it. I lost 90% of my work, received stitches in my arm along with bruised ribs, and had to replace several bent and torn parts of my tent. Straight line 60mph winds took me flying (video). Some advice...get out of your tent and run for cover. Anyway this piece represents the winds blowing the leaves in a pushed direction.
What do you like doing when you're not creating in the studio?
When I'm not working in the studio, I like working in the yard. The plants sometimes give me ideas to translate into clay. Nature can create the best art.
Tell us something about yourself that even some of your friends wouldn't know.
This is a hard one... I don't know if everyone knows that my husband of 30 years this coming May is my best friend. He is my best support and has always believed in my creative ways.
---
Some additional information about Janet Donnangelo
My work can be seen at Gallery 726 in Hot Springs, Arkansas and Flowers Etc. in Russellville, Arkansas. A Little Rock Gallery will be coming soon.
Janet's show schedule is still developing for 2011, the list will be updated on her website: www.donnangelopottery.com. I will be at a few new locations in the coming year, but still plan to display at the Yellow Daisy show in Atlanta, Georgia and Pink Palace in Memphis, Tennessee.
For Face book followers go to Donnangelo Pottery and become a fan, you can see show shots and other work that is not on her website.
---
We hope you have enjoyed our conversations with Janet E. Donnangelo - Award Winning Pottery Artist. You can find more information on Janet including show schedules and contact information on her website.
And remember, go to fine craft and arts shows and festivals, and to Brothers-Handmade.com, and:
"Come See What Your Neighbors Are Making"
©
Return from Janet Donnangelo to Featured Artists