The John C. Campbell Folk School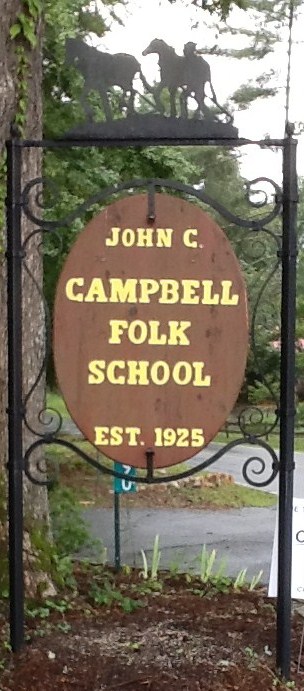 Over the years of attending quality craft and art shows, the topic of John C. Campbell Folk School has come up on many occasions. Most often, it will be an awesome crafts-person at the show that will mention that they either attended the John C. Campbell school, or that they instruct at the school.
History
In 1925, after much research and collaboration between the Brasstown residents in this western North Carolina region, Olive Campbell, wife of John C. Campbell and friend Marguerite Butler, established the John C. Campbell Folk School. Based on a Danish model of folk school or
folkehojskole
, it has always been a non-competitive school where there are no grades and no credits offered.
Due to my travel schedule, I'm limited to touring the facility on a Friday. Marketing Manager, Keather Weideman, informs me that on Fridays, students are generally finishing up their projects for the week and cleaning up. But they do have their weekly student project exhibit late in the afternoon on Fridays.
Armed with a map of the 300 acre school, tucked away in the beautiful Smoky Mountains of western North Carolina, I begin exploring the various buildings and classrooms.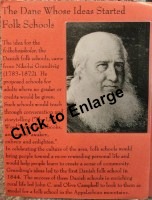 Instructors and Classes
The first thing of note, and a common thread throughout, are the skill levels of the instructors. Not just high levels of craft skill, but of teaching skills as well. These are people that are tops in their crafts. They are for the most part, independent artists and craftsmen, with their own studios, who take time out of their schedules (usually a week at a time) and instruct adults who sign up for their classes at the John C. Campbell Folk School.
My first stop is in the woodworking shop under the Instruction of Don Russell. For 40 years, according to the Folk School website, Don has built furniture and museum exhibits, repaired antiques, and taught woodworking and turning in his workshop. This is his twelfth year returning to instruct at John C. Campbell.
---
Click on Images to Enlarge
---
In this particular woodworking class, Don's goal was to introduce the students to all of the equipment in the shop. We're talking drill presses, sanders, lathes, routers, saws, etc. Don had to come up with a project that utilizes all these machines. So the class is making flip top tables. At the student exhibit later in the day, I find the tables to be remarkable - complete with inlay medallions.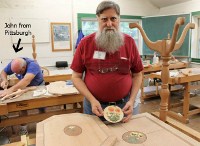 Next I stop in to see the basket making class of Joan Strohman. For over 25 years, Joan has been teaching basket weaving. Her resume includes teaching experiences at conventions and community colleges as well as at her own studio in Georgia. She's a member of the Georgia Basketry Association North Carolina Basketry Association, Central Pennsylvania Basket Guild, and past president of the Shooting Creek Basketry Guild in North Carolina. All this to paint a picture of the caliper instructors The John C. Campbell Folk School attracts.
As with the Woodworking class, Joan's students have turned out some fantastic lidded baskets.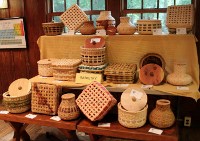 And they're lovin' it.
Next I make my way across campus to the Adire, Tie dye, and Batik dyeing class of Nigerian instructor Gasali Adeyemo. Again, the students of this class seem to be having a wonderful time. Their works are drying on lines, and they're simply fabulous. Gasali is sporting his Adire dyed outfit. His story is so interesting about how the "mosquito coil" patterns on his fabric was used to send messages in his Nigerian village to speak out against an oppressive government.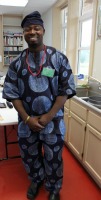 At the student exhibit, several ladies were wearing their finished products from the class. Wonderful.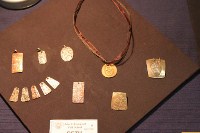 On I trek to the building housing Pam East and her Metal Clay Jewelry making class. Again the students seem to be so energized and happy with their training and accomplishments for the week. Their was some beautiful finished products of bronze and copper jewelry on display at the student exhibit. Student Kate Stockman said, "It's like returning to the womb - a lovely and nourishing environment."
One student mentioned that many participants are professionals in their normal worlds. In fact she is a Plant Biology professor at Furman University. And another person I spoke to was a Medical Doctor in her normal day to day life. But she comes to the Folk School seeking a creative and revitalizing experience, year after year.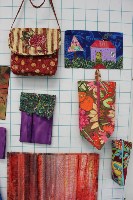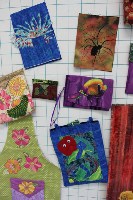 On I go to the next building where I find Karen Swing, John C. Campbell Instructor for 15 years, teaching her class Free Form Machine Quilting and Embroidery. For this class, her enthusiastic students remove the sewing machine's feed dog, then stitch almost as if to be drawing with their stitches.
My final classroom stop is at the newly built Blacksmith shop. To start, the architecture of this shop is superb, both inside and out. Instructor and master blacksmith, Dale Morse says that students in this beginner class each made 3-hook wall hangers and a fire rake for the fireplace. Now this looks like a blast. Dale pointed out some interesting aspects of this building including the anvil shapes carved out of the ends of the ceiling rafters. Also what I found so amazing, is that each class contributes an iron picket for the upstairs railing. I spent much time admiring the details of each of these finely crafted iron pickets each with its own individual design. Incredible.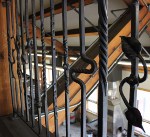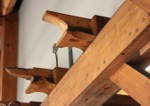 This week's class schedules included:
Woodworking
Basketry
Quilting
Blacksmithing
Jewelry, and
Dyeing
According to their website, in addition to those mentioned above, they offer quite a variety of classes including (but not limited to):
Music
Soap Making
Photography
Drawing
Stone Sculpture
Dance
Nature studies
Spinning and Weaving
Storytelling
Lace and tatting
Leather
Cooking
and much, much more!
People love this place - instructors and patrons alike. In fact, you'll see several instructors attending the school as students in a craft other than what they instruct.
The Guests (Students)
I spoke with John from Pittsburgh, PA. He and his wife have been making the trek to the Folk School for several years now. This year they brought their son. John was taking the Woodworking class, his wife was taking the Free Form Sewing and Embroidery class, and their son was taking Blacksmithing.
The Medical Doctor student I spoke about early - she attends each year with her son. "It's a wonderful week of bonding while exploring creative endeavors", she said.
In the mornings, just before breakfast, the group of patrons (my guess was about 100) gather for morning song and story-telling. John (the student I spoke with) was saying how incredibly enjoyable it was to start the day with song and story. He mentioned that folks from the community will often attend as well and participate in the singing of folk songs and story telling.
Folks come seeking a beautiful relaxing environment, quality instruction, camaraderie, and creative exploration.
And speaking as a webmaster myself, I can tell you that they have a very well designed website < www.folkschool.org > that's easy to get around, read up on classes, schedules, instructors, and more.
I expect to get back to the John C. Campbell Folk School, and perhaps enroll in one of their classes. Let's see, should I take the woodworking or pottery - or maybe blacksmithing, that looks like fun.
Return from John Campbell Folk School to Featured Places - Art Centers