Pottery Artist - Lindsey Epstein
After catching up with Lindsey Epstein at the New Hampshire Festival, in Salem, NH, and really being fascinated with her art form of raku and crystalline glazing, we wanted to know more. Lindsey told us of her journey, what has inspired her, special recognition, and even some fun facts about her that most would not know. Enjoy our Conversations on Fine Crafts and Arts, as Brothers Handmade features Pottery Artist, Lindsey Epstein.
Greetings Lindsey, and thanks for agreeing to our Featured Artist interview.
To start, please tell us about your primary Art interest?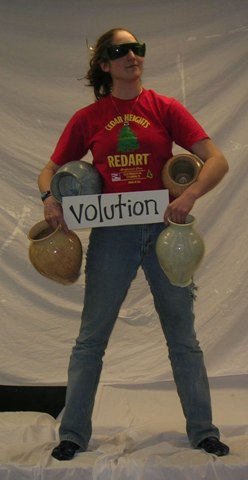 My primary focus is working in clay. Within the range of possibilities of using clay there are a few specific areas that I am more interested in: raku firing and macro-crystalline zinc-silicate ceramic glazing (in shorter terms- crystalline glazes). The thing I enjoy the most about clay is the plethora of possibilities you can create all starting with the same material. When creating the object you can choose functional, decorative or a mix of both. Then you can choose wheel-thrown forms, hand-built, molded or any combination of the three. Then there is how you finish the piece, ie the glaze. You have a choice or altering the firing atmosphere or leaving it be, creating your own glaze or buying one....the choices go on forever! I have explored a wide variety of techniques but am fascinated the most by those involving the chemistry of the glaze and the firing atmosphere.
How did you get started? Tell us about your journey in this art form.
The journey has just begun! It all started with wheel-throwing in my senior year of high school in 2002. I continued working in college through a non-credit special interest housing program where I lived with 12 other people who were all interested in clay. We had 24 hour access to a studio in our building, made our own clay and glaze and had a non-credit class all leading to a group exhibition at the end of the year. It was there I was exposed to all the different techniques in clay and began my knowledge of firing techniques. I also started my journey with crystalline glazes there with a less-than-cooperative kiln who had to be watched for the long 20 + hour firing cycles.
During my time in college I was supposed to be preparing for veterinary school. Like most people, I changed my mind part way through enrollment but I had already finished all my requirements for Animal Science. So, I graduated and then returned to Massachusetts to attend University of Massachusettes, Dartmouth, (UMD) in their ceramics department. I spent the next 2 years at UMD learning even more about clay and glazes, firings, critiquing, exhibitions, etc. It was a great experience. (Click images to enlarge)
After that I was on my own. I had been collecting elements of my own studio space since the beginning (purchasing a wheel just after high school and a kiln shortly after) so it was not hard being out of school once I was done. I had also been selling my work at craft fairs since the beginning, so I had an idea of how I would be able to support my clay-making endeavors.
My studio space now has an inventory of a wheel, a full glaze laboratory (so I can make my own glazes), a self-made raku kiln, 2 computerized electric kilns and 2 other kilns that are not in use. It's pretty much a fully functional studio in a very small space! But it works and I have enough room to make the work I want for now.
What recognition have you received for your Craft?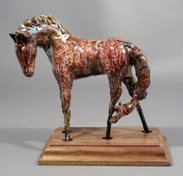 I am going to have one of my horse sculptures published in a book called 500 Raku coming out in March 2011.
What are your favorite pieces?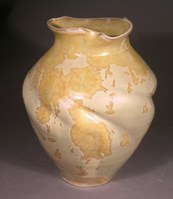 The gold colored crystalline vase is one of my favorites. The surface is actually a satin feel (not really glossy) and very metallic, which is hard to see in photos. It is actually colored with silver nitrate (even though it is gold...funny how chemistry works). It is fired an additional time after the primary crystalline firing to change the crystals from white to the gold color. The secondary firing is called "post-fire reduction" or "striking" where the kiln is fired to a much lower temperature (~1300 degrees F) and the atmosphere is starved of oxygen and an influx of natural gas is in the kiln. Since the fuel (carbon) is looking for oxygen wherever it can, it finds it in the glaze and reacts with the silver nitrate. The post firing will also change a green piece (colored with copper) to red. Besides the color, I also enjoy this shape as it has a lot of movement to it, embodying the movement of the crystals as they grow and move about the form during the firing process.
What do you like doing when you're not creating in the studio?
Creating pottery is only one of my many jobs! I also work at Flatlands Equestrian Center- a horse farm where I train horses, teach riding lessons and help care for the horses. I spend most weekends in the summer at evening competitions throughout New England competing on young horses. Eventing is sometimes referred to as the "horse triathlon" because there are 3 phases that make up the competition: dressage (riding a set pattern in front of a judge), cross-country (jumping solid, natural obstacles over terrain, in fields and through the woods in an allotted time frame) and show jumping (jumping fences in an arena that can be knocked down). It's pretty much the best horse sport because you have to excel in many different areas (I am sure there are many who would argue what is the "best", but I enjoy it).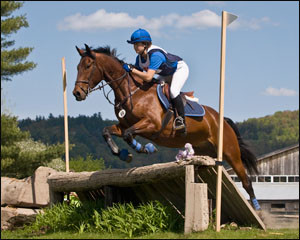 I still have not yet found a perfect balance between the two and end up very busy working in the fall trying to get ready for the winter sales...but this year I plan to be more organized!
Keep in mind I say that EVERY year
Regardless, it keeps me busy and gives me plenty to do. I have been riding since age 4 so it is just a part of who I am and horses will always be a part of what I do.
Tell us something about yourself that even some of your friends wouldn't know.
That's a tricky one! I used to take dance lessons from age 5 until I graduated from high school. I was never really all that good, but I just kept at it. When I graduated, some activities had to go and dance was one of those things that I just never picked up again. I still have my tap shoes but haven't put them on in just about 8 years.
---
We hope you have enjoyed our conversations with Lindsey Epstein - Pottery Artist and Equestrian. You can find more information on Lindsey Epstein including show schedules and contact information on her website.
And remember, go to fine craft and arts shows and festivals, and to Brothers-Handmade.com, to:
"Come See What Your Neighbors Are Making"©
...and if you see Lindsey Epstein, stop in and tell her "Hello from Brothers-Handmade.com."
Return from Lindsey Epstein to Featured Artist