Featured Artist Marian Gaydos
Handmade Jewelry Designer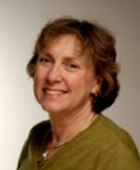 Brothers-Handmade met Contemporary Jewelry Designer and Artist Marian Gaydos at a high quality handmade fine arts festival in the upscale hamlet of Buckhill Falls, Pennsylvania.
We were quite impressed with her jewelry designs, and especially her use of fossil ammonites.
Marian Gaydos tells us of her journey, what has inspired her, and even some fun facts about her that most would not know.
Enjoy our Conversations on Fine Crafts and Arts, as Brothers Handmade features Contemporary Jewelry Design Artist, Marian Gaydos.
---
Greetings Marian, and thanks for agreeing to our Featured Artist interview. To start, please tell us about your primary Art interest.
I utilize sterling silver and 14k gold or gold-filled wire to encase cabochons (gemstones which have been shaped and polished as opposed to faceted) of semi-precious stone, natural and man made crystals, fossils, blister pearls, and more, in order to create pendants, pins and bracelets with matching earrings.
(click images to enlarge)
I may enhance these pieces with the addition of pearl, crystal, stone and precious metal beads wired into the bail or across the framework of the centerpiece. When creating a piece, I take my cues from the individual character of the centerpiece. Color, shape and surface texture all account for the metal and embellishment materials I choose--matching or contrasting materials, combining stones, or choosing not to embellish at all. My goal is to create a balanced composition of each stone or group of stones, while preserving their natural beauty and unique character.

My latest pieces include some pendants with hammered wire, hand fabricated textured metal earrings, and bracelets with soldered wire frames and wire with pearls or other beads woven across the frame.
I have been expanding my skills by learning to solder, as well as experimenting with fabrication of pieces from sheet metal, riveting, and knitting or crocheting wire, I have come to realize that I actually prefer the look of stones caged with wire over the look of stones with soldered frames. I think it allows for more light, as well as an airiness and delicacy of design. I expect to combine a variety of techniques into my jewelry as I acquire new skills.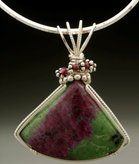 How did you get started? Tell us about your journey in this art form.
I developed an interest in making jewelry when I could not afford to buy a particular beaded necklace I liked. After a couple of years of enjoying my hobby, eventually I made the decision to turn my craft into a business instead of returning to being an English teacher. At that point, I realized the need to make components from scratch in order to elevate the level of my craft. A friend shared her knowledge of a basic wirewrap technique for encasing cabochons (gemstones which have been shaped and polished as opposed to faceted). I modified the technique in order to suit my style. My business became official in 1998.
What do you like best about designing and creating jewelry?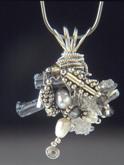 The thing I like best about wire work is the fact that it is easy to adapt to all sorts of shapes of centerpiece stones. As with all jewelry, the variety of possibilities for design is endless, limited only by one's own degree of imagination and skill level. It is fun to grapple with the problems one encounters. Frequently my mistakes result in discovering a new way of operating.
What are your favorite pieces?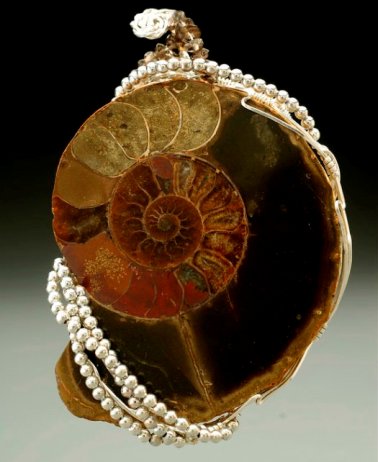 My favorite pieces to work on are fossil ammonites. They are beautifully preserved pieces of history, each with a distinct personality due to the distinct variety of colors and designs found in every piece. I enjoy the decision making about whether and how much to enhance each one. I also enjoy combining different stones--figuring out how they fit together the best and how to create a design that is secure, but not too heavy.
What do you like doing when you're not creating in the studio?
When I am not working on jewelry, my favorite pastimes are practicing classical piano, gardening and walking. My early history encompassed music to a large degree, including playing the oboe, accompanying singers and instrumentalists, and being the carilloneur for my church with a 47 bell carillon.
Tell us something about yourself that even some of your friends wouldn't know.
I feel fortunate to be able to work doing something I would choose to do in my spare time if I was not already doing it.
---
We hope you have enjoyed our conversations with the highly talented, carilloneur, gardener, and contemporary jewelry artist, Marian Gaydos. You can find more information on Marian Gaydos including show schedules and contact information on her website.
And remember, go to fine craft and arts shows and festivals, and to Brothers-Handmade.com, to:
"Come See What Your Neighbors Are Making"©
Return from Marian Gaydos to Featured Artists