Featured Artist Mary-Ann Wood of DinnerWear Jewelry

Finally catching up with Mary-Ann Wood after the Salem, New Hampshire Fine Art and Craft Show, Mary-Ann took some time from her schedule to talk to Brothers-Handmade about her work and her experiences. Mary-Ann's art form is very different from that of the jewelry we often see. Mary-Ann uses old dinner wear and very old cameos. We thought that alone qualified her to be on the pages of Brothers-Handmade. Besides that, her work is absolutely incredible.
Greetings Mary-Ann, and thanks for agreeing to our Featured Artist interview.
To start, please tell us about your primary Art interest?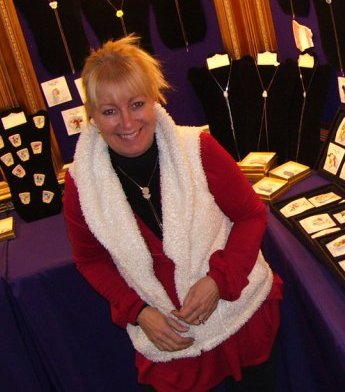 I like to recylce old china plates that are broken, into wearable art such as pins, pendants, and great lariat necklaces. I don't use clasps but rather design them to be slipped over the wearer's head. They then can be adjusted to fit any neckline.
I have added a new line of cameos that are vintage as well. They are my latest passion, as I carve away the back rounds to silhouette them. I look for the most beautiful ladies from olden times and give them new life. Most are over 50 years old.
One day I looked at a cameo, and saw it as a shape I could work with, making the inside the outside. I also wanted to mount them in a contemporary way, they are a wonderful addition to the old plates that I work with. (Click images to enlarge)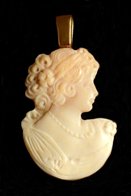 How did you get started? Tell us about your journey in this art form.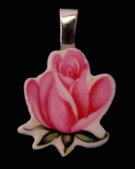 Many children are fascinated with fancy dinnerware and tea sets, and I was no exception. I always wanted to help set the table for Sunday and holiday dinners with my grandmothers' "best china" and silver. It was then I started my personal collection of china.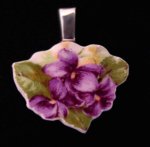 In later years I started to play with cups and saucers in a different way. I had a lot of broken pieces, and wanted to do something with the pretty designs on them. Through a lot of trial and error, I taught myself how to cut the plates; carving out the bits I liked most. Not satisfied with simply making broken-looking chards, I concentrated on enhancing the intricate details of each pattern. I was hooked on the challenge!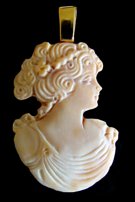 So there I was, with piles of beautiful little designs cut from my damaged china. But what to do with them? I decided to design them into wearable jewelry. This all started in 1997. My work has become more refined over the years, and my jewelry selection has steadily grown. I strive to add new items to the DinnerWear Jewelry collection, keeping it fresh.
Now I am always hunting for new patterns. I look for the most variety in floral motifs and color themes, and I want to represent as many countries as possible.
Have you won any awards, competitions, or recognitions for your Craft?
I have received a lot of press in newspapers and magazines. Also I have won 2 best of shows and many ribbons. I am grateful to be chosen to exhibit in juried shows all over the east coast.
What do you like best about your art form?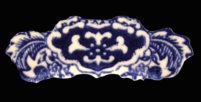 I like the challenge of working with new materials, and the creative process of designing. I love to take old items and re-purpose them- bringing the past to the present. The older the dinnerware is the more I enjoy it! I am always checking out the placement of the ridges, interesting borders, and cool looking cup handles.
What are your favorite pieces?
My favorite pieces are usually the ones that I am carving custom from someone's broken heirlooms. I am very sentimental by nature, and I find it very rewarding.
What do you like doing when you're not creating in the studio?

I enjoy cooking, entertaining, and traveling.
---
We hope you have enjoyed our conversations with Mary-Ann Wood, Creative Dinnerwear Jewelry Artist. You can find more information on Mary-Ann Wood including show schedules and contact information here on her website.
Also, you can check out her video on this art form right here:


And remember, go to fine craft and arts shows and festivals, and to Brothers-Handmade.com, to:
"Come See What Your Neighbors Are Making"©
Return from Mary-Ann Wood to Featured Artists