Mudfire Clayworks - Decatur, Georgia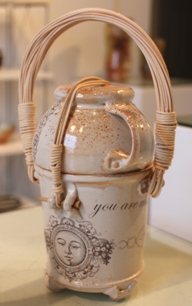 November 5, 2010 - I just love visiting the small local studios like Mudfire Clayworks, speckled throughout the country. Ceramic Arts Daily (CAD), an online ceramics periodical tipped me off to the Mudfire Clayworks and Gallery in their Editor's picks of the Top 5 Exhibitions for November 2010.
CAD highlighted the "Asheville in Atlanta" exhibit at Mudfire, curated by Kyle Carpenter.
Mudfire is located in the artsy neighborhood of Decatur Georgia, part of metro Atlanta. (I actually blogged back in June about the Art B Que Festival in Avondale Estates, part of this Decatur neighborhood).
I enter a door off the small parking lot into a studio of spinning wheels, finishing tools, kilns, glazes, and shelves of green and fired ceramic works. I inquire about the gallery, and a nice lady walks me out of the building and around to another door, leading me inside to the gallery. Here in this approximately 20' x 50' gallery were displays of about a hundred beautiful ceramic works by potters from Asheville, North Carolina including: Keith Phillips, Kyle Carpenter, Cynthia Bringle, Becky and Steve Lloyd, and Courtney Martin.
Fortunately for me I ran into Mudfire Clayworks owner Luba Sharapan, who is quite an accomplished pottery artist herself. My mission was to cover the Asheville in Atlanta exhibit, but I'd love to revisit Mudfire at a later date, and do a feature on them specifically.
Some of the works that grabbed my attention included: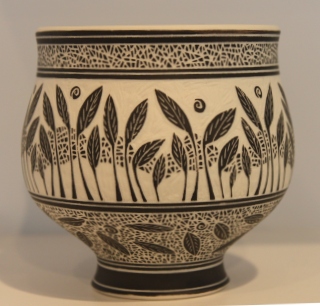 Becky and Steve Lloyd (lloydpottery.com) displayed spectacular hand carved porcelain (pictured). According to their website, the duo (of 20 years) throws their porcelain vessels, coats them with terra sigilatta, then carves their designs in the dark coating to expose the white porcelain beneath, a technique known as sgraffito. Really intricate and eye catching.
Next I'm captivated by the flowing waves of wheat stalks found on works by Kyle Carpenter (carpenterpottery.com). His salt-fired stoneware provides a soothing backdrop that relaxes the body and takes the mind to a peaceful place. Kyle's works include a variety of vessels, plates, mugs, and tumblers.
Finally, the artwork and artist that initially attracted me to this exhibit at Mudfire, are the works of Keith Phillips (mudstuffing.com). Utilizing some of his academic training in printing, Keith incorporates some vintage images gleaned from Montgomery Ward catalogs of the early 1900's into his reclaimed wood and soda fired ceramics. His works are exceptional, providing a crisp yet antique feel. Each element of his "ceramic thermos" (pictured above) from the decals, to the wicker handle, work so well together.
It was so worth the trip to Mudfire, I'm sure to be back.
Remember, visit your local art galleries, craft festivals, and brothers-handmade.com, and
"Come See What Your Neighbors Are Making"©