Museum of Ceramics
East Liverpool, Ohio
Overview
The United States has a rich history of manufacturing through the two centuries since its inception. As is so often the case, for good or bad, manufactured products have a finite life cycle either because they become obsolete, or a variety of other reasons. Think Kodak film, and Bethlehem Steel.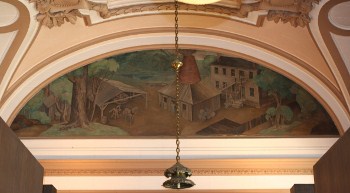 Pottery manufacturing is one of those businesses that flourished during its heyday in the mid 1800 through the mid 1900, then contracted and consolidated into a tiny representation of what it once was.
A recent visit to the Museum of Ceramics in East Liverpool, Ohio provided a view into what was a bustling industry with all the accoutrements. One thing that became so apparent to us at Brothers-Handmade as our wonderful tour guide and 6th generation descendant of the Vodrey Brothers pottery company, Sarah Vodrey (Director of the Museum of Ceramics) lead us on our journey through time, was the fact that even though the essence of manufacturing is an efficient replicating process, it all begins with a talented artist or craftsman who designs a piece for which customers will trade possessions. And in many cases, the piece will be kept and cherished for decades or in some cases, centuries.
This design and artistic skill is what was most striking to us as we observed this historical collection of pieces "manufactured" over 100 years ago.
History of Pottery in East Liverpool
In the early 1800's there were many potters around the country. Certainly the original 13 colonies had been creating pottery for every day usage. And pottery, or the act of forming and firing clay for functional or artistic purposes has a world history dating back some 30,000 years or longer. (see History of Pottery for more information).
In the early 1800s, East Liverpool, Ohio also had a smattering of potter residents who formed and fired their wares, and sold them locally.
Then (1839-1844) came James Bennett and the Bennett Brothers from England. They are mostly credited with transforming a land of sporadic potters into a thriving commercially successful pottery industry.
Although a small amount of red ware made from local clay was produced early on, it was rather heavy, porous, and fragile, and fell out of favor. Instead, during the 1840's thorugh the 1870's, yellow ware (also indiginous to the area) whose unglazed appearance was - well you guessed it, yellow, was the dominant base clay in the area.
--Click thumbnails for larger image--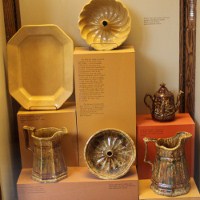 And yellow ware's cousin, Rockingham which is a yellow ware based form with a mottled brown manganese glaze applied.
Yellow ware and Rockingham (not to be confused with Bennington ware from Vermont, which is also brown and mottled) makes up the oldest pottery in the museum.
After the American Civil War (1861-1865) around 1870, the taste in clay styles changed, and Rockingham and yellow ware went out of style. Instead, white ware came into style. The only problem was that white clay was not indigenous to the area. (It primarily was imported from Florida and South Carolina)
After a competition held by the E. Liverpool Chamber of Commerce, and won by the local potters Homer and Shakespeare Laughlin (pronounced Locklin), white ware manufacturing began in the area. Those potters that did not adapt, found themselves without demand, and slowly went out of business.
Homer Laughlin grew in popularity and prominence. The lore of the day goes something like this:
Homer Laughlin and his brother in the 1870s went off to their first trade show. British potters, long known for their quality were in attendance. A few British potters were acting a bit condescending to the Laughlin brothers. So Homer put up a challenge where by a British piece and a Laughlin piece were set side by side without identification as to which piece belonged to whom. A random person was picked from the crowd and asked to choose their favorite piece. The piece was selected, and when it was turned over, it displayed the mark of the Laughlin brothers. To that outcome Homer declared, "Today the British lion has been bested by the American Eagle."
Although it is difficult to pinpoint the exact cause, a study of American pottery marks reveals that starting in the late 1870's, one begins to see more American icons in the pottery marks. Prior to this period, American potters used more British symbols included in the British coat of arms such as, crowns, shields, unicorns, and lions. Beginning around this time, pottery marks began to evolve with Americanized symbols including buffalo, American flags, eagles, and Made in the U.S.
There are several possible explanations for this transition of pottery mark styles. For one thing, America's centennial celebration in 1876 was swelling American patriotism. Pottery marks researcher C. Gerald Debolt pegs this phenomenon a little later, coinciding more with America's participation in WWI (1917-1918). Regardless of the precise reason and time, there was a transition of pottery mark style to more Americanized symbols as represented by the Homer Laughlin China pottery mark below.
Homer Laughlin China Co.
E. Liverpool, OH
1877-1890
Knowles Taylor Knowles Co.
E. Liverpool, OH
1878-1885
International Pottery Co.
Trenton, NJ
1879-1885
One very notable pottery style made by Knowles-Taylor-Knowles (K-T-K), was Lotus ware. (Produced from 1892 to 1896)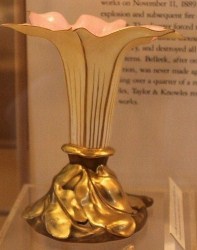 Joining K-T-K in the late 1800's was English pottery technician Joshua Poole. Poole along with German immigrant, Heinrich Schmidt opened the 4 year era of this thin walled, translucent, ornate, porcelain pottery.
One of the most treasured by collectors, Lotus ware began as Belleek-type porcelain, modeled after the famed Irish ware. After only about 18 months making Belleek styled porcelain, K-T-K had a serious fire in 1889 that burned their porcelain factory to the ground.
K-T-K rebuilt their operations, and renamed this prized porcelain, Lotus ware. The exact origins of the name Lotus ware is debateable. It may be named after the aquatic perennial Lotus flower. Another theory is that the folks of Knowles Taylor Knowles may have been inspired by a growing interest in the asymetrical and naturalistic aspects of the Asian arts.
Although demand for this fine, highly regarded ceramic item was high, due to its fragility, it cold not be justified financially. So in 1896, after only four years, K-T-K closed down their Lotus ware operations.
Click on the link to read more about the history of Lotus ware.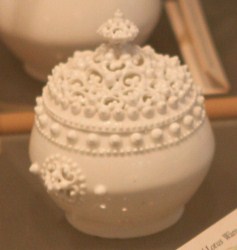 After the fire, K-T-K rebuilt and continued producing the beautiful porcelain, however they changed the name from Belleek to Lotus ware. There are several theories regarding from where the name Lotus came. It may have been inspired by the Lotus flower.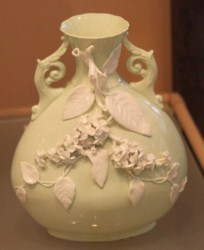 During the boom years, the economy of East Liverpool was thriving. Stores, schools, and cultural establishments flourished. Growth was rapid.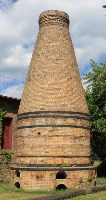 Bottle kilns sprung up all over the town. One can see the regional concentrations of American pottery companies by checking the Pottery Marks page. Note the number of marks from Ohio, and specifically East Liverpool. And this is only a partial list. You can find a nice list of the many East Liverpool Pottery District manufacturers, distributors, and decorators here.
While walking around observing the spectacular collection of American made pottery, and listening to Sarah's informed descriptions of this era gone by, it was easy to visualize a bustling community, complete with all the social and cultural trappings one would expect of a thriving town. Included in this visualization is the great baseball legend Cy Young (namesake of the major league baseball pitcher award) who played ball for an amateur team in East Liverpool.
From the original "Yellow ware" and "Rockingham" pottery, to the colorful "Fiesta® ware" to the exceptionally ornate porcelain "Lotus ware", artistic talent flourished.
A wide variety of styles, glazes, and decorations were on display, each with its own historical significance that Sarah so eloquently communicated. One of my favorites was the Parian ware by William Bloor in the 1860s,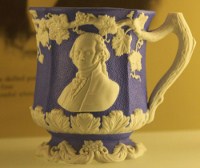 (white with blue paint) designed to simulate marble sculpture.
A couple other notable styles included:
Victorian Majolica – Colorful realistic forms depicting fish, and other animals by potter George Morley and others.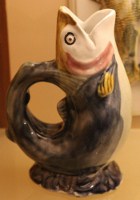 Craven Art – Beautiful dark earth tone vases. Interestingly the Craven company used paper labels as their "pottery mark". As you may presume, in many cases these labels did not withstand the test of time. So when you see a piece like that pictured, and find that it lacks a pottery mark, it's possibly a Craven Art piece that has lost its label.

From Door Knobs to dinner ware, from Chamber Pots to slop jars, quite a variety of products were made.
What were the big sellers back in the day you may ask?
The ceramic toiletware set was one classic set of products in demand. The set included:
Basin - (washbasin) - a large shallow bowl large enough for the "ewer" (see below) to sit in it.
Ewer - large pitcher which sat inside the basin when not in use. Usually much larger than an ordinary pitcher, the ewer is intended for use in one's kitchen or dining room.
Mouth Ewer - smaller pitcher whose purpose is somewhat unclear. What is known is that it was a member of the toiletware set, and most likely was used to hold water. Often the mouth ewer is mistaken for ordinary dinnerware pitchers.
Chamber pot – typically short and wide with one handle and a lid. They were used to capture various bodily wastes usually during the nights.
Slop Jar – similar in appearance to the chamber pot, but unlike the chamber pot, it is about as tall as it is wide with two handles, and a lid. Primarily used to capture all waste water resulting from tooth brushing, bodily washing.
Shaving Mug - about the same size as a coffee mug but often with a scalloped rim
Soap Dish - mostly oval or rectangular (sometimes octagonal), used to hold soap. Some soap dishes also included a lid and draining tray.
Brush Vase - a mug with no handles used for holding toothbrushed. Brush vases are sometimes mistakenly identified as drinking mugs or flower vases.

The ceramic toiletware set was a large component of the revenues produced during this period. With the advent of indoor plumbing, this revenue stream dried up and pressures mounted on the industry to find a replacement for this product line.

Another big seller during this era was the ceramic door knob made by the William Brunt Jr. & Co., who was the largest manufacturer of door knobs in the country.

A tradition that has carried on since the Brunt's were manufacturing door knobs, is called Door knob tossing.

Back in the day at the Brunt's pottery facility, workers would manually sift through thousands of door knobs looking for those with defects. When they found a defective door knob, they would toss it over the hill. Over time, this turned into a sport of sorts, and today, once a year, Door knob tossing comes alive, in the annual, Tri State Pottery Festival.

And then came the decline

Indoor plumbing was not the only thing applying pressure to the pottery industry of the time. Cheaper imports from Asian countries, and the use of plastics began to unseat the established potters.

In fact, to help stave off cheaper imports, philanthropist and American composer from Ohio, Will Thompson wrote the Protective Tariff Grand March for potter Knowles Taylor Knowles when they won awards on everything they entered at the 1893 Chicago Expo.

As the pottery industry was beginning to slump, in 1927, Homer Laughlin hired Frederick Hurten Rhead as Design Director, a post which he would hold until his death in 1942. Rhead's 15 year reign proved to be the most prolific period of new product introductions in the company's history. Rhead designed Virginia Rose as well as the several Eggshell shapes. Rhead's most famous accomplishment, however, was Fiesta®. (Ref: Homer Laughlin China Co.)

In 1936, this brightly colored art deco style, rejuvenated the pottery industry. Fiesta® ware originally included six bright colors. Fiesta® red (which looks orange) used uranium to produce the color.

But in 1943, the uranium supply dried up as the U.S. Defense department had other plans for it. In 1959, uranium was once again available, and Fiesta® red re-appeared on the market.

Today you can still find the brightly colored Fiesta® ware in department stores like Macy's. And Homer Laughlin China still produces it, albeit, with a variety of new colors.

Museum of Ceramics - History

The Museum of Ceramics resides in a Beaux-Arts architectural styled (think Grand Central Station in New York City) building that was the former post office of East Liverpool (built in 1909). Upon entering the building, one notes a mural (painting) by Roland Schweinsburg of the Bennett pottery factory, the first of many in the area (see picture at top).

In the late 1960s, the grandson of pioneer potters of East Liverpool, ardent history buff, and simultaneous president of the boards of the East Liverpool Historical Society and the Ohio Historical Society, W. H. Vodrey III spearheaded a decade long effort to turn the vacant post office into a new museum to house the local historical society's ceramics collection.

He was joined by many others at the local and state levels in these efforts. He died months before the museum opened in April 1980. Today his descendants carry on his love of history. His son serves on the board of the MOCF, and his granddaughter serves as the museum's director. His grandson-in-law also serves on the board of the MOCF. Other descendants are ardent supporters and writers about this history as well.

Watch a short video of our tour of the Museum of Ceramics guided by Sarah Vodrey:

Interestingly, William Brunt's family owned the property (5th and Broadway) back in the 1800's before the post office . William Brunt (William Brunt Jr. & Co.) was the largest producer of ceramic doorknobs used throughout the country.

In 2008, nearly all funding from the Ohio Historical Society dried up. Later that year, the Museum of Ceramics Foundation, a 501c3 organization, took over management of the museum. Near the bottom, we'll show how you can help.

Today, the Museum of Ceramics has many programs for kids including a really fun scavenger hunt where kids search out special pieces in the museum based on clues provided. This activity enriches their understanding of the history of pottery.

They also have Clay Camps where kids form and decorate pottery with their own hands. Homer Laughlin has supported this program by donating clay and materials, and firing the pottery as well.

And in addition to welcoming visitors from 43 states and 40 nations in recent years, the online research assistance provided by the museum helps keep the heritage alive too.

Visit the Museum of Ceramics

I could go on and on. But if you love pottery, (and we know you do based on the mass amount of traffic to our Pottery Marks page), and are heading to the Pittsburgh, Pennsylvania area, or the Shady Side Arts Festival we blogged about, East Liverpool and the Museum of Ceramics should definitely be on your "To Do" itinerary. It's a stones throw from Pittsburgh, Pennsylvania.

Immerse yourself in an era of artistry and American manufacturing gone by. Hear the stories, and view the pieces that for a century made East Liverpool, the Pottery Capital of the World.

---

If you would like to support this most deserving collection of Americana, click here to find out how.

Return from Museum of Ceramics to Feature Home