Old Fourth Ward Park Art Festival

June 30, 2013 - It's not often that I have the opportunity to attend an inaugural Art Festival, but last weekend I was lucky enough to be able to head to Atlanta for the Old Fourth Ward Park Arts Festival.
The Atlanta Foundation for Public Spaces sponsored this event as a way to honor the history of a community by celebrating the love for the arts. They did a wonderful job! The artists were tucked away between amazing views of the city, and I'm telling you right now…there's nothing like a Sunday stroll through an Art Festival, friends. Art makes my soul come alive!
Even though some of the folks said that the foot traffic was not heavy over the weekend, they all agreed that the first festival for this Park was a huge success. I know I dropped some cash, people, but I can't go to an art festival without buying something handmade! Who can?
In between buying groovy gifts for myself, I was also on a mission to find and speak with some outstanding Artists and Craftsmen. A few definitely caught my eye, and it was no surprise when I had to wait for long periods of time before I could chat with these artists. It was standing room only to view their work!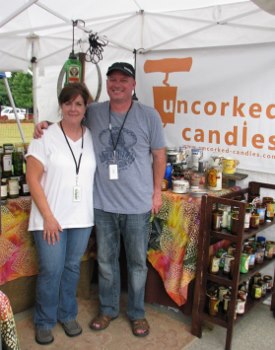 Penny Shelton and Terry Tanner

I felt like I walked into a spa when I stepped inside the tent of Body Bliss Shop owner, Penny Shelton, and her business partner and graphic designer, Terry Tanner. Their luxurious line of natural Bath and Body products are made out of Pure Essential Oils, and contain 100% natural and organic ingredients that are SLS and Paraben-free.
Based out of Acworth, Georgia, these bubbly women have been creating and customizing their products for over four years. I don't know anyone who could pass up such a wonderful bathing experience when names like Smoothie Soap Bar, Shlufing Soap Bar, and Massage Soap Bar are among the many choices. Not to mention the Loofah Bars, Body Butter, Bath Truffles, and all of the other delicious products they carry!
Back that thang up….Shlufing Soap Bar? I don't think I've ever shluffed in my life, baby, but I'm all in! Pack a couple of those up for me, sweet ladies…and let me try a bar of smoothie soap…oh…and I definitely need a bar of Georgia Peach soap, too! You can see where I'm going with this, right? I wanted it all!
Penny and Terry also create a line of City Soaps in honor of each festival they attend. They formulate a new scent for each festival. What a wonderful idea! They can also customize a product for your business or private function.
To view their upcoming art festivals, and to find out more about their wonderful Bath and Body products, please go to www.bodyblissshop.com or www.facebook.com/Body.Bliss.Shop. I now have these women on my speed dial…and you will, too, after you start shlufing every day. All I can say is ooooooh….aaahhh…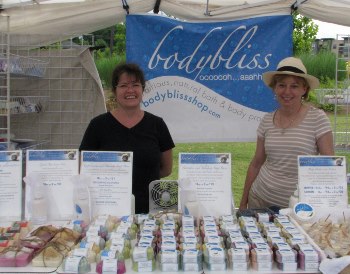 Bonnie Peterson and Casey Barnett

Meet Bonnie Peterson and Casey Barnett, owners of the Cumming, Georgia based business, Uncorked Candles. For almost 2 years, Casey has been cutting bottle after bottle, then passing them off to Bonnie who fills them with earthy-scented, soy-based waxes. It's definitely a match made in candle heaven.
Hey Bartender! Pass me a candle. Yeah…you heard right…a candle. Hit me up with a Blue Moon bottle filled with some Dr. Goodfunk, and a Patron bottle filled with Love Fog…and oh yeah…while you're at it, go ahead and throw in a Fat Monk bottle filled with a little Wine Snob…
Bonnie and Casey take recycled, repurposed wine, beer, and liquor bottle containers and hand pour candles into them in scents such as Love Bomb, Happy Ending, Good Woody, Aww Pear, Vanillapalooza, and Lewd Leather…just to name a few. Knowing that I could also get them filled with citronella wax is just one added bonus this time of year!
Their selection of bottles is extensive, but if you don't see the one you want, just ask and they can probably get it for you. Bonnie and Casey recently added Liquor Bottle Bar Lights to their growing line of products. Just what your man cave needs!
To see their art festival schedule, and to order online, please visit their website at www.uncorked-candles.com, or you can also find them on facebook at www.facebook.com/uncorkedcandles. Cheers!
Tommy Chappell and Kirby Nutter
(pictured at top)
They're hip, they're hot, and they definitely know how to turn leather into a wearable piece of art. Meet designers Tommy Chappell and Kirby Nutter of Tom Kat Originals.
For 11 years, they've been building a thriving and lucrative business by taking recycled leather remnants and adding unique accessories to them. Every weekend, from February thru December, you can find Tom Kat Originals at art festivals thru out the Southeast.
If you have the good fortune of running into Tommy and Kirby at a festival, be prepared to take a number and wait. I'm not even joking, my friends. These guys are not only hot, they're smokin' hot. I came to the quick conclusion while I waited my turn, that everyone wants a TomKat Original! I was hoping that they would save something for me! I had to wait at least 15 minutes before there was room for me to take my turn perusing their amazing pieces.
They design and make plain leather cuffs, leather cuffs with jewelry and metalwork, earrings, wrist wallets, purses, watches, rings…you name it, baby! I knew I was going home with something, and then I spotted it…a leather ring with a metal peace sign attached. Sold! Hands down, it's the grooviest ring I've ever owned. My finger wants to wear it every minute of the day!
If you're into all things leather, then you've got to check these guys out at www.tomkatoriginals@weebly.com or at www.facebook.com/tomkatoriginals. You'll also be able to find their art festival schedule online, too!
It's a great time of the year to head out to art festivals in your area, and we hope you'll join us in our quest to find outstanding artists and craftsmen!
Folks, the most unbelievable things are at your local fine art or craft shows if you just have a look. Also visit Brothers-handmade.com often, and
"Come See What Amazing Things Your Neighbors Are Making"©

-Terry