Pennsylvania Guild Fair -
Blue Bell, PA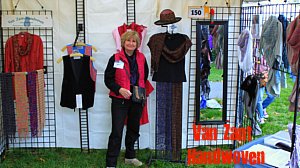 October 16, 2010 - Ok, this one I'm a little biased. You see the participants of the Pennsylvania Guild Fair are MY neighbors, and they are all OFF THE HOOK!!! They are the cream of the crop. Even the six emerging artists were heavily scrutinized - and it shows.
I took my friend Jamie, who is well versed in the Fiber and Jewelry department. I had to test a theory of ours. Sure enough, in the end she told me it was impossible to pick the best in each category. So it's back to watch for the longest lines of customers.
In Pennsylvania, we're fortunate to have Craftsmen like Ed Youtz, wood turner and teacher at the Goggle Works. Royce Yoder, potter, absolutely a Master in his craft. The Scherenschnitte artists are absolutely phenomenal. I stare in wonder every single time I see this work!!! .
With the caliber of the Jewelers present at the Pennsylvania Guild Fair, even the most discriminating jewelry seeker WILL find that incredible piece she's looking for. Remember now, I am not paid by anyone, for anything said here. These are the candid thoughts of the people around me. And I talk to everybody.
Elizabeth's Lace: We see Elizabeth at many shows. You want to talk about different! She is a Tatter-Jeweler. A very rare art that you must see!
Wilz Pottery: Denise has the form and finish thing down to a science. Very clean and distinguishing work for sure.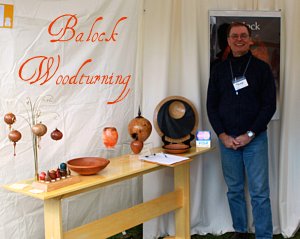 George Balock - Woodturner: (pictured) You know when I look at some of the crafts, I wonder how the artists, see what they see? How did George know that bowl was in that log? Folks, the wood turners here are clearly among the best I've seen!
Van Zant Hand Woven: (pictured) The colors and combinations were incredible. I had to just about drag Jamie out of Judith's booth. Now that was a winner!
Clifford Nevin: Scherenschnitte, you have to look close at this art form. If you hang this guy's work in your living room, Everyone will look and wonder!
They are all great at this Pennsylvania Guild Fair! The next best thing to do is go to www.pacrafts.org. Once there click on flikr and amaze yourself.
I would like to thank the program coordinator, Jenny Germann for her help in the information department. Also Nick Mohler, program director, and Sherrie Boyer, executive director did an outstanding job.
OK, my 500 words are up.
It may be because I live here but I travel 500-1000 miles a week, (last week 1700 miles), and I tell ya, Pennsylvania has some of the most artistic people I've seen! Two years into this venture, and every show is still a "Shock to the System"!!!
©"Come See What Your Neighbors Are Making"
I DID !
Joel