Build Your Own
Photo Quilt or Memory Quilt
Part 3 - Final Assembly
Cutting Your Photo Quilt Squares
When deciding on your quilt block dimensions, make sure that you have enough fabric surrounding each side of your photo. Include 2" to 3" of fabric border plus ¼" seam allowance around each of your photo images.
Let's look at a photo quilt block example, using a 4" x 6" photo. You will trim your photo block fabrics to 8 ½" x 11 ½" blocks. Your finished block will be 8" x 10 ½" leaving you a ¼" seam allowance around each block.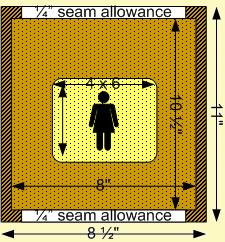 Cut squares of contrasting fabric. You can simply sew one photo sheet to the next, but I like to alternate photo quilt squares with fabric squares and sashing. This way the quilt won't look too busy with photos. Also, it's best that your fabric blocks are of a fairly simple design.
You can use any fabric prints that you like, but try to use ones which aren't too busy. You want to frame your photos, not detract from them. Each square of contrasting fabric should be the same dimensions as your photo blocks.
Cut your Sashing – It's not absolutely necessary, but to give your photo quilt a more finished look, it's nice to use strips of sashing between your blocks. In our example diagram, we cut 3 ½ " wide pieces of sashing which includes ¼" seam allowance on both sides of the sashing. When finished, these will be 3" wide sashing borders between our blocks. Piece together your sashing strips cutting the ends at a diagonal and sewing the pieces together to achieve the desired lengths.
Assemble your photo quilt top. Layout your blocks (and sashing if used) as you've drawn on your graph paper using a 1/4" seam allowance (this is the distance from the needle to the presser foot on your sewing machine).
Now sew those beautiful and memorable squares together to create your photo quilt top.
After you have sewn together the photo blocks, fabric blocks, and sashing, it's time to cut your backing.
Measure your quilt top finished length and width and cutout and piece your backing to those dimensions. In our example, without the binding, our quilt top measures 70 1/2" x 47".
Now cut your batting to the same dimensions as your photo quilt top and backing.
Layering Your Quilt
First, carefully iron your quilt top. Next lay it right-side down on a large work surface (like a clean floor). Lay your batting on top of the quilt top. Once you've centered your batting over your quilt-top, lay your backing fabric on top of it, right-side up. Baste or pin the layers of your quilt together so that the batting doesn't shift as you finish your quilt.
Finishing your quilt
You have two options:
Quilt it, either by hand or by machine. This means, starting near the center, stitch through all three layers of the quilt using a decorative pattern, moving toward the outside as you go. You'll want to quilt around your photos.
Tie it. To tie a quilt, thread a yarn needle with a length of worsted-weight yarn. Insert the thread into each corner of your photo squares and fabric squares on the top side of the quilt, then go through all three layers of the quilt, and back up to the top. Tie the ends of the yarn in a square knot and trim them. Then tie around the edges, spacing your ties about every 6 inches. This will hold the layers together nicely.
Squaring your quilt
Now it's time to square up your quilt. Make sure you have equal sizing top to bottom and side to side. If it is not even, very, very carefully even it up by trimming the top, sides, and bottom of the quilt as necessary. Don't over due it though, because it is very difficult to go back when too much is trimmed off. You will have one more chance to do some very minor squaring when you attach the binding.
Final Binding
You now have an unfinished photo memory quilt with open and unfinished edges. To enclose them, create a binding strip two inches wide, and the same length as your quilt top plus one inch.
Quality Tip: Cutting the binding fabric diagonally across the weave, also known as cutting on the "bias" gives a much more durable quality to the binding. The binding fabric will also be a little stretchier and won't wear out as fast. It will also allow you to go around the corners a littler easier. When the binding fabric is cut on the straight, and a single thread breaks, it affects the entire length of the binding. However, when the binding is cut on the bias, any given thread is much shorter, and a break will only impact a very small section of the binding.
Fold the binding strip lengthwise to locate the center, and then press it carefully creating a centerline crease. Next, open the pressed binding strip and fold the right long edge to the center crease line. Repeat for the left long edge. Press it again. You should now have a strip that is slightly longer than one side of your quilt, and one inch wide, with no unfinished long edge exposed.
Fold the binding strip over one edge of your quilt and stitch all along its length.
When going around a corner with your binding, use a mitered corner by folding the binding fabric so it looks like a sharp 90 degree corner then turn the quilt over and stitch the binding fabric down.
Repeat this process for each of the three remaining sides of your quilt.
When you reach the last corner, tuck the end of the binding under and stitch it to the beginning-binding strip.
Quality Tip: Sew the topside of your binding with a sewing machine, and then flip it over and sew the backside by hand. This will make your quilt look really sharp and clean by hiding the backside stitches. If you don't want to hand sew the backside, you may choose to use a decorative stitch if your machine provides that function.
Wow, you made it (or at least you made it reading through this procedure). GREAT JOB!
After all of this you might be thinking, "I'd rather have a memory quilt, photo quilt, or T-shirt quilt made by someone who has done this before." Well you're in luck!.
Simply fill out the
Photo Quilt - Memory quilt
form below.




Return from Photo Quilt to Quilting home




---
Have a T-Shirt Quilt Made
| | | | |
| --- | --- | --- | --- |
| Quilt Type | # of Shirts | Approx. Size* | Price |
| Wall Hanging | 9 | 57" x 57" or smaller | $225 |
| Lap | 12 | 45" x 60" | $250 |
| Twin | 20 | 60" x 90" | $300 |
| Full/Double | 30 | 75" x 90" | $350 |
| Queen | 42 | 90" x 106" | $400 |
*Size may vary slightly. Other sizes may be available upon request
Photos provided in the .JPG format will be printed on white fabric sheets and incorporated into the quilt for $10 per 8x10 photo. If desired, you may put 2-5x7 photos or 4-3x5 photos on one sheet. Each 8x10 sheet counts as one square.
Please Note: Brothers-Handmade works with one Quilter for these T-shirt quilts.
Christmas and Spring Graduation are the busiest times.
If interested, don't wait. It takes time to make these quality quilts, and you'll be placed in the queue in the order your request is finalized.