Build Your Own
Photo Quilt or Memory Quilt
Part 1 - Photos and Photo Editing
Full of memories and achievements, the photo quilt is a great gift to give that child leaving the nest and heading off on their own. It's also a fresh and unique gift for grandparents, showing their most cherished possessions - their grandchildren. As well gifting a friend with a keepsake displaying memories of great times, or commemorating a special event will long be remembered and appreciated. Combined with various memorabilia, it can be the ultimate Memory Quilt.
When it comes to quilts, making a memory quilt or photo quilt is really quite achievable to those with only basic sewing skills.
Here's what you do…
Plan your Quilt Design on Graph Paper
It's best to take a sheet of graph paper and layout the design of your quilt including the:
Photo blocks – How many photos do you want to use?
Fabric only blocks – Nice to break up the quilt by alternating these with the photo blocks.
Sash (in between blocks to make for a quality memory quilt)
Binding (around the edges of the quilt to give it a nice finished look)
It will be easiest if all or your squares are of equal size. When creating a photo quilt, keep the design simple. Create the design around the number of photos that you will use. If you are going to use 10 photos you obviously will need 10 squares of fabric as a background for them. If you want to make the quilt with alternating squares of color, then you will need an equal number of fabric only squares.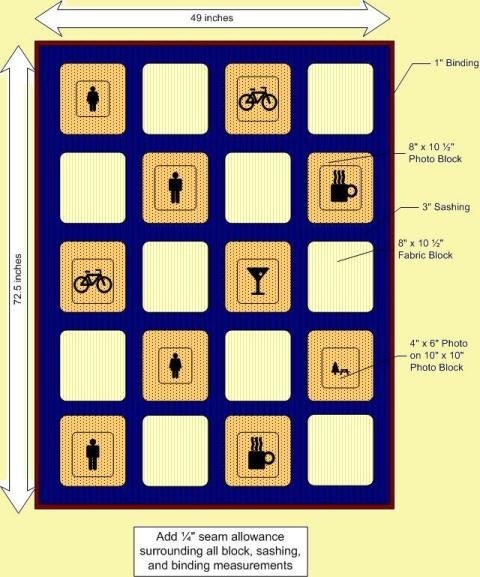 Photos
Start by taking and choosing your photos that tell the story. It's easiest if you use photos that are on your computer. However, it's not very difficult to scan paper photos at your local (I don't want to say it) big box, low cost department store, or local photo shop, then copy them to your computer. The number of photos you will need depends on your quilt size and design.
Smaller lap quilts (36" x 48") may only use 4 to 8 photos, again depending on size of photos.
A king size bed quilt (76" x 80") may take up to 40 photos, again depending on photo size and design layout.
Be creative with your design. They don't have to be all the same size, or evenly distributed one after another.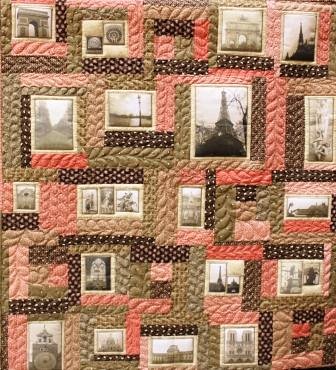 Not that you will go after something like this, but I had to include a photo of an award winning photo quilt on display at the 2010 American Quilters Society show in Lancaster, Pennsylvania. The quilt by Josie Hermsmeyer entitled, European Excursion, included black and white photos of landmarks in France.

Think of the photos that you will include similar to what you would put together in a themed photo album.
The theme could be an achievement for a school aged child including special action photos, and the team or group, and photos of the awards, and even applicable newspaper articles. Do you have an Eagle Boy Scout – Consider including award patches from school or community events.
The theme might be a chronological collection of photos of a person's life with baby or child pictures, through meaningful events, and memories.
Perhaps a Family Tree themed photo quilt with a tree appliqué and portrait photos at the ends of the branches.
A wedding photo quilt could include various photos of the newlyweds sharing happy moments together.
A photo quilt for grandparents may include photos of each of the grandchildren.
Bring out that creative spirit in you! You may even want to include some special T-shirts in your design.
---
Organize Photos
As you are selecting the photos you will use, collect them all in a single place on your computer so you can easily find them. Take a look at them collectively to be sure they are the ones you want on your soon to be masterpiece!
Photo editing
Now lets make those photos look their best. There are a bunch of photo editing software packages out there (Adobe Photoshop, Microsoft Photo Editor). But one that I really like (and it's free – yippee!) is www.picnik.com. It's an online service where you upload your photo, mess around with it (resizing, sharpening, taking out red eye, cropping) and then resave it to your computer. Consider cropping out unwanted backgrounds, and brightening the colors.
When using Picnik.com remember to always first ensure your picture files on your computer have a .jpg all in lower case extension. If they don't, simply rename with a lower case .jpg extension. For example change uncle-buddy.JPG to uncle-buddy.jpg. Also, if you are adding text to your image, you will want to flip your image backwards before you save it. This will make the text read in the right direction once you transfer it onto the fabric.
Quality Tip:Black and white photos can be a good choice, as they do not lose much of their quality when transferring them to fabric. And, an 8x10 photo with many people in it might not look good if the size is any smaller than about 4x6.
Choosing Your Photo Quilt Fabric
For best results, use a high thread count cotton muslin fabric. Cotton blends like calico also work well. Opt for pale colors like white, dove gray, beige, or pale yellow as background fabric for your photos. The pictures will show up much better on light fabrics such as these. Remember you will need fabric for both your sashing if you choose to include sashing, your backing, and your binding.
You will also need batting to place in-between your top and backing. For hand- or machine-quilting, you'll want to use a lower-loft batting because it will be easier to stitch. For tying a quilt, you can use a high-loft batting if you like, for that puffy, traditional look.
See Photo Quilt - Memory Quilt - Part 2