Please help in identifying these pieces
by Nancy Sullivan
(IL)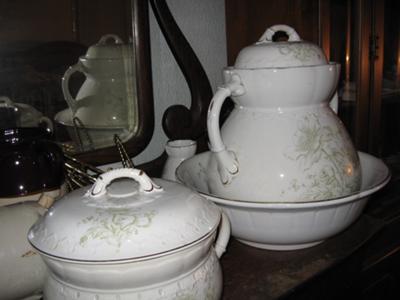 We purchased these pieces at an auction. There is also a tooth brush holder included.


I would like to know the approximate age and any information you can give me. The marking on the bottom is Winona in blue with a blue design around it. I don't have the pieces here to look at but I think the spelling is correct. I have not been able to find any information about the mark. We purchased the set for $23. I collect pitchers and bowl sets. This one is my first with the chamber pot.
The pieces are beautiful. Each lid has a chip out of it and the tall pot has a tiny crack at the top. Otherwise in very gorgeous condition. Any help in identifying these would be greatly appreciated.
Thank You!
Nancy