Artisan - Craftsman
Featured Pottery Artist, Quilter, Jewelry Designer, and Soaper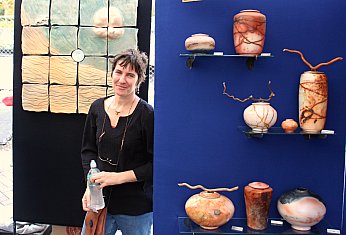 Brenda McMahon
For over sixteen years, Pottery Artist Brenda McMahon has refined her skills working with porcelain. Self taught, Brenda actually went to school for Journalism and worked as a Journalist for ten years.

Having recently moved from New York to Ohio, Brenda McMahon has rapidly risen to the top of the saggar fired porcelain world. Saggars are containers commonly made of specialized clay in which the created ceramic form is placed prior to firing in the kiln. Artists will often place combustible materials such as sawdust or other organic materials inside the saggar depending on the effect they are working to achieve.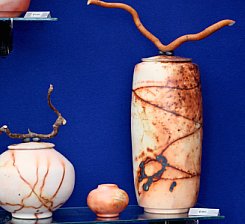 Brenda's saggar fired porcelain vessels are quite remarkable as there are no glazes applied; yet they achieve a beautiful orange matte finish. After the porcelain form is created on the pottery wheel, Brenda burnishes (rubs while on the wheel) the surface with a stone to create a satin surface. "Porcelain reacts quite favorably to burnishing," Brenda notes.
She often will burnish her pieces three times. First using a stone, then a stainless steel potter's rib that removes all stone lines. Finally, she finishes her burnishing using a soft rag.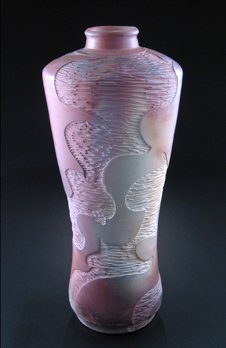 She then wraps the form in various organic materials including grasses, cornhusks, seaweed, rope, wire, twine, and sawdust. Then she places the unfired creation in a clay pot (saggar) with a lid. The ceramic vessel is then smoke fired in the saggar. During this firing process, the porcelain gains it's unique and beautiful colors from the fumes emitted from the organic materials.
Brenda tells us that her technique was really quite accidental. One day she was cleaning up around her studio when she came across some old rusty trashcans. As an experiment, she gathered up some of the rust from the cans and sprinkled it into her kiln. Low and behold, the resulting fired product was a gorgeous orange tinted white porcelain vessel. Brenda has been teaching her flavor of saggar firing for the past 7 years.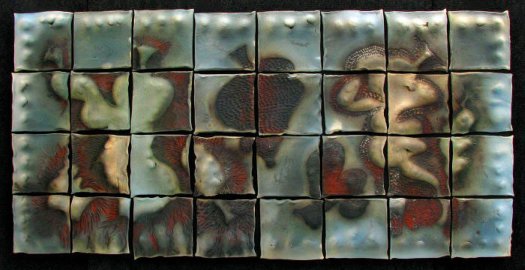 Lately Brenda has expanded her creativity to carved wall murals. Starting with a completely flat piece of stoneware, she scores a line drawing and then pulls and stretches the clay, to create volume in the clay. She then lets her form sit for a day or two. After which she continues to carve and remove clay, "creating a sense of energy and movement throughout the carving." Then she finishes her masterpiece with surface coloring during the firing phase.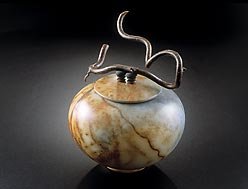 Brenda McMahon's pieces are absolutely fabulous. You can find these pieces and more here on her website.
---
Scott Gamble
Around the year 100 BC, Gaffers, or Glassblowers, with the aid of a blowpipe, began inflating molten glass and forming a bubble, or parison. Scott Gamble has clearly benefited from the years of refinement this craft has experienced - not to mention his own innovative spirit.
Scott's noteworthy colorful matte finished vessels attracted the attention of most Art Festival goers recently in Delray, Florida.
A graduate of Southern Illinois University Carbondale School of Art and Design, Scott is a rising star in the field of Artistic Glassblowing.
Scott starts with a clear glass vessel into which he introduces molten colored glass broken from a colored glass bar. This molten colored glass is equally distributed throughout the clear glass vessel. He continues on layering subsequent colored glass, one inside another. Most of his pieces on display had two to three colors in them.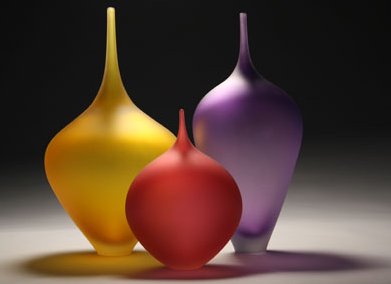 Scott works with a matte or satin finish created by sandblasting his vessels with aluminum oxide after cooling. He invests 15 to 20 hours per piece when factoring in blowing time, cooling time, and cold work, which includes grinding, polishing, sandblasting, and finishing.
"Some days you just don't get anything," Scott reflects. But then there are those days when things just seem to fall in place.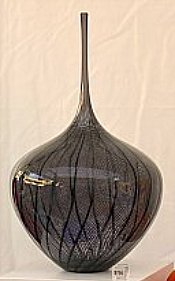 Take for instance Scott's Zanfirico designs. The Zanfirico technique replicates the look of lace made popular on the Italian island of Burano near Venice, which is known for its lace production. Normally you see Zanfirico in white, as white is a "stiffer" color to work with. Scott explains that an Artist "can typically get the most intricate lines off of a stiffer color like white." Black is the softest color. Scott specially formulates his black glass in order to use cane-pulling techniques.
He encases some black glass in clear, and then pulls long strings of it called "cane". His canes can be about 30 feet long. Then Scott cuts the canes into 10-foot lengths and lays them out side by side on a sheet. He then takes a hot glass cylinder and rolls it over top of them which picks the black canes up. Then he attaches another pipe and with an assistant, he pulls the glass while twisting the ends in opposite directions.
This two person operation twists the black lines (canes) all the way around leaving him with another long rope with the line pattern encapsulated. He cuts it one more time and builds a bubble out of that rope. Eventually the sheet of glass with the pattern is rolled together creating a seam. Then he closes the open end, leaving a bubble where he introduces air to it. He introduces a little texture to his vessel, and then puts a layer of clear glass over it while forming the final piece. See for yourself his stunning works of art.
---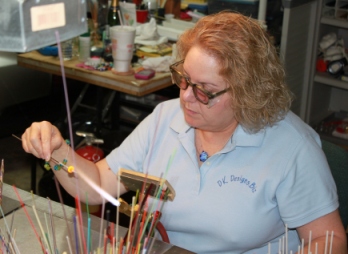 Diane Kovach
Drawn by the colors of bead making and the speed at which one can turnout a simple bead, Diane began her lampwork journey back in 1998. Diane was fairly crafty most of her life. She notes that her father "had some painting abilities." One of her talents is the ability to look at a picture or photograph and turn it into a lampwork bead. An example of this is her horse bead sculpture collection. One of my favorites are her fish beads. Her colors are bright and contrast beautifully.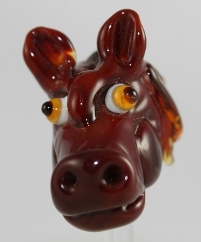 Diane Kovach credits her bead sculpting abilities to Marcy Lamberson (studiomarcy.blogspot.com/), a renowned lampwork artist and glass bead sculpter. In addition to Marcy, over the years Diane has studied bead making with a who's who list of accomplished Artists including:

Deanna Griffin Dove, Corina Tettinger, Cristie Prince, Pam Dugger, Andrea Guarino-Slemmons, Larry Scott, tom and Sage Holland, and assisted instruction with Caitlin Hyde.
Diane works closely with her sister Donna whom she credits with getting her started in lampwork bead making in the first place, by signing her up for her first lampwork class back in the late 90's.
Dot beads and beads with a lot of colors are her favorite to make. Diane uses a Mini CC torch providing a 2500 degree Farenheit flame which radiates heat to a nice wide area. The expanded radiant heat from her Mini CC is helpful for making her larger beads.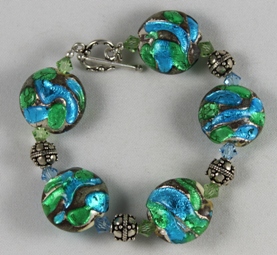 She uses stainless steel welding rods purchased from her local welding shop. Before she begins her simple dot bead demonstration Diane ensures her rods are dipped in bead release to prevent the beads from sticking to the rods. "When the bead sticks to the rod," Diane jokes, "it ends up an odd looking plant stake." A stark reminder not to break your bead release.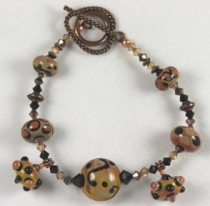 Because she is using soft glass for our demonstration, she starts further away from the flame and very slowly warms the glass. Next she begins to get a nice gather (ball of molten glass). As she rotates the bead away from her she looks for evenness around the gather.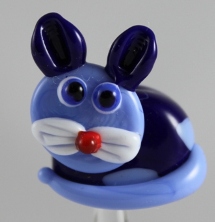 Diane and her sister Donna participate in about a dozen Art Festivals a year. In addition to the beautiful lampwork, the two Artists have been creating Steampunk jewelry designs as well. Check out their website at DK Designs for their show schedules and much more.
Return from Featured Artist Detail to Featured Artists