Artisan - Craftsman featuring Pottery Artists, Quilters, Jewelry Designers, and Soapers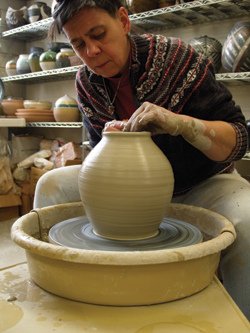 Deborah Slahta
When it comes to upper echelon Pottery Artists, Deborah Slahta is a standout. Working in clay for over 30 years, Deborah happened into her art while attending Moravian College in Bethlehem, PA. To fulfill a liberal arts requirement while completing her B.S. in Mathematics, she took a ceramics class. That did it. She was hooked.
Over the years, Deborah has experimented with a variety of pottery methods and techniques including gas fired reduction, salt firing, and her current love of cone 6 electric firing and Raku.

In 2000, Deborah was accepted into an elite group of pottery artists, as a "juried artist" at the Banana Factory, a community cultural and arts center in Bethlehem, Pennsylvania. In addition to turning out finely crafted where in her Banana Factory studio, Deborah teaches a variety of classes for adults, school children, including home schooled children, and physically and emotionally challenged adults.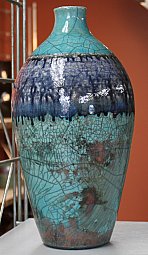 She loves to play with fire and gets satisfaction in Raku where the smoke and fire of the process combine to produce exciting patterns of color and surface texture.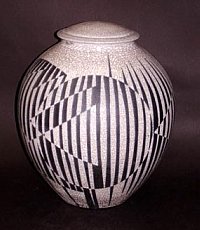 Deborah has also become a Master at the technique of Tape Resist. In this technique the Artist applies tape during the decorating phase prior to firing, often times reversing and turning patterns to create a phenomenal array of interesting geometric shapes.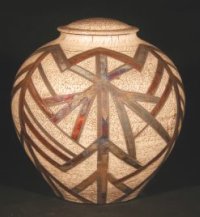 Deborah divides her pots into thirds, quarters, sixths, and so on.

Each division is chosen for reasons only she knows.
See more of Deborah's work here at her website.




---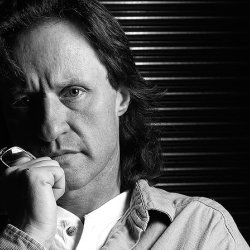 Tom Radca
Tom began his ceramic career in functional pottery, making anything that could be used in the kitchen. He came to a point in his career when he needed a change.

Through additional coursework, studying new techniques, and surrounding himself with other Pottery Artists and mentors, Tom transformed his art from functional to a more decorative perspective.
Over the past decade, Tom has continued to challenge himself with the creation of large forms. Tom creates beautiful 30 inch and larger plates. By accident he stumbled upon a technique he calls "Painting with Fire" where he actually manipulates glazes during the firing process. This landed him on the cover of Ceramics Monthly magazine.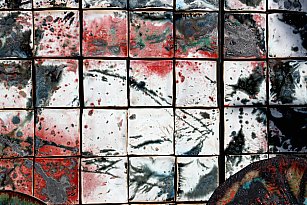 Highly textured, ceramic tile wall hangings are another specialty of Tom's. After a trip to Africa he came home with new texturing influences that he integrates into his tiled wall hangings.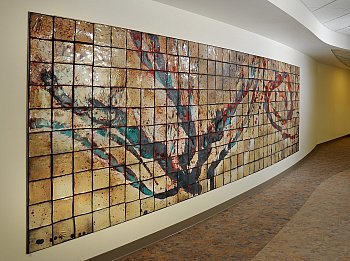 Tom's highly acclaimed ceramic tiles can be found adorning the walls of Mercy Medical Center in Canton, Ohio.
…as well as decorating residential properties as seen in this Back Splash he created.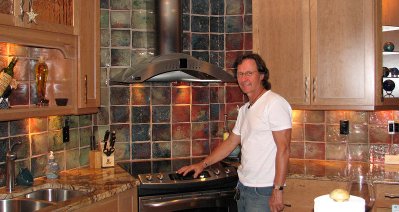 Pottery Artists would say his work is about as close to Raku as you can get. He actually jokes and calls his technique Radco, where he places the red hot ceramic, fresh out of the kiln, into sawdust.

Watch this video of Tom Radco, Painting with Fire.
See more of Tom's masterful work here on his website.




---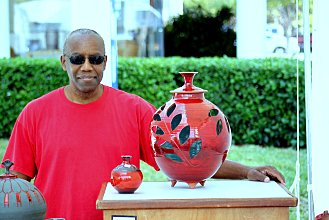 Larry Allen
While perusing the magnificent works on display at the Delray Florida fine arts festival, our eyes were immediately locked onto the bright red and gray stoneware by Larry Allen.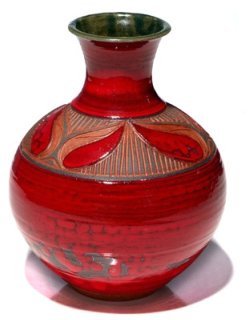 Larry told us that he received his B.A. in art from Berea College in Berea, Kentucky back in the 70's. It was at Berea that Larry became ensconced in the pottery wheel. He says he still hasn't gotten over it. And we're glad about that.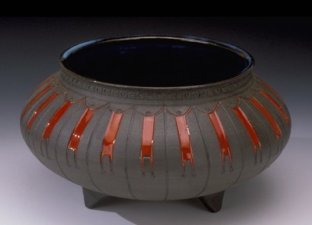 Larry has been inspired by a variety of events and cultures in his time.

Although Native American and African works have influenced him significantly, one of the designs he is most proud of is the Sgraffito "Unity" design inspired by the events surrounding the 9/11 attack in New York City. Unity is his signature beautiful bright red incised figures holding hands on a gray background. The contrasting reds and grays are superbly matched with intricate carvings.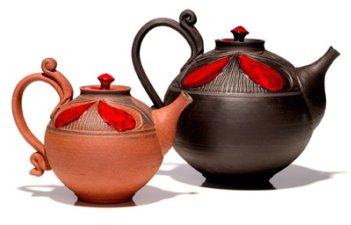 Larry's specialty is his Sgraffito design technique on stoneware. In Sgraffito (or sometimes spelled Scraffito) the Pottery Artist applies two layers of a contrasting colored slip (clay in a liquid form) to an unfired ceramic form. The Artist then scratches or incises his design on the slip, which in turn exposes the lower layer slip color.
In Larry's case, he tells us that he first starts with a terracotta clay (naturally reddish) and covers it with a gray slip, carves his designs, and fires it at stoneware temperatures (typically 2192 – 2399 degrees F.). After this, Larry adds the red glaze and fires it at a lower temperature. The results are inspiring to collectors of fine handmade pottery as well as other pottery artists.
Larry's works have been recognized as best in show in several venues including Hendersonville, NC, and the Fairhope Art Show in 2008. Larry also won awards in the Charleston Craft show in Charleston, SC, and the Boston Mills Art Fair in Ohio.
Return from Featured Artists ( pottery artists ) to Brothers-Handmade home