Quilting Tools and Quilt Supplies
Quilting is a rewarding hobby made easy with a good set of quilting tools and supplies. The following quilting essentials are available online or at your local fabric store. Beginners can start with a pattern, fabric, rotary cutter and mat, see-through ruler, pins, needles, thread, scissors, and a sewing machine. Purchase additional quilting tools as your quilting habit grows.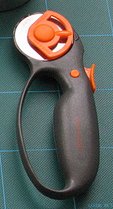 Rotary Cutter and Mat: The Rotary Cutter contains a sharp, circular cutting blade that helps you cut uniform pieces from layers of fabric and speeds up the quilting process. Most come with a safety shield, retractable blade, and grip handle. A 45 mm blade will work well for most projects.
A self-healing mat provides a protective work surface for rotary cutting. Grid lines help with measuring. Purchase a mat that is at least 22" wide.
See-through Rulers: Place this ruler on top of your fabric to cut your quilt top pieces. This essential quilting tool provides a straight edge for accurate rotary cutting and easy-to-see measurements. Get started with a 6" x 24" ruler.

Seam Ripper: This small quilting tool removes stitches gone wrong. Find one with a fine point and comfortable handle.
Iron and Ironing Board: Use an iron to smooth out your fabric before cutting pieces. As you sew you'll press each seam. This will make it easier for you to line up the next set of pieces and will eliminate bulkiness.
Marking Supplies: Fabric erasers, fabric pencils, soapstone pencils, and chalk wheels are all quilting tools that help you transfer templates, appliqués and quilting patterns onto your fabric.
Scissors: You'll need a dedicated pair of sewing scissors or shears for cutting fabric and thread. Use another pair of scissors for other cutting.
Straight Pins: Patchwork and flower head pins hold fabric pieces together without leaving holes in your fabric. Have a pincushion on hand to gather your pins.
Safety Pins: Rustproof 1" safety pins hold the quilt top, batting, and quilt backing together during basting and quilting. You'll need a large pack of these.
Hand Piecing/Quilting Needles and Thread: If hand piecing, you'll want to experiment to find needle sizes and types that work best for you. General-purpose needles, called sharps, and milliners, or straw needles, can be used for hand piecing. Use 100 percent cotton or all-purpose sewing thread, in neutral or matching colors.
You use quilting needles, or betweens, to sew your quilt top, batting, and backing fabric together. Use 100 percent cotton thread in contrasting or matching colors for hand quilting. Special chenille needles are available to tie quilts with thick batting.
Quilting Frames and Hoops: Hold the quilt top, batting, and backing in place for hand quilting. Frames come in square or rectangular shapes and hoops are round or oval.
Quilt Patterns: Offer detailed instructions on the amount, type, design, and color of fabric to use. Patterns show how to cut and piece quilt tops together and how to assemble your quilt. Many quilt patterns are available for free online. Try a beginner pattern if you are new to the craft. Once you've mastered basic quilting techniques you may want to design your own quilt. A color wheel will help you choose fabrics and a quilting calculator will help you calculate fabric requirements, or yardage.
Quilt Top Fabric: The top of the quilt showcases the design and fabrics you've chosen. Start with high thread count, 100 percent cotton fabrics, like calico, muslin, or broad cloth. These fabrics hold up to cutting and sewing. Cotton/polyester blends can also be a good choice for quilts you plan to use daily. However, this blend is more challenging to sew without puckers. As you become more experienced with quilting try different colors, patterns, and types of fabrics. You might use denim, flannel, or fleece for rag quilts. Quilt kits are an easy way to incorporate the latest trends in fabric into your quilt making.
Quilting Kits: Kits come with a quilt pattern, step-by-step instructions, and quilt top fabric. Some quilting kits include backing material. Pre-cut quilt kits speed up the entire process because they are ready to sew right out of the package. Beginner quilting kits feature easy-to-sew projects in a variety of sizes. Seasonal and holiday kits are available. Choosing smaller projects allows you to practice and improve your quilting skills before advancing to larger more complex designs. Of course you'll still need to get your basic quilting tools to use with the kit.
Quilt Batting: You decide the loft, or thickness of your quilt's middle layer. Higher loft batting makes a fluffy quilt that needs to be hand tied. Low loft batting creates a thinner quilt that can be machine or hand quilted.
Quilt Backing: Backing is the bottom layer of the quilt. Choose 100 percent cotton. Muslin is a popular, pucker-free choice. Special widths eliminate the need for piecing.
Sewing Machine: Most sewing machines can be used for quilt top piecing and quilting. Special presser feet and needle plates are helpful. A 1/4" presser foot, for example, can help you more easily make the standard 1/4" quilt seam allowance. Check your user manual for more information on the types of presser feet and needle plates available for your specific machine.
Sewing Machine Needles and Thread: Fabric thicknesses determine the best sewing machine needles for your quilt project. Check your manual for suggestions on which needle sizes would be best when piecing or machine quilting. Use all-purpose or 100 percent cotton thread in neutral or matching colors for machine piecing. Choose a contrasting or matching cotton quilting thread for machine quilting.
Collect up those quilting tools and quilt supplies and jump in!
Or, if you prefer, purchase your quilt from a pro, and sit back and appreciate all that goes into creating the masterpiece.