Featured Artist Rosalie Schulick of
Rosie's Wonders
After catching up with Rosalie Schulick of Rosie's Wonders and being quite impressed with her art form of weaving and the fiber arts, we wanted to know more. Rosie told us of her journey, what has inspired her, awards and recognition, and even some fun facts about her that most would not know. Enjoy our Conversations on Fine Crafts and Arts, as Brothers Handmade features Fiber Artist, Rosalie Schulick of Rosie's Wonders.
Greetings Rosie, and thanks for agreeing to our Featured Artist interview.
To start, please tell us about your primary Art interest?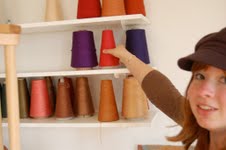 I am amazed by the limitless number of colors present in this world, the never ending combinations and opportunities for transformation, the visual fiesta possible when mixing paints for a canvas, glazing a mug, or choosing the colors for a warp. I have always loved to dabble in a variety of art forms, using my hands in different ways to bring energy into form, creating pieces that aim to express a playful mystery and wonder. For my business, Rosie's Wonders, I focus on wearable fiber arts, handmade greeting cards and beaded jewelry. I stay open to surprising directions when constructing the color pallets for my work, allowing thoughts that criticize and second guess take a back seat so that my intuition can fly. I take risks with wild fresh fiber color and texture to spice up each new piece. This process adds new life and inspiration to my work and I find myself making fast decisions with ready gesture, be it in when beading a necklace, weaving a scarf or belt, or exploring a new card design.
Fiber art has been my main focus for several years. I love practicing and experimenting with different ways to use fiber in all its rich tones and luscious textures to yield a piece that is as exquisite and expressive as it can be. My hope is that each piece will strut its own style, power and delight. I am constantly coming up with new design ideas and frequently have visions of exciting yarn tones and snazzy surprises for my next project.
How did you get started? Tell us about your journey in this art form.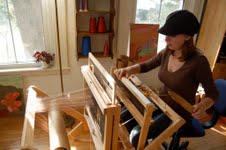 I have always been a creator and drawn to the process of art. As a child, I spent many hours drawing murals full of fanciful creatures, telling stories about them that went on and on. I made pinch pots and elaborate animal sculptures and sat at the potter's wheel beginning at four years old. During a childhood health crises, creating art became central to my life and healing process. The act of creating gave me refuge, a place to find peace no matter what life was playing out around me. This experience formed a deep devotion to practicing my art, it became like a breath, something crucial to survival. I started making and selling jewelry at ten years old and learned to weave when I wanted to make a baby blanket for an expecting friend. Once enrolled at The Putney School in Putney Vermont I took full advantage of their generous high school art curriculum in painting, drawing, knitting, ceramics, photography, theater, writing and most of all, the fiber arts weaving program. I would race up the winding stairs to the weaving studio after a day of math, science and history classes and delve into weaving projects, relieved to have a few hours to release the pressure of the day and finally express myself through fiber and color.Melissa Johnson was my weaving teacher and I have always held a deep admiration for her talent and unending patience when helping a room full of students mend broken yarn strands and find their way through the many steps of dressing the loom.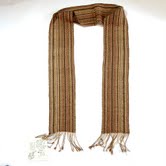 Putney helped foster my love for a full array of art forms and led me towards a liberal arts education with a focus on the visual arts at Bennington College. There I took many painting classes, learning how to mix and create desired colors and play with them in relationship to each other on a canvas. Assignments included experimenting with color aid papers and learning how to alter a color by changing its background as well as examining how the lack or bounty of color in filming is used to encourage meaning and effect. Ceramics was my second love in which I contemplated form, function, feel and glaze color. These exposures nourished and augmented my fiber work, expanding my color vocabulary and artistic confidence. I graduated from Bennington College in 2008 with a BA in visual arts and soon after began creating a wearable art inventory for Rosie's Wonders.
What do you like best about doing the Fiber Arts?
I love when the perfect match occurs between a customer and one of my creations and they find a scarf, belt, shawl, necklace or pair of earrings that perfectly suits them. I feel fulfilled and successful when something I've made delights someone or is just what they have been looking for and they are now going home with that sense of finding something special and lasting. In my studio, I love being in constant creation mode and experimenting with new materials, colors and inspirations, coming up with new ideas for products that will dazzle and challenge me and will inspire the customer's fancy. I find working with fibers especially rewarding: the feel of the material: bamboo, silk, Tencel, cotton and other natural fibers that flow through my fingers as I create a warp or smooth one out while dressing the loom, all the while knowing how the fiber will feel once woven and wrapped around someone's shoulders, waist or neck.
What are your favorite one or two pieces and why?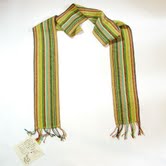 This is a hard question for me since I fall in love with each of my pieces as I am creating them and when they are completed. I then move my affections to my next endeavor. Lately I am very excited about my hand woven belts; they give an exciting flair to any outfit, whether they are worn with jeans and a T-shirt or tied around the waist to add color and spunk to a dress.
What do you like doing when you're not creating in the studio?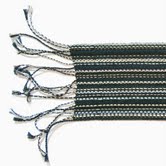 Filling orders! I also like going to craft and art shows, viewing the amazing work of other artisans and meeting and learning from them. I love being in nature and taking walks with my puppy and pondering all the miraculous displays of color around me - gathering inspiration for new work! I like sketching, taking pictures and playing games, teaching art and creating fun craft projects with children.
Tell us something about you that most of the people that you have some association with, wouldn't know about you.
Hmm, I do a killer Renee Zellweger impersonation which is posted on you tube.
---
We hope you have enjoyed our conversations with Rosalie Schulick of Rosie's Wonders, the definition of a Fiber Artist.
And remember, go to fine craft and arts shows and festivals, and to Brothers-Handmade.com, to:
"Come See What Your Neighbors Are Making"©