Craft Show Listings
Colors Festival of Arts
Roswell, Georgia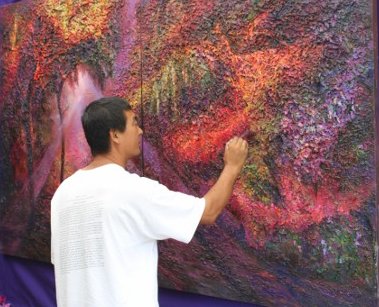 May 7, 2011 - A local favorite. Didn't have much time today as I also play violin in the Georgia Symphony Orchestra, and had a concert tonight, so I decided to scoot down the road to a local favorite, the 21st Annual Colors Festival of Arts. Many of the Artists I spoke with really like this show, and come back year after year.
It's relatively small with I'd guess-timate about 50-75 artists and craftsmen. There seemed to be more painters there this year, and I didn't see any Soapers (unlike last year). Not sure, but I have seen a trend in more differentiation between Crafts and Arts. And perhaps the promoters are moving more toward an Arts festival than a crafts festival. On the application soap is certainly not there. But "Other" is, so...who knows. I know they had soap there last year.
Anyway, one nice thing is that Artists have pretty easy access to their tents for restocking as the festival is contained in a fairly small area. Parking can be a little challenging but I have my secret space down the street a piece at Bullock Hall.
This show competes with another popular local festival, the Dunwoody Arts Festival, which I attended last year. So that probably affects the crowd size a bit. Never the less, there was a stage with local music and dance performances that bring a few folks in as well. There was also a bunch of good festival food available.
Despite its smaller size, the caliber of Artists this show attracts is quite impressive. These are accomplished artists that really know their crafts and art. A few notables (for a smaller show, you'll see this is a relatively longer list of exceptional artists) that I spoke with include:

(Click pictures for larger images)


Anne Bray Hand-thrown pottery. Anne's years of experience are quite evident in her beautiful works. She had one of the nicest butter dishes I've seen. If I hadn't just bought one at the Alpharetta show a couple weeks ago, I would have been walking away with one of Anne's. Her work is very finished and professional looking.
Rochelle Nation Jewelry was my first stop as I entered the festival. Much of their jewelry looked spectacular, but the display that drew my attention from everything else was her collection of crystal and acrylic encasing Gulf Oil from the BP accident. At first I thought is was like Tourmalinated Quartz. Turns out Rochelle creatively collected some of the oil washed up from the Gulf and designed jewelry around it. Spectacular.
Nancy Horton of Back Porch Pottery (pictured) had a nice variety of
interesting pottery from simple sponge holders, to bowls decorated with a cool lizard, to some beautiful Raku. Also in the creative category, Nancy transfers the textured pattern of wall paper to some of her pieces. This makes for a very interesting textured pattern on the pottery. Very cool.
David Lawrence of Chrysalis Glassworks who I also saw a couple weeks ago at the Alpharetta show, makes some really neat twisted lampwork beads that he hangs on some of the most artistically designed necklaces. No he doesn't stop with the awesome beads, but continues on using his incredible talent for pulling a complete pieces together. Love his works!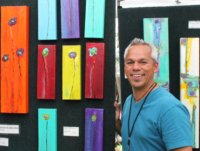 Marc James Villanueva Contemporary Mixed Media Artist (pictured) was an eye opener for me. Now we at Brothers-Handmade haven't spent much time (yet) on painting type formats. We've primarily focused on quality handmade jewelry, pottery, quilts, and soaps. But I believe the time has come. Marc's incredibly bright and artistic mixed media (paintings) were - well - Inspirational. Marc's a great guy to talk with, and his contemporary art would bring brightness and a smile to any home or office setting.
Soon Guin 3D Origami Paper folding (pictured). This is such a cool art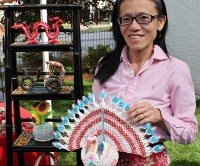 form. So interesting and colorful with hundreds of carefully folded sheets. Definitely a conversation piece to add to your collection of artworks.
Kathy & Marianne Brennan Original designs in sterling silver by these talented sisters. Love their contemporary silver and copper designs. A must have for the contemporary woman.
Rick and Sue Malsnee of Malsnee Pottery. These two have been at it for a while and it shows. They have collections of their works in several nature inspired glaze designs. This is another one who's work is Well Finished.
Jinsheng Song Award winning Painter (pictured) Jensheng is another reason Brothers-Handmade needs to begin to wade into the painted format.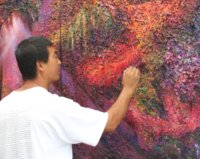 His oils reflect a variety of styles including abstract, impressionistic, and renaissance. Absolutely a wonderful painter producing works that I believe will only increase in value.
Wow - the most unbelievable things are out there if you just have to look. Also visit Brothers-handmade.com often, and
"Come See What Amazing Things Your Neighbors Are Making"©


Return from Craft Show Listings - Colors Festival of Arts to the Craft Blog