Meet the Artist - Steven Purdon



After catching up with Watercolor Artist Steven Purdon at the Druid Hills Artist Market in Atlanta, Georgia, we were quite impressed with his abilities at watercolor painting and we wanted to know more. Steven told us of his journey, what has inspired him, his vision, and even some fun facts about him that most would not know. Enjoy our Conversations on Fine Crafts and Arts, as Brothers Handmade features Watercolor Artist, Steven Purdon.
Greetings Steven, and thanks for agreeing to our Meet the Artist interview.
To start, please tell us about your primary Art interest?
(Click images to enlarge)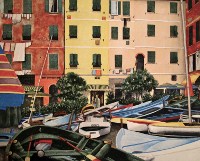 I am totally focused on watercolor, and a wide variety of subjects. Selection of a subject is based on a number of factors – degree of difficulty, personal interest, and mostly whether it is commanding me to paint it. The subject has to motivate me, which happens over a period of time as I am thinking about what I want to do next. I am usually considering several subjects at once until I arrive at a point where I can not rest until I work on it. I have never considered working in any other media. Watercolor is not very forgiving – the paint dries fast, so mistakes cannot be easily remedied. However, this is exactly what I enjoy about the media. Things happen in watercolors that are uncontrollable, which is one of the media's inherent beauties. A watercolor cannot be duplicated, because of this quality. I never work on a painting study before I start, because I would never be able to duplicate any of the serendipity that happens. I do, however, plan a painting, and I will think about how to approach the painting for several days before I begin.
Tell us about your journey in this art form.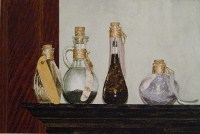 I am a graduate of the University of Cincinnati's College of Architecture Art and Planning. I had training in pretty much all of the various art media, but had not worked in anything since graduation. Eleven years ago my wife and I made a trip to Wales and visited Derwent, which was the world's first pencil factory. I watched a video on watercolor pencil and decided to give it a try. I found watercolor pencils to be limiting, and immediately switched to tube pigments. I have completed about 42 paintings since then, with most of my work going to family, friends and charity. It is only within the last year that I have decided to commercially focus love of watercolor for others. To date, I have been mostly inspired by the difficulty of the subject matter. I have always felt that an artist should be skilled at their craft before venturing into an exploration of the unknown. I have come to the cross-roads where I know that I have skill, and am now ready to explore. There are several areas of interest that I want to explore with watercolor. This exploration will be both in the man-made and natural environments.
What do you like best about painting?
I don't know about other artists, but I imagine it is the same – there is an intimacy that happens as you begin a work. It is both a mental and physical exercise, and is an intersection between mind and body – using the body to create what the mind is thinking or observing. I am always amazed at myself when I reach the end, and am always scared to begin. It flows naturally, however, once I begin. I like to watch the pigment flow and mix; I like to watch an image emerge; and, I especially enjoy the discovery and serendipity that occurs along the way. Although I am fully engaged, it is almost an out of body experience - like someone else is doing the work.
What are your favorite pieces?
Great question! I had to go searching through some of my pictures to really find my two all time favorites.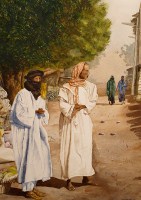 I was almost going to say that I don't have a few pieces that are my favorites, but that would not be truthful. It is like children; I love them all equally, but I love aspects of each differently. There is a piece that I have not offered for sale that represents my turning point, and so it represents a milestone that I cannot let go of. There are other milestone pieces along my journey that I am able to let go of. In the end I am not interested in producing art for myself. It is my hope that my art will bring pleasure to others. I sold a piece lately that reminded me how art connects people to each other, to their past, points to the future, or helps them to reinforce their own identities. My search is to create work that connects people to each other, to our world, or to themselves. My favorite work is the Dejenne men. This represented a turning point for me and has some spiritual meaning as well. While I think my execution of this piece is excellent on a technical level, it creates emotion for me as I imagine what the men are looking at with such concern. My wife used it in a class of hers to reflect on the image of these men looking at Jesus with the woman at the well, and wondering why he, a Jew, would be accepting a drink from a women, let alone a Samaritan. It is also challenging on a geopolitical level. It challenges the viewer to realize that these men are probably no different than us accept for their dress.
What do you like doing when you're not creating in the studio?
I have a wife that I have loved for 40+ years, two sons, daughter-in-laws, and two grandchildren, so I am with them whenever I can. I am also an architect, and am still working. Watercolors are my passion, however, and so I love working in this media whenever I can.
Tell us something about yourself that even some of your friends wouldn't know.
Most people do not know that I love inventions and, mentally at least, am constantly working on ideas. I love ideas, and people that like looking at things in new ways. Most people know that I am fairly detailed and organized, which you can see in my painting style. What most do not know is that I am also thinking conceptually. So, the next series of painting I do will tap into this conceptual side.
---
And remember, go to fine craft and arts shows and festivals, and to Brothers-Handmade.com, to:
"Come See What Your Neighbors Are Making"©