Vermont Craft Stores, Galleries, and Cooperatives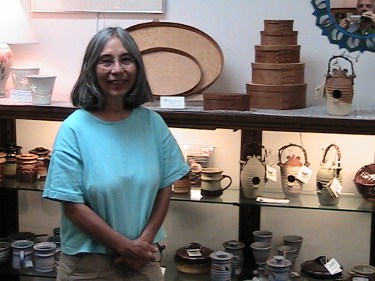 June 18, 2011 - Vermont is one of those states where fine craftsmen and craft stores abound.
To even get a taste of the magnificent talent circulating through this beautiful pristine countryside, my friend and I drove down the Eastern side of Vermont - from St. Johnsbury, through Springfield, and Chester.
Several towns are celebrating their 250th anniversary this week, so there were quite a few town alum back "home" for the festivities. Historically, 1760 and 1761 (250 years ago) were significant years for Northern Vermont to charter towns. As the French and Indian war drew to a close, settlers felt more confident moving into northern New England and applying to the Colonial Governors for township charters.
The chosen venues for this series of visits were to Artist cooperatives, galleries, and craft stores; all featuring high quality local artisans.
Come to find out, the Northeast Kingdom Artisans Guild in St. Johnsbury, Vermont was a wonderful place to start. This historic town is an incredibly interesting hamlet with its historic athenaeum or library with spectacular Victorian (French second empire) architecture and magnificent interior woodwork. A must see if you're in the area.
This day's Managing Artist, Carol Krochak of Horizon Porcelain (pictured at top) kindly showed me the exhibits. Carol, along with fellow artist Mark Kilburn create sensational porcelain hanging ornaments. The porcelain base give these delicate designs a beautiful translucent quality.
Norma St. Germain of St. Germain Clayworks hand throws eye catching mugs, chalices, napkin holders, and containers labeled for holding honey or garlic (which coincidentally Carol is standing in front of above). I really loved her lavender finished jars.
David Epstein creates a very unique Lake Champlain Beach Stone Jewelry. According to his bio, David has been designing and creating jewelry for 35 years. I was quite impressed with his pendants, handmade earrings, and handmade bracelets made with a flat black stone with streaks of white, and mounted in simple clean silver mountings. Very unique, and a real standout.
Elizabeth Saslaw of York Hill Pottery along with collaborating artist Susan Kuehnl were exhibiting spectacular vases and stoneware dinnerware plates with the most beautifully hand painted decorations of wild flowers and dragon flies.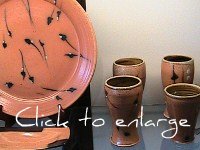 I'm only scratching the surface of outstanding artists on display at this location. I absolutely loved the salt fired pottery of Elaine Rossi (pictured), lampwork beaded bracelets of Laura Lacroix, the red stoneware of Sarah Russell, and the Vermont landscape inspired pottery of Arlene Goldberg - The Jurassic Potter.
---
The Northeast Kingdom Artisans Guild is also opening an exhibit entitled "Hoofing It" which is a celebration of Hoofed Animals.
Check it out from June 18th through August 8, 2011.
---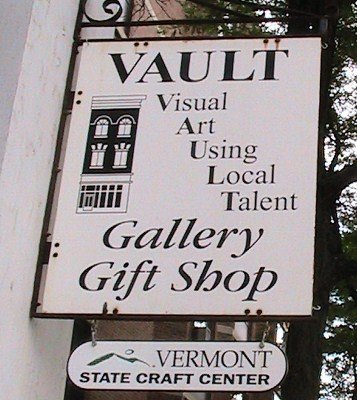 Down the road we travel to our next destination, the Gallery at the Vault in Springfield, Vermont. Diana, the Gallery Manager, was quite knowledgeable about the history of this 10 year old establishment.
To start with, the Vault moniker actually has a dual meaning.
First of all it is an acronym for Visual Art Using Local Talent.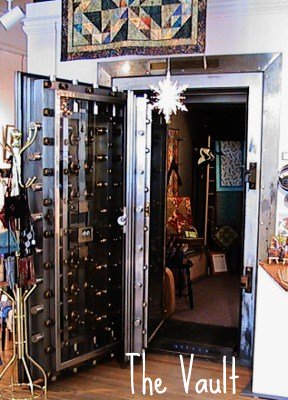 Secondly, this collective of local artists is housed in a building that formerly functioned as a bank. And sure enough, centered in gallery is the old vault from the original bank. (pictured)
Another interesting fact is that as of this writing, the Vault is one of only 3 official Vermont State Craft Centers.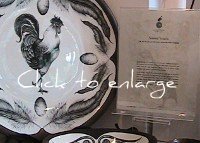 This designation provides some confirmation of the high artistic level and craftsmanship of the exhibitors - exhibitor artists like Laura Zindel and her intricately detailed depiction of birds on ceramic plates, bowls, and mugs. (pictured)
Or the simple and contemporary handmade silver jewellery designs of Nance Dean.


Also, the polished, beautiful, and extremely comfortable handcrafted Windsor chair of quality craftsman, George Ainley. (pictured)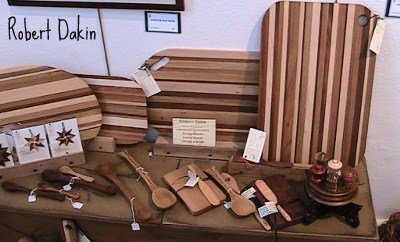 Speaking of wood, we really liked the beautifully contrasting cutting boards and kitchen implements of Robert Dakin - Wood, Wind, & Stone.
Equally eye catching was the torch work artistry of Chris Sherwin (pictured).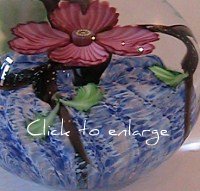 It boggles my mind how glass artists at this stratospheric level, can create enclosed flowers and jellyfish in glass. Absolutely incredible.
A cool program that the Vault has going on is its Open Wall art show. This is a continuous non-juried art display where local artists of all ages, levels, and mediums, following a given theme, can display their works. And they may sell them from this venue as well. It's a really great idea to help support those aspiring artists that want to get a taste of a public exhibit.
Again, to be sure, I was only scratching the surface of the multitude of fine artists and craftsmen on display. And there were many incredible handmade jewelry designs as well. But it is time to once again, move on down the road to my final destination.
That was Gallery 103 owned and operated by metal artists Elise and Payne Junker. Now the vast majority of items at Gallery 103 are by local artists, but they also include artists from surrounding states and a few things from farther states like Arizona.
But Elise and Payne, have had significant experience in the artist network, traveling to various art festivals, talking with artists, and selling their own works. So they are in a good position to attract quality craftspeople and artists, and fill their Gallery 103 with wonderful pieces.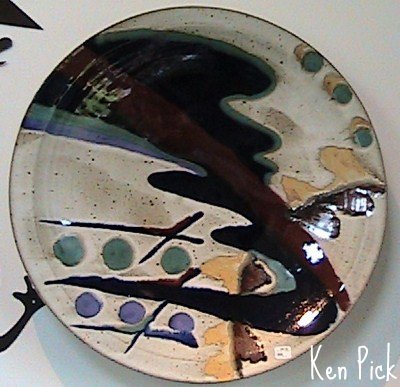 A few notables include Vermont pottery artist Ken Pick of Putney Crafts and his abstract, brightly colored, geometrically glazed plates and bowls. (pictured).






Many of Elise and Payne Junker's metal works are on display (pictured below).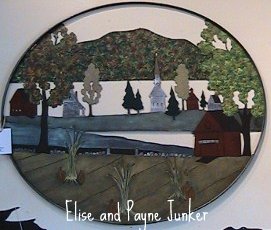 Based on conversations with the gallery manager, Elise hand draws a scene on a plate of iron using chalk. Next, Payne makes the necessary cuts in the metal creating the cutout scene. Then Elise brings the work to life with hand painting.



Another finishing technique used is heating the sheet metal cutouts with a torch. Depending on the temperature applied to the metal, a variety of finished colors or hues are created. This method used with the pine tree forest work (pictured).
If your traveling around the New England area, be sure to look up www.vermontcrafts.com. There you will find a fantastic list of the many art and craft galleries, cooperatives, and studios that are sprinkled across this beautiful country side.
So get out there and visit the many venues exhibiting incredible works of accomplished professional American Artists and Craftsmen.
And don't forget to visit Brothers-handmade.com often, where you can
"Come See What Your Neighbors Are Making"©

Sometimes you won't believe your eyes.


Return from Vermont Craft Stores to Craft Blog